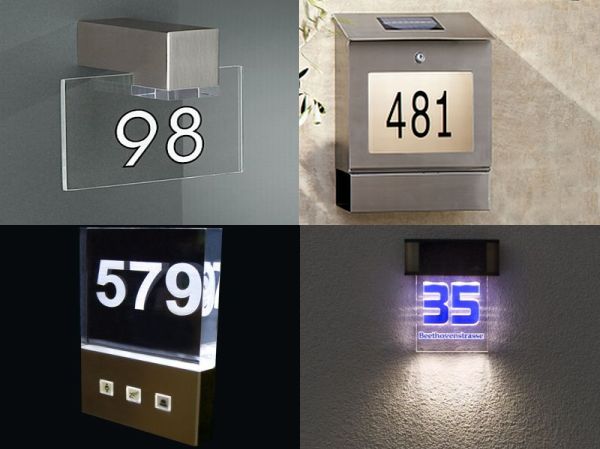 It gets quite irritating at times to locate a house when dusk sets in, as door numbers literally become invisible. If you are visiting someone's place for the first time, it may take long to find a house when the surroundings get dark. But, fret no more. Designers have come up with innovative methods to make door numbers visible, keeping this problem faced by people in mind. There are a lot of options available in the market that make the numbers glow when darkness sets in. Below is a list of 10 unique illuminated door numbers, which will make sure your guests don't wander on dark roads.
1. Illuminated LED House Numbers
Illuminated LED House numbers glow in the dark and are noticeable. They put an end to all woes faced while spotting a house. The numbers won't consume a lot of electricity and come with a price tag of $85. The customizable option is available in red, blue, green and white colors. Pick the one that best matches the façade of your house. The door sign can function using a low voltage power supply or same as the doorbell system.
2. Athos LED Wall Light with House Door Number IP44
This is one smart option to display your door numbers. Athos LED Wall Light has been crafted from stainless steel and can be wedged on a wall. It has been beautifully clubbed with House Door Number IP44. The overall design includes a glass plate, which can be pasted with numbers. This LED wall light will shine in the dark and make the house door number visible.
3. Illuminated Door Number
Door numbers are also used in hotels, which helps guests identify the room they are staying in. Numbering hotel rooms with lights is a unique and attention grabbing method. Illuminated Door Number comprises of two units: one is wedged outside the room and an identical unit finds a place inside the room. This solves various purposes and kills communication gap between the hotel staff and guests. The unit comes fitted with different switches that are easy to use. The inside panel has a maid icon crafted on it, which can be pressed when guests require maid service. Pressing the icon flashes a green light on the outside panel, which conveys an apt message. Pressing the center button will flash a red light outside. It is an indication that the guest is in no mood to be disturbed. Apart from these two, there is a bell that can be pressed from outside. It will illuminate an amber light, while producing an indication sound inside the room.
4. Solar-powered illuminated house numbers by EZView
The EZView Solar Powered Address Numbers harness energy from the sun to glow at night. They appear as regular numbers during the day, but are at their glittery best in dark. The weatherproof option comes etched with one number on each panel. So, pick the quantity of panels as per your house number. The eco-friendly product comes with a 2 year warranty and is priced $15 per panel.
5. Solar House Numbers from Solutions
Make your house recognizable in the dark with Solar House Numbers from Solutions. It comes fitted with LEDs that fetch all the power from sun. The usage of solar energy deletes the requirement of wires and extension cords. It lights up automatically when the surroundings get dark and keeps beaming for a good 8 hours. The solar device has been crafted from frosted glass and stainless steel that is weather resistant.
6. Luxello – led house number panels
Luxello LED house number panels are quite attention-grabbing. They come swathed in the color black and have been crafted from stainless steel. The durable option has been powder coated and brushed for a better appearance. The numbers glow in the color orange, which creates a striking combination with black and makes the overall design aesthetically pleasing.
7. Solar LED House Number
The Solar LED House Number comes slashed with a price tag of $20. The rechargeable battery draws all the energy from the sun. The numbers of this stylish option have been laser cut from anodized aluminum. The two LEDs sparkle in the dark and give birth to a 3D effect, which is quite pleasant.
8. Solar House Number Display & Mailbox
This environmentally-friendly way of making your house number visible has been wedged over a mailbox. The dual purpose Solar House Number Display & Mailbox gets power to glow from the sun. The mailbox has been made from stainless steel and comes with a lock to keep your mails secure. The LEDs, after getting charged throughput the day, can glow for 10 hours at a stretch.
9. The LUCENDO solar house number light
The LUCENDO solar house number light is powered by GeneCIS solar modules. The use of cables and cords take a backseat. Bright LEDs make the acrylic glass panel with numbers sparkle like a star at night. The sumptuous option is definitely a great fusion of functionality and design.
10. LED House Number Sign
The tasteful Led House Number Sign has been crafted from Stainless steel. Its façade has been fitted with a frosted glass diffuser, which displays the digits. 4 LED lights have been embedded in it and the design also has a mono-crystal solar panel.