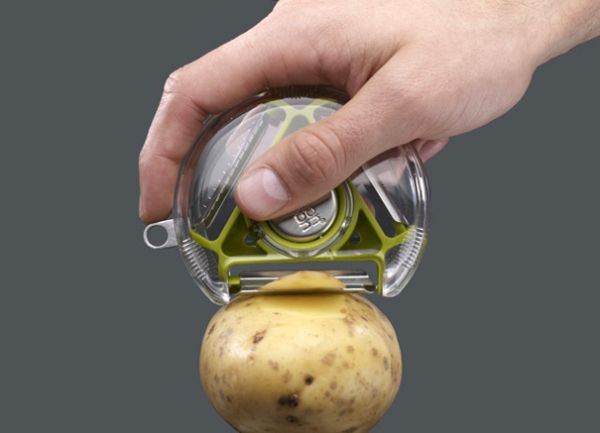 You can take a day off to stay healthy by trying some special meal, which could make you feel happy and different. Keeping this in mind, we have brought some amazing peeler designs which you can try and make your day special. In fact, you can invite your friends and prepare a quick and amazing designed food using the smart, innovative and attractive peeler designs. To remove your confusion, let's discuss first what is a peeler? Peelers are the metal blades which are attached to the wood to hold and peel the vegetables and fruits. Here we are with a list of eight cool and smart peeler designs for trendy kitchens.
1. Slice by Karim Rashid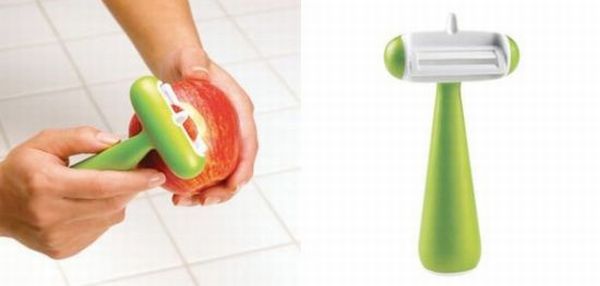 Unique designs can be brought through this invention of Karim Rashid, a famous designer. The cutter he has made is not only stylish but also highly functional. He has created beautifully designed Slice ceramic cutting devices which are harder, sharper and durable. This device includes veggie peeler, precision cutter, grater, and Y-peeler. It is sharp and safe and does not leave any smell or taste to the vegetables or fruits. It is priced at around $7.
2. Trio Peeler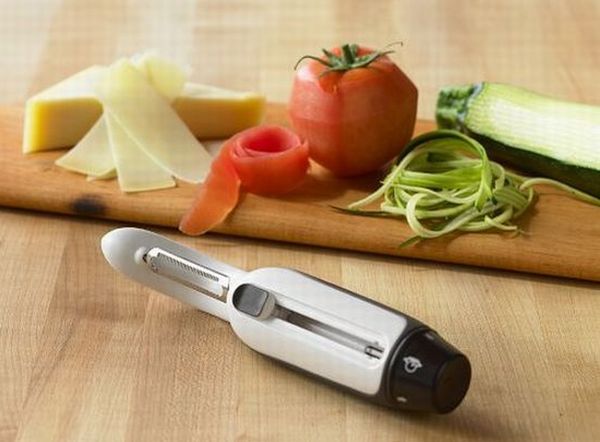 This peeler can manage all types of peeling tasks and makes your job easier. It has three retractable stainless steel blades which give you fine cut and longer pieces of veggies including tomatoes and potatoes. It sports a soft skin blade which is useful to peel the foods such as mangoes, tomatoes and peaches. Besides, its hard skin blade helps you to peel carrots and zucchini. A julienne blade is also offered to slice up thin vegetables strips which are used to prepare salads and soups. This Trio Peeler is a best tool which should be present in your kitchen and is available at a price tag of approximately $14.95.
3. Rotato Express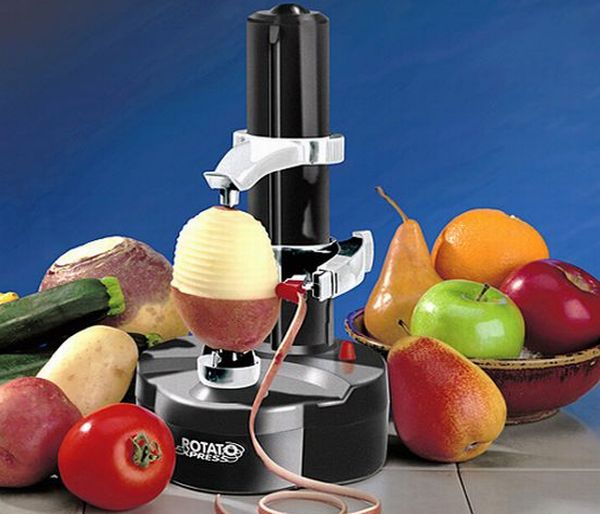 It's a machine which helps you save time by doing most of your hectic tasks. This impressive gadget, Rotato Express peeler peels off potatoes, apples and many other vegetables in just a push of button. All you have to do is to stick the vegetable which you need to peel on the spike and push the button to start peeling. You don't even have to push the button or wait to get it finish. The peeler automatically stops once it peels off the vegetable. It is ultra safe and quick. It is available at around $29.98 and does not let the nutrition to go waste. You'll be delighted to enjoy peeling in blinks with designs which you cannot bring so perfectly by hands.
4. Pebble Peeler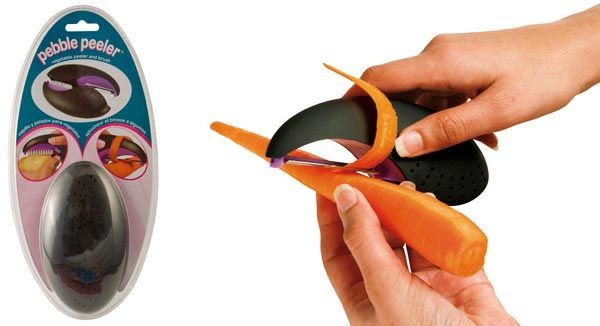 This new kitchen tool is widely in use and is a favorite gadget for many who love to enjoy their meals differently. This comfortable and ergonomic peeler simply peels off everything right from potatoes and carrots to cucumbers and other vegetables. It is handy and fits perfectly in your palm. It boasts two-part design and comes with a handy carrying case. So, you can even take it for picnics and camping trips. It is safe and gives you razor sharp vegetable peeling experience.
5. Chef'n Palm Peeler

Small and very handy! Just insert your finger and wear it like a ring and enjoy peeling the vegetables smoothly. This peeler does not allow the vegetables to be wasted and so very thin slices of waste comes out. This peeler perfectly fits into your palm and you don't even have to handle it as it will be fitted to your finger. All you have to do is to move your hand and the peeling process will be done in seconds. The best is its inexpensive price which is around $4.99.
6. Rotary Peeler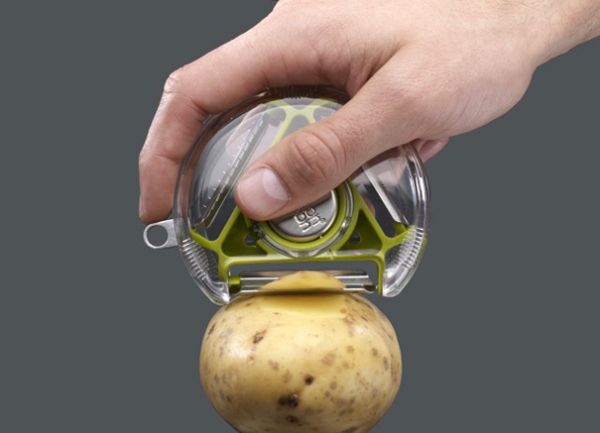 The design is very simple and fascinating, something unique and different you can say. Its multifunctional features make the peeling task far more fun. It has three blades which you can change and use; one for potato peeling, one serrated for soft vegetables and fruits and one to cut uber smooth juliennes. You'll also get a potato eye weeder. It is round in shape and is comfortable to handle, making your peeling task very easy.
7. The Veggie-Peel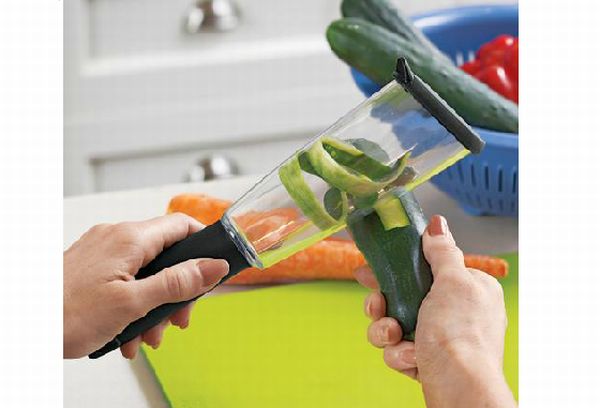 This is something which is again fascinating and interesting. At one hand, hold the vegetable and at another hold this beautiful gadget and enjoy the unique way of peeling process. The waste goes inside the transparent bin and you don't even have to collect the waste separately to put them to garbage bin. Isn't it interesting? It has rubber grip, double sided blade and curves. This design has been planned to cater to both the right as well as left handed persons.
8. Apostrophe Orange Peeler

This orange peeler is constructed from 18/10 stainless steel and sports its matte finish. This gadget increases the beauty of your kitchen and is available at around $27. Enjoy this small and gracious table utensil and feel the pleasure of doing things in just a blink.