Lightening is about to strike on furniture items and make them look all the more artistic. The bench, named Crash, is not any regular design but a clear picture of how powerful nature is to create things that are undoubtedly beautiful comes tagged with a lot of flair. The aesthetic appeal of the design was purposely altered which gave a feel as if some meteor came shooting down from the sky and fell on it, giving the bench an emotional edge as well.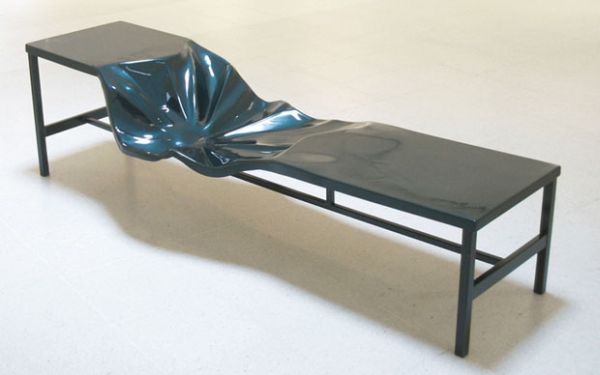 Designed by Liliana Ovalle, the Crash Bench is bound to catch your fancy with its unrealistic shape. The piece if furniture has been dented from the middle by the London based designer. It has been crafted in a neat way and has very clean lines, until you reach the smashed part which looks as if someone has punched it and given the bench a big black eye. The design will trigger imaginations and make people come up with various stories when it comes to explaining what might have happened that created the dent.
The unconventional appearance will become the focal point of your house or office as people come and ask you about what caused this blemish. It comes draped in minimalism and will be one furniture item that you will treasure for years to come because of its sheer uniqueness. Crash Bench is a fine example that says even scars can be beautiful when seen through the eyes of an artist. But make sure you are not sitting on it when something comes crashing down to create a dent!