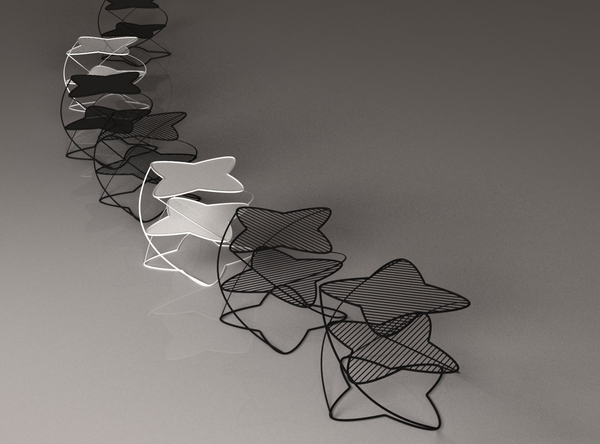 The designer
This table is the hobbyhorse of interior and product designer Emilija Ciric, who hails from Doha, Qatar.
Overview
Out with the old and tedious straight clean lines – squares, rectangles and even ovular shapes have started to look utterly humdrum. This new coffee table inspired from the floral curves of the water lily has a fresh and avant garde look. Clearly a product of out of the box thinking, several small tables can be joined together to create a larger serving counter. While a single table is just perfect for two to sit down and enjoy a cup of tea.
The top of the table is drafted in the shape of a water lily. The pattern of water lilies joining together to form a flower mandala has inspired the arrangement of linking several tables together. The table has a simplistic look despite its curvy borderline and will easily go well with many types of interiors, both modern and old-age. Also, the down to earth black and white colors will look good in most type of homes.
What's unique
A table that can also be used for storage is a feature that makes the piece stand out. Several tables can be stacked on top of each other and used as a counter, stand or rack on which various items can be stashed. It can easily fit into spaces of different sizes as you can join the tables together in a variety of ways, creating long chains or several shorter sequences. This helps to save space in compact homes. Whereas in larger homes, both long as well as short chains can be used.
The tables can be placed both indoors as well as in open spaces outdoors like gardens and yards. They come handy when you have pals over for a party. Create a captivating setting by arranging the tables in different ways – few of them can be linked together to form a chain while others can be stacked on top of each other. Guests can easily place cups, glasses and dinner plates on the tables while lounging about.
Via: Behance