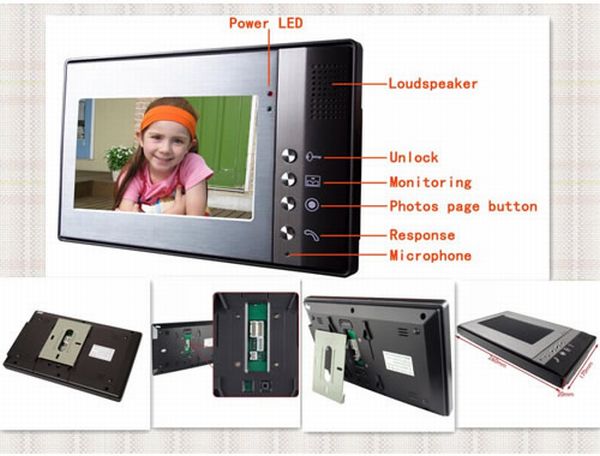 Safety and security have always been a prime concern for everyone. One step ahead to doorbell ring, now video door phones have replaced the culture to know about the person who is standing outside the door. It is a new technology that assures your home security and also prevent you from meeting unwanted people or strangers when you are busy. Here is a list of seven door phones to strengthen your home security. Have a look!
Commtech EZON SHT 3105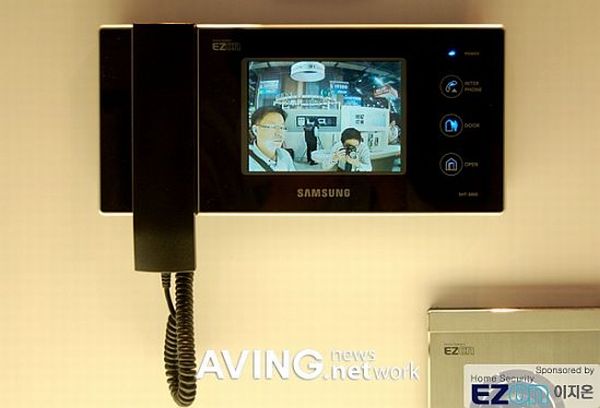 If you are bestowed with low intensity of tolerance amid busy schedule or do not want to get irritated by the unknown persons during important meeting, you can try the perfect handy gizmo Commtech EZON SHT 3105 that is surely made for you. It is a complete video door phone equipped with visual display that enables user to keep an eye on visitors knocking at the door as well as the security office. This device has also additional facilities such as access to main gate and security services like gas valve control and crime prevention that allows user to capture video from a remote location. The color display of five inch lets you spot visitors.
Samsung Ezon VDP SHT 3305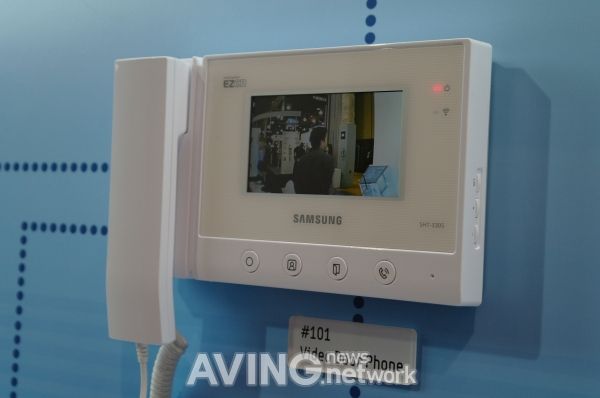 Ideally this device is fit for such places where home network infrastructure is unavailable. It is a smart home security system that allows you to check your guests. The features of video door phone Samsung Ezon SHT 3305 are very attractive as the user can converse with the visitors or guests and open the door using this device. Another feature is that you can talk with the person standing outside the door with the video monitor and the sub-phone. The LCD of this phone is 4.3 inch which controls the electronic door lock and lets you identify your visitors. In the meantime it has a function to capture the image of visitors so that you can check how many people have visited your place when you were out.
Samsung Ezon multi-mode door phones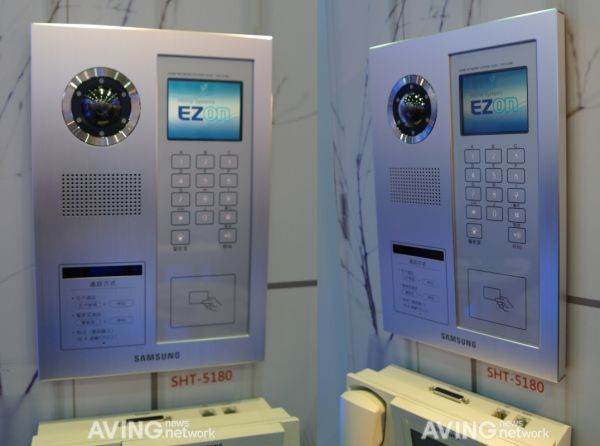 This multi door phone can be fixed on the lobby or wall of main entrance in view of safety and security of your home. This hi-tech multimode lobby phone was launched at the SECUTECH 2011 held at Taipei, Taiwan. The device is inbuilt with 1.3 inch high resolution LED and RFID Reader. You can adjust the camera angle as per your convenience. The camera is provided with the storage capacity of maximum pictures and images. The sensors of the phone can also notify the guard control room. It can enroll as many as 3,000 individual PIN and more than 4,000 RFID card. The exciting fire proof feature to unlock the doors automatically is the USP of this device. Keeping in mind the security, the model is made of aluminum and designed with refined touch. It looks simple with urban architectural patterns.
Wisecom color video door phone system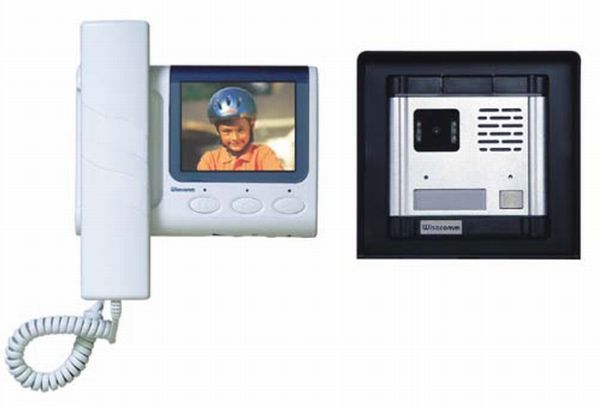 Equipped with four inches TFT LCD monitor, color camera, metal casing and bracket, lower power consumption, two-way audio, Wisecom color video door phone system observes guests before opening the door. This color video door phone allows you to see the caller to whom you are talking even in the night. Some easy to follow instructions provided in this gizmo makes it different from others.
Wisecom B&W video door phone system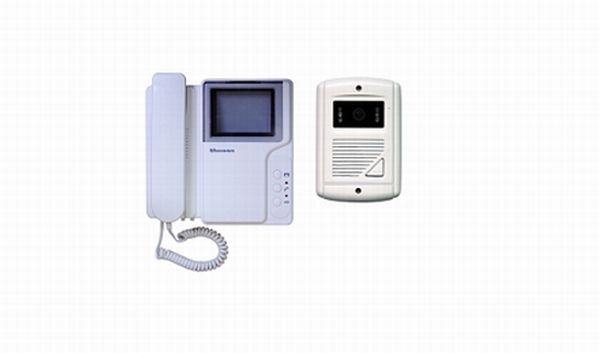 This video door phone system comes with a handset, intercom and wall mountable monitor with an inbuilt might vision high resolution camera. The Wisecom B&W video door phone system can be connected with a 60 feet cable and A/C power adapter. It has function of speak button, view button and door release button, that is electronic door lock option. It enables you to avoid unwanted visitors and lets you see who is at your door before opening the door.
Home security video door phone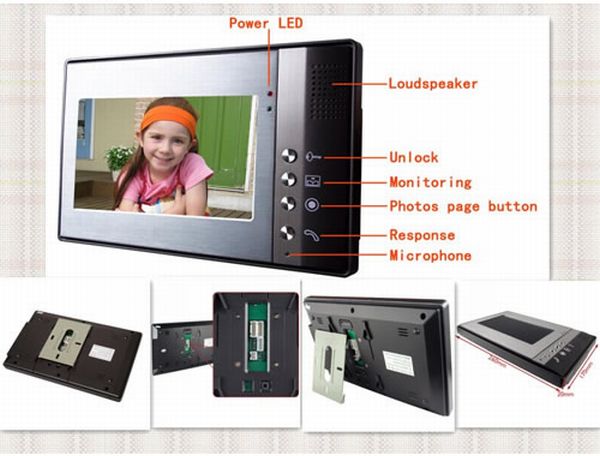 It's a smart door phone and its seven inches TFT LCD shows you what is going on outside the doors. Its inbuilt memory can store as many as 200 images for further correspondence. It is made of durable aluminum alloy and looks luxury and fashionable. Home security video door phone is water and oxidation proof. The camera can pan right and left and tilt up and down. It can be connected through a hand free intercom and volume, brightness and contrast can be adjusted.
Hands free color video door phones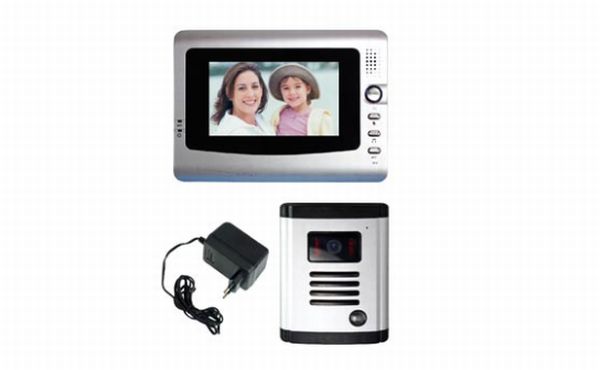 Hands free color video door phones can be used at office, home and especially for villas and apartments to keep a vigil over visitors. In this device maximum three intercoms can be connected to the one outdoor camera. It is easy to install with its 4-core cable that connects the indoor monitor to outdoor CMOS camera. The high resolution display of the camera displays the pictures clearly even at night. Some of the special functions included are acoustic warning with intercom, lock opening and alarm function.