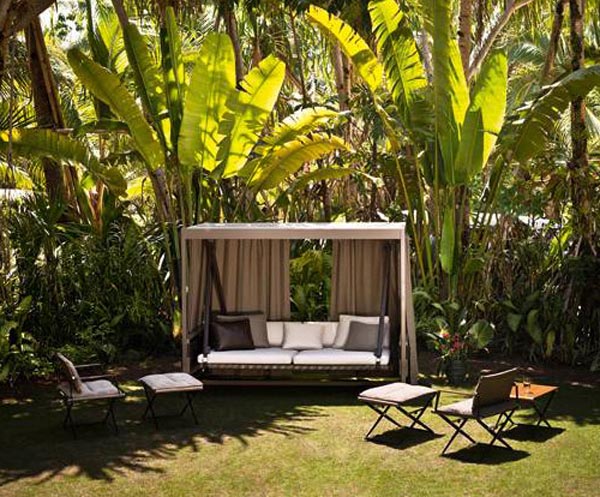 The designer/manufacturer
Annette Hinterwirth for Dedon
Overview
This outdoor furnishing set consists of a garden swing, daybed and Tatami mats. The design of the collection, dubbed as City Camp, has been inspired from the set up used by ancient explorers. The sturdy furniture has clean lines and is painted in neutral shades of white and brown. The gossamer drapes used provide a cool shade. This is a splendid unit for outdoor spaces and will be loved by those who want a living room styled set up for their open spaces.
What's unique
The contemporary piece looks plush and stylish. It is also quite comfy and snuggly. You can relax over the weekend, kick back with a book or sip a mug of coffee here. It is quite spacious and can accommodate an entire family for a luncheon. You can easily have all your friends over for a cocktail or barbecue party. The garden swing and bed have roofs as well as flimsy curtains to keep the sun out. The Tatami mats can be laid out on hard ground or bed of grass to enjoy the fresh air. The set is available in two colors: chalk and taupe. The deco cushions come in a whole range of patterns from solids to stripes. This is a great unit for lounging with others, unwinding alone or even taking a nap.
High points
The unit can be used in open spaces like gardens, lawns, backyards and terraces. The piece will look good in easygoing contemporary homes whether they are laid back country cottages, chic town houses or city apartments. However, it will clash with ultra-mod, industrial or rustic interiors. In addition, it can only be used in tropical or sunny areas. The piece cannot withstand winter temperatures or snowy conditions. Moreover, it cannot be used in places where it rains as even light showers can easily drench the flimsy curtains. Even if you install a canopy on top, drips and splashes of water can easily make the sit-out soggy. Hence, it looks like the piece is not rugged enough to hold out against the wear and tear of outdoor conditions. This is quite a drawback since hardwearing furniture is always a preferred buy for open spaces.