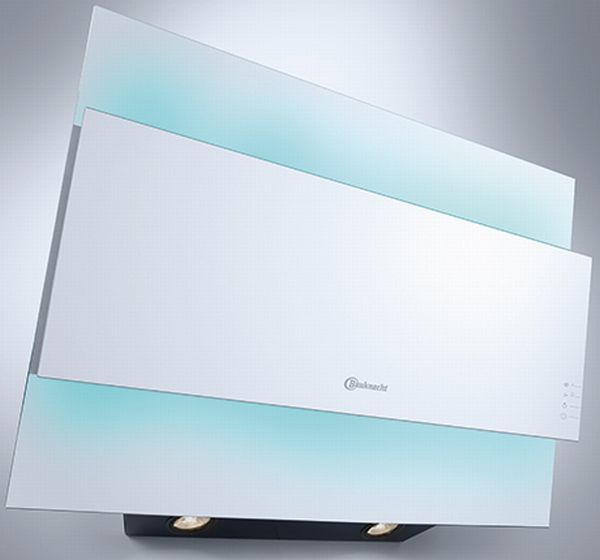 The designer/manufacturer
Bauknecht, Germany
Overview
The Ambient Light DWGR EW 9880 is a kitchen fixture that looks nothing like the average cooker hoods available in the market. This swish designer piece is for plush, grand and stylish cook houses. The cooker hood is done up in reflective white metal and has wash of color along its periphery. The colored radiance fades out becoming lighter near the edges, giving the piece a luminous look. This product from the Whirlpool line of Bauknecht is not a good fit for average looking kitchens. It is a piece for sleek and showy kitchens. In fact, the piece will look just perfect in new-age kitchens done up using steel, white metals and glass. The cooker hood will hit the market in February 2012.
What's unique?
Apart from providing a flurry of fresh air, the absolutely fine looking appliance enhances the get up of your kitchen making it look a lot more lavish. The meticulously crafted piece has clean lines, a glistening metallic surface and light flush of color. The appliance is available in six different colors. In addition, this one of a kind cooker hood can also be illuminated, which is bound to give a glam touch to your cookery. Two halogen lights have been fixed in between the glass panels of the appliance. Thus, the cooker hood lights up the space around it facilitating any cooking that is carried on near the fixture. It oozes out soft and mellifluous beams that create a soothing ambiance in the adjoining space.
High points
All buttons have been hidden away from direct view to give the appliance a neat and minimal façade. The touch controls that operate with three different speeds are located in the lower corner and an aluminum grease filter has also been slotted in. The device is 80 cm in width and has an extraction rate of 660 m³/h.The 6th Sense Steam function has a green light and cooks food using the healthy steaming process.