Kitchen islands are a great way to add some extra space in small kitchens. You can build one with wheels and drawers to make a mobile kitchen island unit too. For the space challenged, kitchen islands provide extra counter space and storage space, which come in rally handy during the holiday season or if you're having a party at home. You can color them any color you want and choose a design that looks stylish and is functional. Check out these cool ideas which can inspire you to make your own kitchen island.
DIY kitchen island using recycled pallets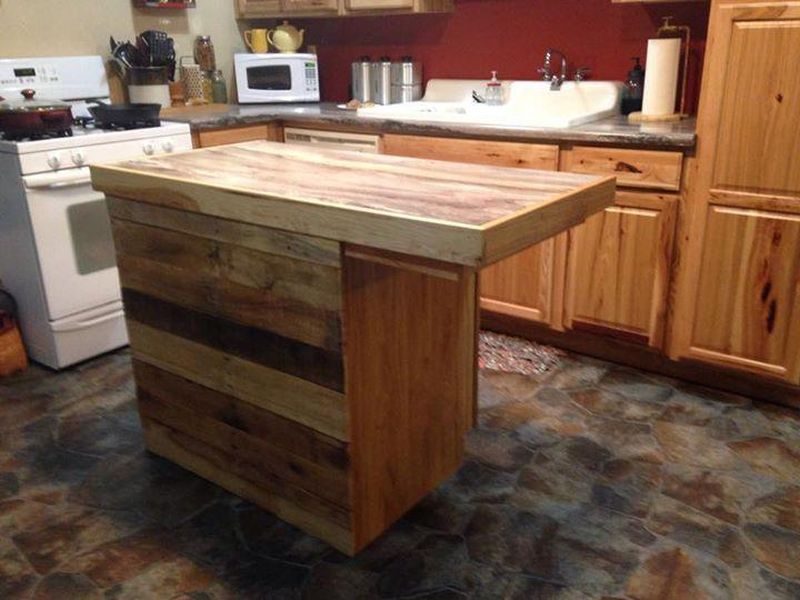 If you want a kitchen island, but are constrained by budget, you can build one out of recycled pallets. Pallets are easy on the pocket and you can use your imagination and your requirement to make your own kitchen island. You can add a stove, shelves, spice racks, drawers and storage cubbies, towel racks – anything you want.
You can serve up tasty morsels outside in your garden as you can drag your kitchen island outside for a garden party. Cook the food for your kid's birthday parties in your backyard, without getting your kitchen messy. More racks and drawers can be installed later as per your requirement.
DIY kitchen island with storage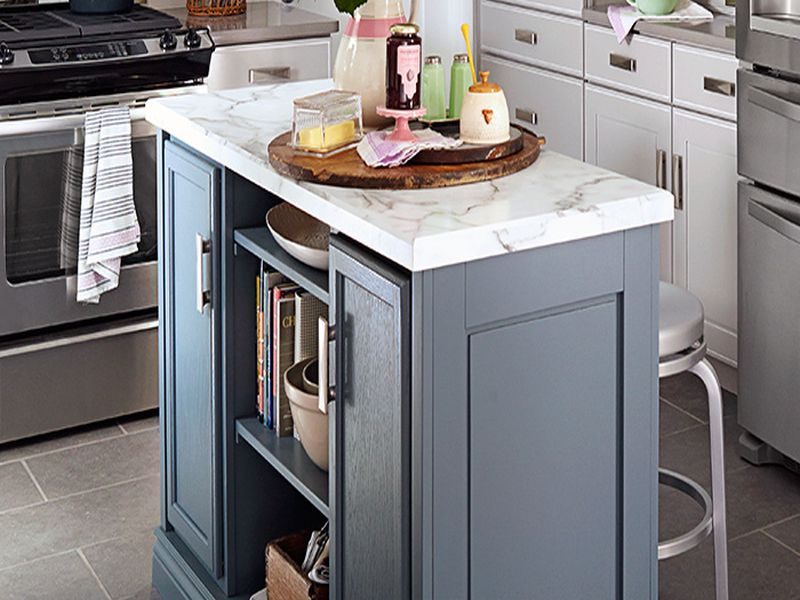 DIY a kitchen island instead of buying a new one, and if you have a really tiny kitchen, making a kitchen cart is even more sensible than a whole unit. It can also be ferried to your living room when you have guests.
This kitchen cart has a warm look to it and the versatile cart has a shelving unit, counter space and the slotted steel angles provide the structural support. To hang towels and utensils, you can add some nails, racks and hooks onto the side of the wooden countertop.
DIY kitchen island with stool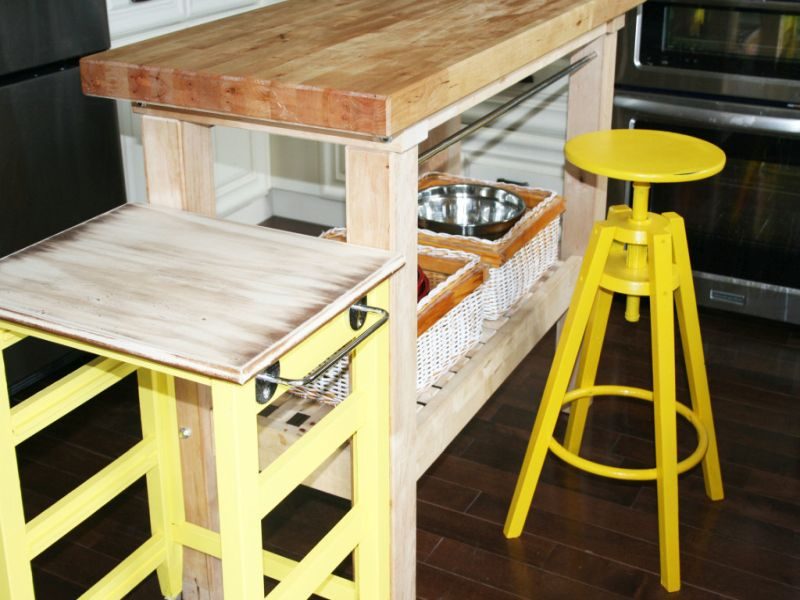 A good idea is to modify an old desk with wheels into a kitchen island. An old-school desk can be converted into a great kitchen island. The legs are strong and solid and by adding wheels you have a mobile kitchen island. As the drawers and top are already there, you just have to paint or stain the wood, according to your taste. Besides, the leg space allows you to fit a stool under it and you can take it out when you use the island.
Another makeover idea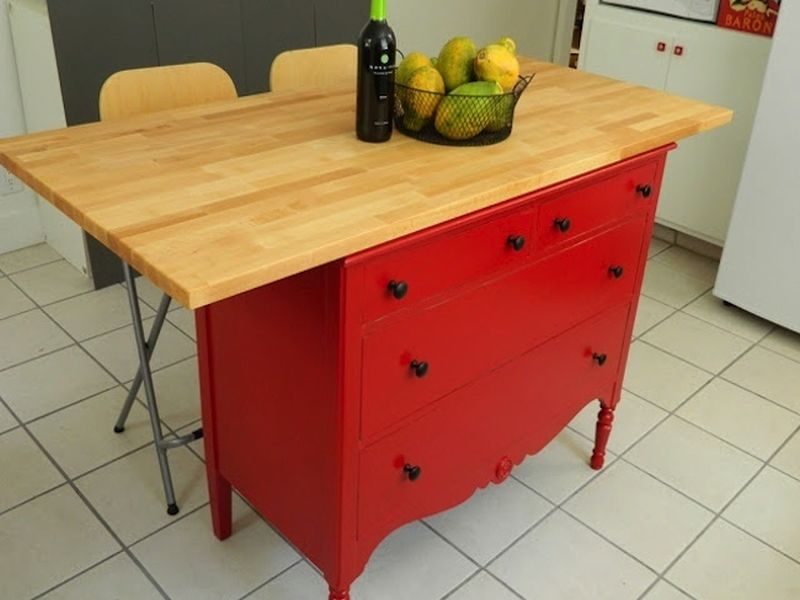 You will need an old kitchen island, beadboard, hardware and trim. An added feature is the furniture legs in place of plain legs. Add the beadboard to all three sides of the cabinet, and after laying on a coat of primer, you can stain the boards and add a butcher block as the countertop.
This will give you an attractive workspace. Then add the furniture legs (newels posts are a cost-effective option), after making some modifications according to the size of your kitchen island. Your kitchen island is ready!
Simple DIY Kitchen Island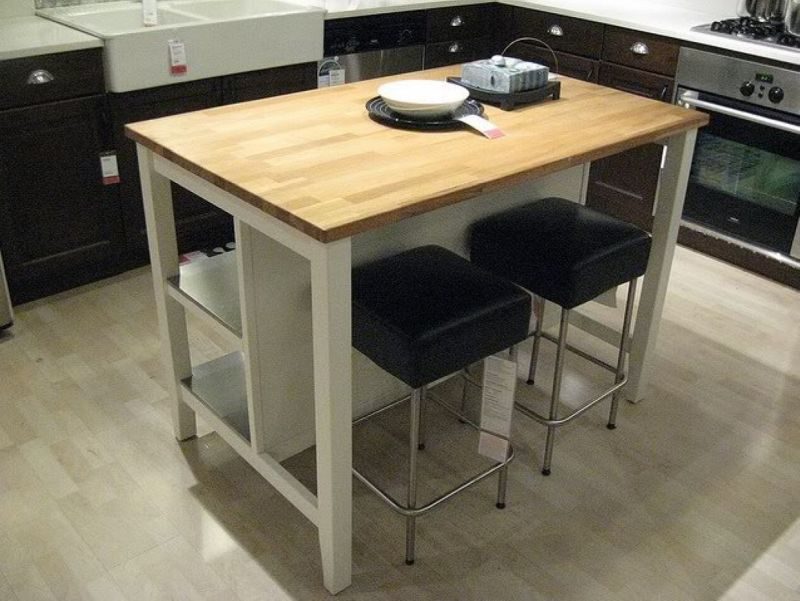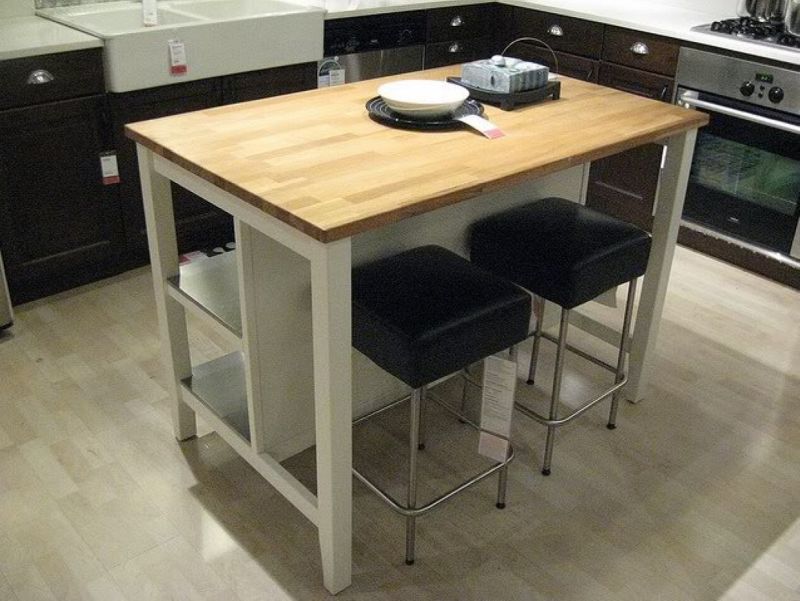 If you want to keep things simple and just want an extra workspace and simple shelves, then you could go for a simple design. First, you will need to work out the size and buy ply boards and solid wooden pieces for the legs. Start by fixing the legs and side and front supports with the help of 2 ½" screws. Then add the countertop and the shelves. Stain or paint the wood to finish.
Adding a concrete top ensures that your kitchen island can be kept outdoors, by your grill, and give extra work and storage space outside.
DIY kitchen island made using recycled door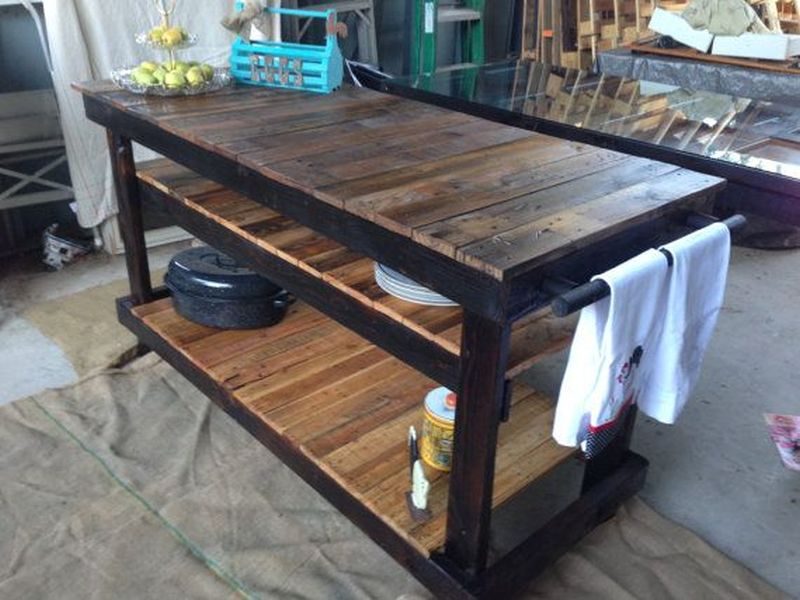 Recycled doors can be used to build kitchen islands. You can have a simple kitchen island with just the countertop and one shelf below, or make one complete with drawers et al. Your choice!
Massive slab of cypress for DIY island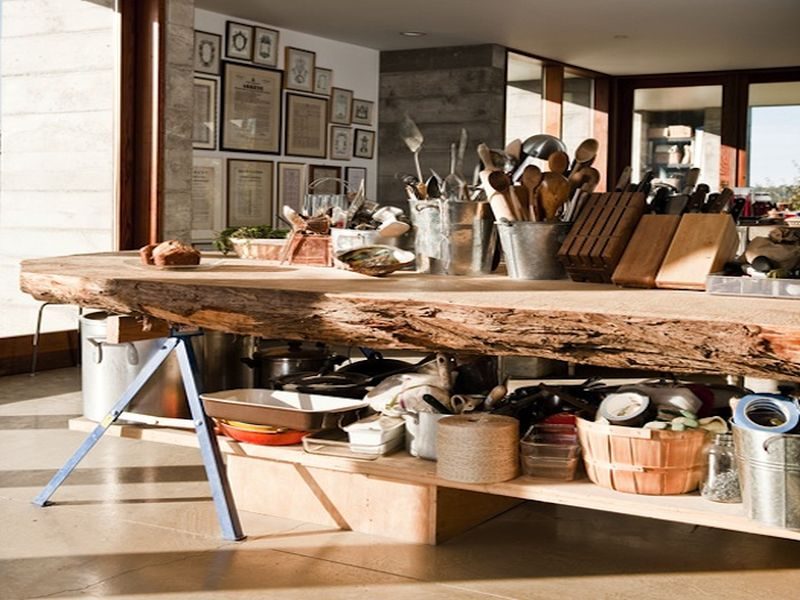 Add a rustic touch to your kitchen with a massive block of wood, such as cypress. Add the stands and a shelf and you will have a kitchen island which everyone would admire.
You can build your kitchen islandaccording to your requirement and the space available in your kitchen. Designing and executing your kitchen islands can be simple or complex, depending on how good your DIY skills are.