Most of us tend to neglect the garage in our home and relegate the space to storing everything from our cars, bikes and bicycles to lawn mowers, gardening tools and tool kits, etc. Most often than not, the garage is also used to store items we no longer use, but do have the heart to throw away. Sadly, this would sooner or later lead to a garage that looks like a cyclone ripped through it. And trying to find anything inside it would take at least half an hour or so. So how do you go about avoiding this scenario? Simple, you opt to clean and organize your garage with these 8 smart ideas.
Waste Disposal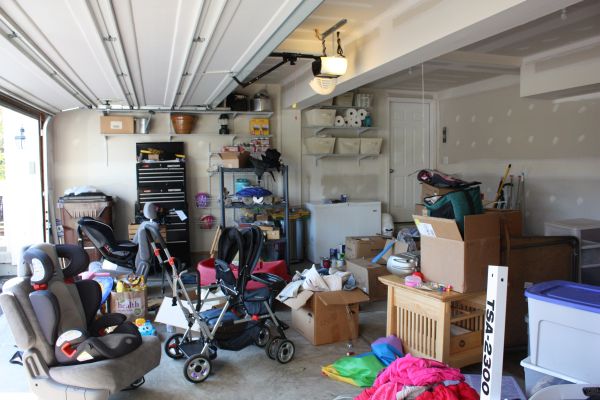 Your first step in organizing your garage would involve finally getting rid of all that junk you would have amassed in it over the years. Anything that is no longer being used needs to go out. Throw these items in the trash, donate them or send them to a recycling center. You will be amazed as to how much space you are left with in the garage after this.
Magnetic Tool Holder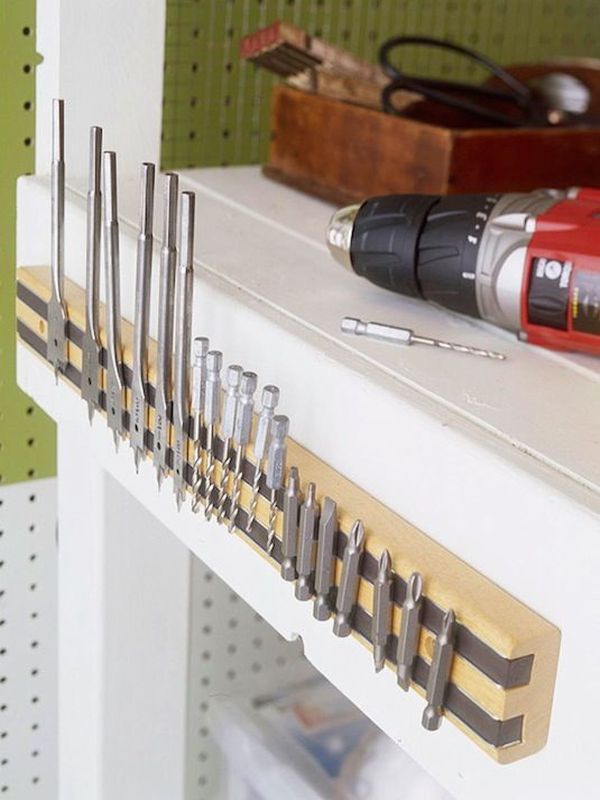 This is a really simple way to store your tools in the garage. Simply nail a lengthy magnetic strip across a flat surface. All you need to do is simply let your tools attach themselves to the magnet. This beats rummaging inside the cupboards for the tool you want by having everything you need within arm's reach.
Wall Hooks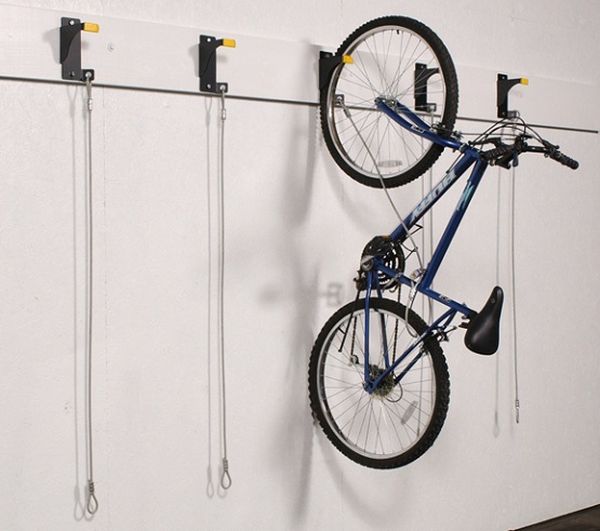 Set up a few wall hooks to store gardening tools like the rake, trowel and shovel, etc. These items would need to be hung vertically so as to avoid causing any accidents. You can also opt to attach a few wall hooks horizontally near the floor so that you can hang a ladder in it. This would prevent accidents by the ladder tipping over.
Shoe Rack Cords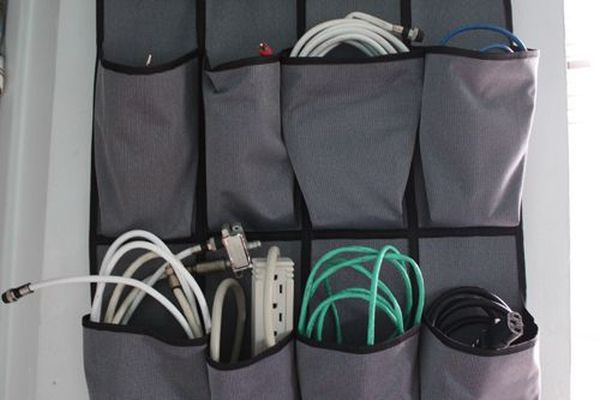 Remember these fold able shoe racks perfect for storing your shoes and socks? Well you can use them to store all those loose hanging cords as well as other miscellaneous items that mighty otherwise contribute to the clutter and get lost in the process. Set up individual shoe compartments for different items for easy retrieval.
Wheelbarrow brackets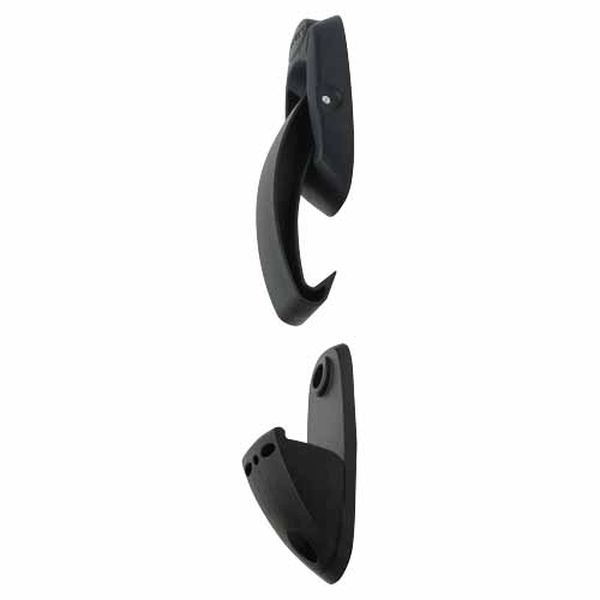 Have a wheelbarrow in your garage? Then you will understand us when we say that a wheelbarrow uses up a lot of space. The best way to avoid this is to prop the wheelbarrow against the wall with the help of wall storage brackets. These brackets would ensure that the wheelbarrow is stored away properly without posing any risks of hurting anyone.
Cord Ball Storage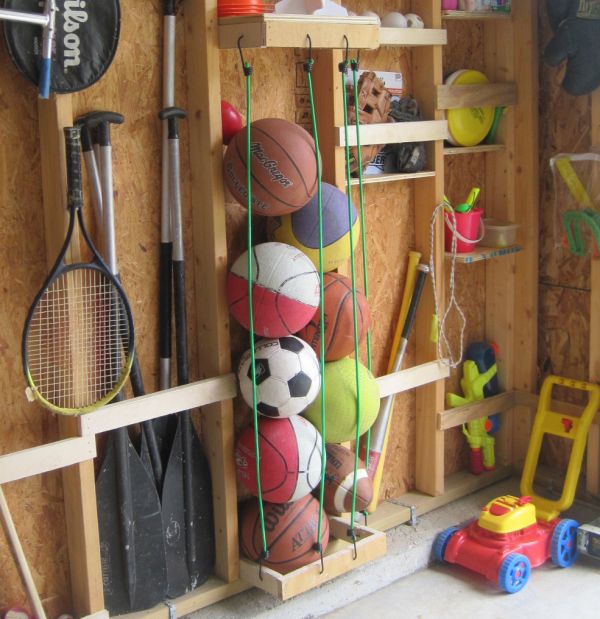 It would be quite easy to trip over one of the many balls that can be found in your garage. A great way to store all these balls in one place is to use bungee cords. Attach the bungee cords to a wall hook protruding from the wall. Stretch the cord to the bottom and attach it to a wall hook there. Repeat the same process for another bungee cord placed next to the first one. You now have a unique bungee cord storage solution for all those giant balls roiling around in the garage.
Storage Essentials for Knick Knacks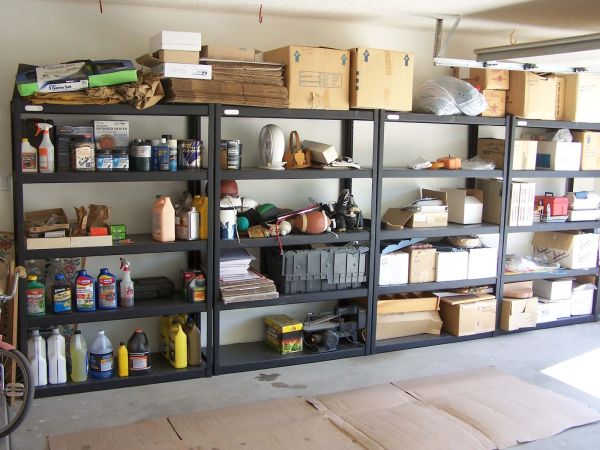 Sometimes it is the smallest items that create the most clutter in the garage. Opting to store them in containers can help reduce clutter significantly. Plus, it would help make it easier for you to find out specific items when you search for them.
For instance, you can use small tin cans and jars to save nails, springs, bolts, screws and what not. This way, you can move around the garage with ease in the future, not worrying about being pricked by these items.
Lattice Rack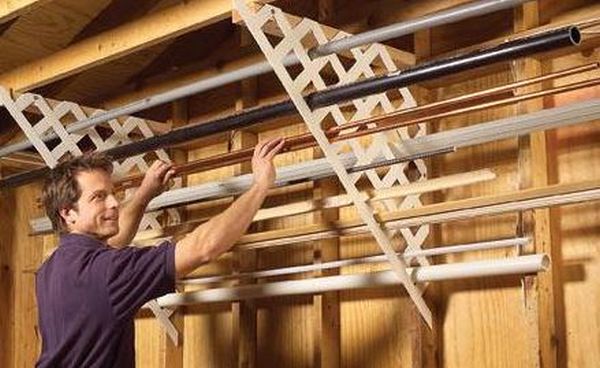 If you tend to have a lot of unused metal pipes in the garage, consider storing them in a lattice rack. You can make your own lattice rack from leftover wood or plastic. The resultant rack can then by hung from the ceiling, with the metal pipes inserted into the framework.
Maintaining a neat and clean garage need no longer be an impossible task. With the advent of smart storage solutions like the lattice rack, cord ball rack, wheelbarrow brackets and magnetic tool holders, etc. you can ensure that your garage has space for every single item you put into it, without looking overcrowded.