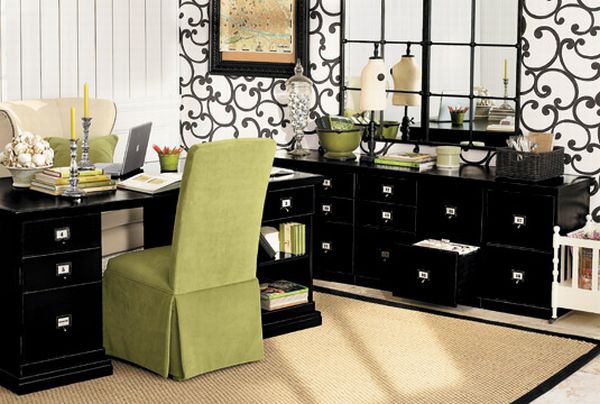 More and more people are working from homes these days. A good example is Canada where almost 50% of the businesses are now being run from home. And, in order to elevate your productivity, you should make your home office more inviting, organized, comfortable and in trend with the modern times. This will help in increasing the work efficiency of your home office whether you work on a computer, submit online bills or make your living.
1. Colorful creativity
When you work at home, you are not bounded by the corporate norms of coloring, which can be neutral or serious and have a beige decor. You can paint your home office in a color, which stimulates or relaxes you. The soft blue or warm tan colored paint can be good for keeping the stress levels down while working. A yellow paint can stimulate cheerful and positive thinking in you. The pure white can generate fatigue and becomes dirty and, therefore, should be avoided. The artwork can give an executive polish to your home office. The rugs can help to keep the sound levels down and can be comfortable as underfoot. This will give the home office a professional touch. The room can also have a love seat or extra chair for providing a change in scenery. You can have them if there is extra space available.
2. Lighten up
There are various options available for lighting. You can have a pretty looking table lamp or can opt for the desk lamp with adjustable arm that can give you control over the light's direction and help you to avoid glare on your computer screen. The option of well designed desk lamps is also there and a great many varieties are available. Some of them are reasonably priced while the other mid century modern classics can cost thousands of dollars. The overhead ambient lighting is especially useful for those who work at night as it can help in reducing the strain to eyes. The desk must have a good task lighting element.
3. Great seating
Whether you spend more or less than 8 hours a day at your home office, you should have a good chair that can provide you lumbar support, padded seating and has adjustable settings. You can also get a chair reupholstered in a customized fabric of your choice for matching your home decor. This option is suitable when you do not like the looks of the standard home office chairs that are available at the stores supplying office products.
4. Declutter
Any working office can accumulate clutter with time. It might come from the books, magazines, reference material etc. that are used and get accumulated in office. You can fix a day for cleaning all the materials. The useless material can be recycled or re-purposed according to your preferences. The materials that remains after cleaning can be organized in such a way so that it is easy to retrieve in less amount of time. You can save time and make your working environment more professional by logically arranging the file drawers( for ex. alphabetically) and bookshelves (for ex. according to subject matter). The unused material can be neatly stored in wood and acrylic boxes and kept out of sight. This way they will be together and you can have them for reference any time you want.
Insufficient storage can also cause disorganization in your office. Do not hesitate in investing in extra file cabinets and bookshelves as they can be very time saving and useful.
5. Gadget galore
Different kinds of office gadgets are present today and can serve the specific purposes for which you want them. The desktop phones and the modern art desk lamps can be useful and can enhance the looks of your garden. The IKEA office furniture and accessories, the dell laptops etc. are available in different designs. The Polaroid mobile printers have stainless steel and leather accents and are co-designed by Lady Gaga. The modern gadgets can increase the utility of office and make it beautiful.