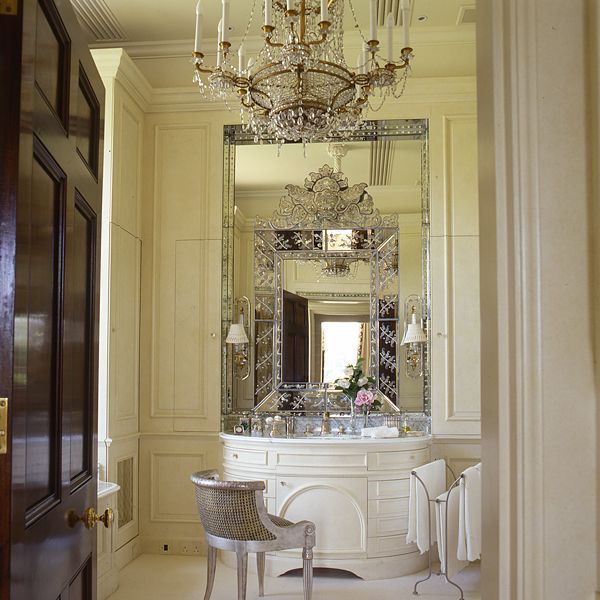 We are certain that few of you have really felt that a powder room is a mark of cosmopolitan-hood. Whether you accept it or not, this small room is where you can depict your fashionable mind. This room, which will hardly eat up any space in your house, but the bonus you get is that it serves as a great refreshment zone. Your guest will never stop praising you for your stylish outlook when they step into your powder room and freshen up. But, you need to work a bit on this to make your tiny space a really functional powder room. It must have all the amenities that freshen up the mind and the body. Now, if you are clueless about how to decorate a powder room, we have wise suggestions with us. Take a look!
Let it speak your mind
As we have said that this tiny powder room is the most effective weapon to depict your mind, so a powder room must have everything that defines your personality. So, start with the selection of color and structural detailing first. If you have any theme in mind, there is hardly any obstacle in pursuing your dreams for your customized powder room.
Make drawbacks your strength
The most amusing thing to know regarding powder room is that is it the place where some of its structural drawbacks serve as its benefits. Take for instance the fact that most of the powder rooms lack windows. So, while this is a great mess for any other room, you can make it your advantage in the powder room. You are at full liberty to utilize the surrounding walls by displaying masterpieces that look better when they are glanced from a closer proximity. Similarly, the small space of this room gives you greater advantage to experiment with lighting and décor too.
Mirrors matter
The most vital fixture of a powder room is a mirror. So, you have a grand scope of experimenting with different types and styles of mirror. Since the availability of space is very less, so putting up a giant mirror will have a number of merits. It will give an optical illusion of greater breathing space! It will also give the room a makeover you want, without doing much about it.
Creating big styles in the small room
The space constraint of your powder room will be advantageous in giving it a complete makeover and setting up a visual harmony. A tip from us is that you can make it look like an antique attic by installing wood detailing. So, while oak wood paneling will look elegant, you can complement with fern prints on them to achieve unison in appeal. You can also incorporate copper fixtures, distressed metal hardware and antique crystal scones to work on this eternal look further. Thus, this part of your home will be a standalone portion, reflecting the timeless elegance!
Creating a modern luxury
If your living area is decorated in the modern way you might wish to make the powder room look highly urbanized too so that an overall symmetry is maintained. Thus, the symmetry is wall color and texture is the first thing to go about it. Next, concentrate on the furniture and fixture. If the rest part of your household comprises of furniture that are slim and sleek in appeal, it is mandatory here that you opt for the similar ones for your powder room too. A large, wall mounted, vertical mirror will remain the prime factor in this case too. But, now it will be frame-less or with very thin framing to couple up with the modern décor.
Wise lighting
Lighting plays major role in creating ambiance. With powder room you have greater scope of playing with the lighting features. Although do will, in most of the cases, not get fortunate with natural lighting, it hardly matters at all. Mix up the light sources, playing with varying intensity so that it gives warmth and welcoming appeal in your powder room. Sectional lighting will add depth in your small space and complement with the overall theme and look of the same too. Install a few focused lighting all around the mirror. It will give greater dimension to the powder room by reflecting clustered light on the mirror and illuminating the room.
Things to bear in mind to make it pleasant

While you decorate the powder room, certain things must be kept in mind. Although the space constraint is a major advantage here to depict your taste, you cannot rule out the challenges you and your guests will face too. So, be on the safe side. Go for as many as wall mounting options as you can, so that your walkable area is never jeopardized with. Further, these wall mounted shelves and counters will help in keeping your things organized, without making your powder room look unruly and crowded. Even for the whirlpool in your powder room, get hold of the wall mounted variety.
The walls of powder room are definitely your canvas. But you have to be equally serious about the fact that your decoration must look neat and tidy instead of making the powder room appear messy, claustrophobic area. You need to keep this in mind for the selection of colors too for the same.
Design the powder room wisely so that the visibility to your toilet is tucked away. Never ever design the powder room in such that its front door opens directly to give the full view of the toilet. The entire decoration and designing intricacy of your powder room will go waste.
Now, that you know the role of a well decorated and well equipped powder room in a modern home, we are sure you will give it a serious thought when you plan to renovate your house. With the guidelines we have provided here you can work on its aesthetic appeal further, so that this highly functional mini space can turn out be the most rejuvenating section of your house.