Ediball is a concept that has been designed by Nick Carnie especially for the Electrolux Design Lab Competition that was held in the year 2009. The sphere shaped concept will give an all new meaning to cooking food. It doesn't look anything like the traditional appliances present in the kitchen and manages to fetch attention with its unique facade.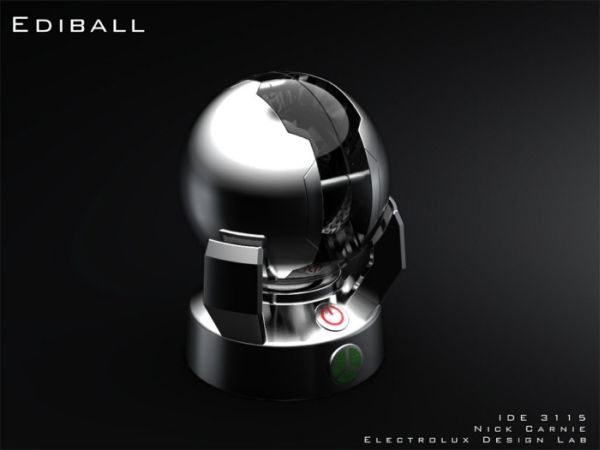 The designer has fetched a lot of inspiration from rotational molding that is an industrial process. In the process of rotational molding, different kinds of products are created that are most of the times hollow. This kind of industrial process is mainly applied to plastics and is used at a large scale now. Ediball is simple to use and will give a creative streak to present day kitchens. Place the food item after opening the mold. Now place the mold on base after closing it. Ediball comprises of a variety of programs and users can choose one as per their requirement. Once the food is inside the mold and the desired program has been chosen, allow it to cycle. Open the mold and remove the molding after the cycle time completes.
Ediball has a very simple interface and the base on which the mold rests is very sturdy. The mold can be split into two parts so that foodstuff can be placed easily inside it. These molds can be easily snapped apart and are interchangeable as well. The presence of electromagnets makes sure that these molds are locked together tightly. Full motion and molding is made possible because of levitation for which electromagnetic are provided. One can easily choose from a variety of mold shapes and colors, giving Ediball a touch of your personality.
Via: Coroflot