Your home is a place where you spend the time of your day where you want to feel relaxed and comfortable. This is the place where you return to find some peace after a hectic day and where you spend your Sunday mornings with a cup of coffee and your favorite book. How your home and living space is designed is very important because it has an impact on your brain and mood. A well-designed, spacious, breathable living space with lots of natural light will bring a lot of positive energy to you and will help you feel rejuvenated. Although, a large number of people do not have the luxury of having a large constructed area of the property, however, this does not mean that they cannot experience a nice naturally lit living space. Glass extensions are interesting additions to the architecture and interior design field that have an exceptionally broad scope of creativity.
Intelligent use of glass extensions can help make your homes look bigger and can allow lots of natural light to come in. Think of enjoying a cup of coffee on your couch in a living room while still enjoying the aura of an outdoor lush green lawn. Not only it makes your house look bigger and more contemporary but also increases its valuation and is, therefore, a good investment. SunSpaces are one of the most reliable glass extensions company. Their team of engineers, architects, and designers can work with you to create an amazing glass extension for your house that not only goes with the design but also fits your budget. Here are some of the glass extension ideas that can give a unique touch to your home.
Sunrooms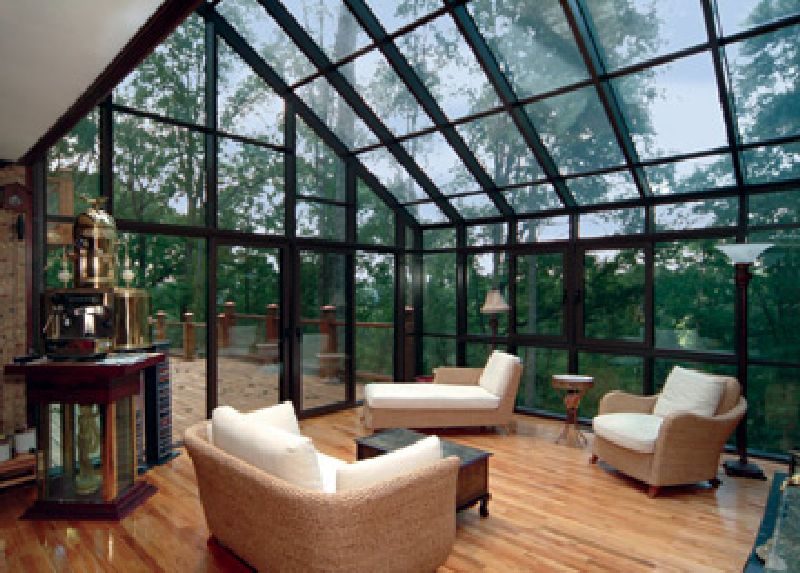 Many people prefer building small conservatories as an extension because that way they can avoid the hassle of taking building permissions and other regulatory formalities. On the downside, conservatories become hot during summers and cold during winters and do not remain very practical in terms of utility. A good alternative to conservatories is, therefore, having a sunroom. Unlike a conservatory, a sunroom will have an insulated roof and an insulated wall with an opening to the rest of the house. This facilitates the flow of hot air and helps in controlling the temperature thus offering greater utility.
Internal Walls and Doorways
One of the most intelligent ways in which glass extensions can be used is adding glass walls and doors inside the corridors and hallways. An intelligently used sliding door can provide a permanent flexibility to reconfigure the internal design and add or remove a portion as per requirement whenever you want.
Noise Management
A glass extension wall combined with a concrete floor can look extremely elegant but can become a headache for the residents given the noise it will generate. This is because both these surfaces are solid flat surfaces and contribute to the reverberation of sound. Therefore it is important to select the materials intelligently so that the noise levels can be maintained and you do not find yourself ending up in a beautiful hellhole.
Modern Kitchen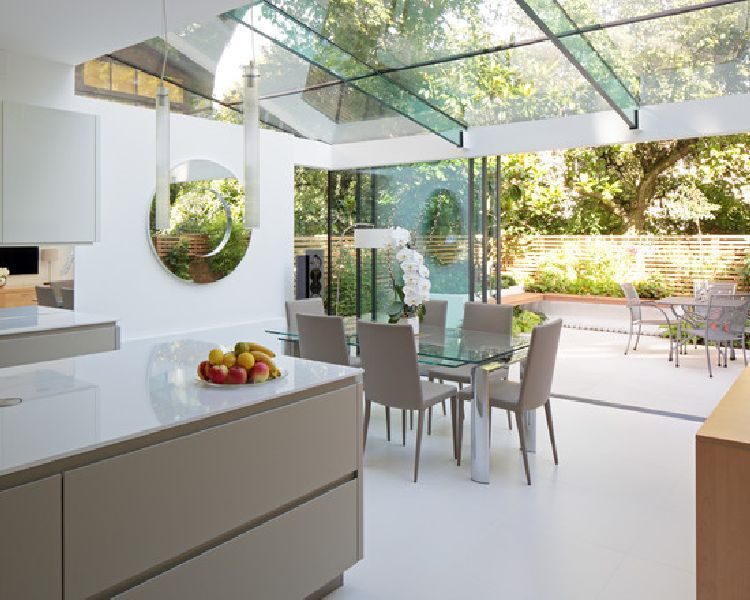 If you fantasize having one of those large boutique kitchens where you can truly enjoy your culinary time but do not have the budget or space allowance to do so, a glass extension can help you live your dream. Adding glass extensions to your kitchen in the form of glass racks, shelving, end panels and worktops can give a classy and elegant touch to your kitchen, it will also make it look and feel more spacious and breathable.
Obscured Glazing
Having a glass structure to be able to feel close to nature and enjoy the natural sunlight can be a very appealing idea. However, a lot of people drop this idea thinking if it will have an impact on their privacy with the neighbors and the passer byes peeking inside your home. Luckily there are privacy glazing options available that let you enjoy the perks of glass extensions without worrying about your privacy being compromised.
Lighting and Ambiance
Glass extensions primarily aim at playing with natural light. You can take this feature to another level by installing creative lighting options with dimmers to create a romantic dimly yet comfortably lit ambiance inside your home when the sun goes down. Spotlights, elegant chandeliers, and wall washes help in enhancing the ambiance of a living space featuring a glass extension.
Annexes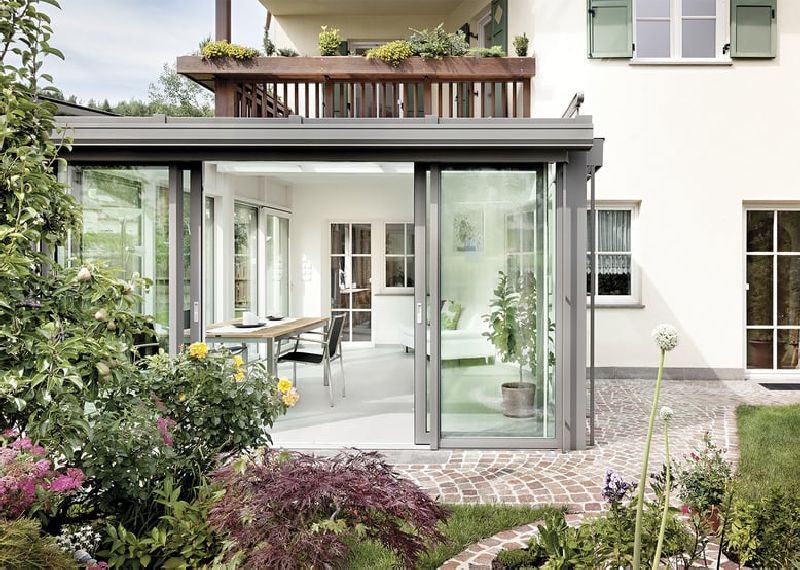 If your property has a large lawn and you are thinking of an extension, it would be a smart choice to add a glass annex. This will not only add a modern space but will also help you save on your cost and time consumed by regulatory formalities. You can spend your Sundays playing board games or reading a book with a cup of your copy in your annex overlooking your lawn.
Article Submitted By Community Writer