The prestigious Cuisinart brand is a universally recognized name. It covers the kitchen like no other company. Providing a wide range of products preferred by chefs and consumers at large, the company hosts a number of specialty products. Its technology wrapped in stylish design has won some prestigious awards as well. Below, we are presenting a list of seven best coffee makers by Cuisinart to help you with your shopping.

1. Extreme Brew 10-cup thermal programmable coffeemaker DCC-2750
PRICE : USD 129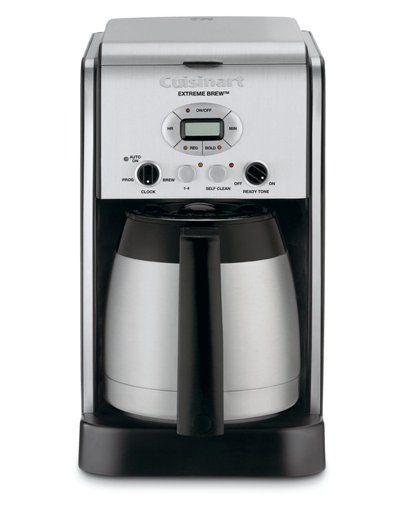 The Cuisinart thermal programmable coffee maker gives you to a good morning wake up call. The machine brews up to 25% faster than other coffee machines. Equipped with Extreme Brew Technology and completely automatic 24-hour programmability, choose your regular or bold flavor, and set your brew up to 24 hours in advance.
Technical Specification
a. 10 cup stainless steel double walled insulated thermal carafe
b. Self- clean, 1-4 cup setting and adjustable auto shut off
c. Gold tone commercial style permanent filter,charcoal water filter for removing impurities.
USP
The Extreme Brew-10 cup thermal coffee maker proves to be an excellent offer if you want a good, solid coffee maker that is simple and easy to use and brews excellent coffee.
PROS
Cuisinart provides a limited three year warranty on this product.
2. Coffee on demand 12-cup programmable coffeemaker DCC-3000
PRICE : USD 99.95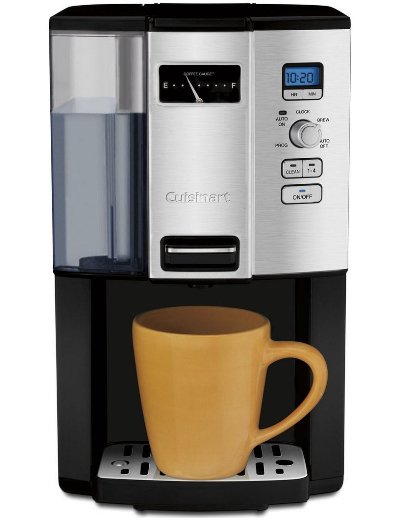 Packed with a permanent gold tone basket style filter and a charcoal water filter, the Cuisinart coffee maker brews exotic coffee cup by cup. It comes with an exclusive coffee gauge loaded on the front to count the remaining cups. Also a removable water reservoir makes cleaning and fill-ups easier.
Technical Specification
a. Fully programmable with 24 hours advance brew start, auto shutoff, self clean and 1-4 cup setting
b. Removable drip tray under coffee dispenser
USP
This coffee maker dispenses a single cup of coffee at a time with an easy to use actuator; the dispenser light also switches on once the lever is pressed to fill your cup.
PROS
Easy to read coffee gauge helps to know the amount of coffee left.
3. Coffee plus 12-cup programmable coffeemaker with hot water system, CHW-12
PRICE : USD 99.95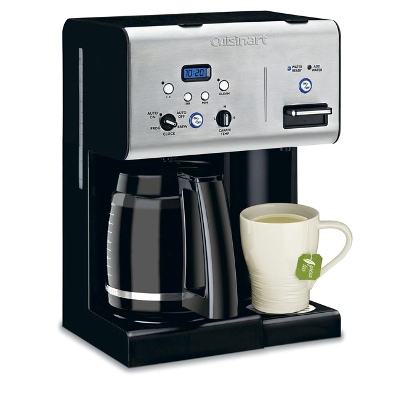 The12 cup programmable coffee is quick and satisfying, and allows you to enjoy hot instant sips of soup, tea, coffee, and many more. The programmable on/off feature, automatic cleaning and permanent filter are displayed with this mellow flavored coffee maker. Exclusive Brew Pause feature allows you to enjoy a cup of coffee before the cycle is finished.
Technical Specification
a. 12 cup carafe with a drip free pour spout and a comfortable handle
b. Carafe temperature control
c. Fully automatic
d. Charcoal water filter and gold tone filter
USP
TheCHW-12 coffee maker has a unique specification of hot water system, which makes it easy to heat water instantly. An indicator lets you know when water is hot and ready to dispense. Safety feature of the machine prevents hot water from being dispensed. The coffee maker also features a blue back lit LCD display to easily glance at everything.
PROS
High quality coffee brands taste great
The carafe has a spill proof design
Easy to use controls
4. Single serve brewing system, SS-700
PRICE : USD 199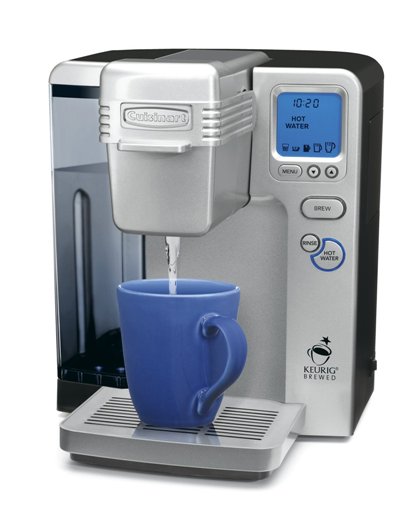 The Cuisinart single serve brewing system is the first brewer taking less than a minute and uses K-cups for tea, coffee, and hot chocolate. Five different cup sizes of 4, 6, 8, or 10 ounce let you enjoy a perfect sip of your preferred drink each time. The brew temperature is controllable and can be set between187 and 192. Serving iced and regular coffee brewing settings, the machine displays a stylish and industrial design.
Technical Specification
a. Large removable 80 oz. water reservoir
b. Rinse control for instantly cleaning the brew chamber
c. Quiet brew technology lets you enjoy your coffee peacefully
d. Blue back lit LCD and digital clock for quick glance
USP
The Cuisinart single serve SS-700 brewing system is perfect for both personal use and entertaining. It features over two hundred varieties of pre-measured premium coffee and tea brands and functions with the innovative and easy to use one-touch technology.
PROS
Large water reservoir
Integrated My K-cup storage
Hot water and rinse features
3 years limited warranty
5. Programmable conical burr mill, CBM-18N
PRICE : USD 99.95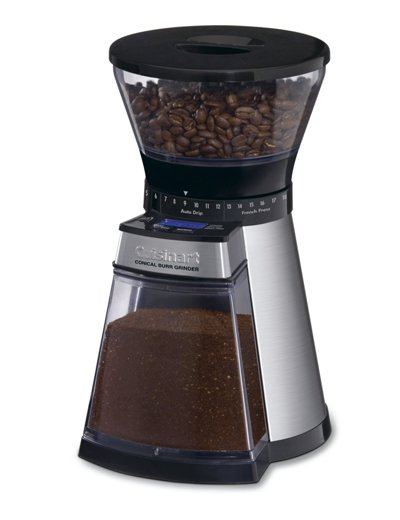 The conical burr mill by Cuisinart provides you the perfect grind for mellow aromatic sips of coffee. Its classy design with brushed stainless steel exterior and an easy to read LCD showing time, fineness, and number of cups,makes this programmable mill a desire for a relaxed morning.
Technical Specification
a. Fully programmable 1/2 pound capacity hopper
b. Cup selector from a varied sizes of 1-14
c. Removable grind chamber, heavy duty motor, cord storage
USP
The programmable burr mill CBM-18N features the new 18 position grind selector ranging from ultra fine for espresso to extra coarse for French peas. The perfect uniform grind by the conical burr provides excellent buttery result without any heating.
PROS
The consistency of the grind is very good
It can make a great gift
6. Grind & brew thermal 10-cup automatic coffeemaker, DGB-650BC
PRICE : USD 129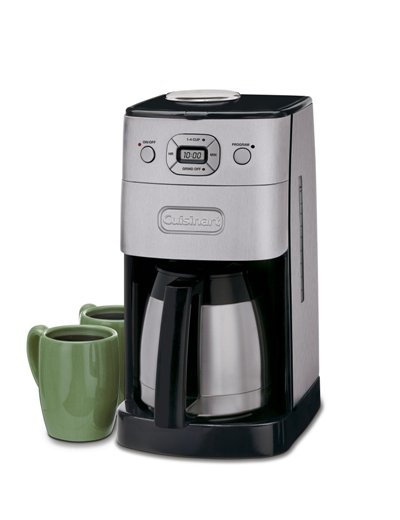 This grind and brew thermal coffee maker by Cuisinart is a perfect addition to any modern kitchen. Its integrated grinder automatically grinds whole beans just before coffee is brewed, ensuring strong fresh flavor and aroma. The 24 hour fully programmable unit works well to serve at any time. Its large control panel and fully programmable function allows quick, easy, and delicious brewed coffee. Brew Pause feature of the grind and brew coffee maker allows you to enjoy a cup of coffee before brewing cycle has finished.
Technical Specification
a. Features like automatic shutoff, audible beep for 'brewing complete', user friendly digital clock, and grind off feature
b. Built in charcoal water filter for purification
USP
The large double wall insulated thermal carafe holds up to 50 oz. of coffee, enough for serving a large crowd, and keeps it hot for up to six hours.
PROS
The grinder compartment is well separated from the water reservoir
The door mechanism of the filter basket is also very well designed.
7. Programmable Espresso maker, EM-200
PRICE : USD 199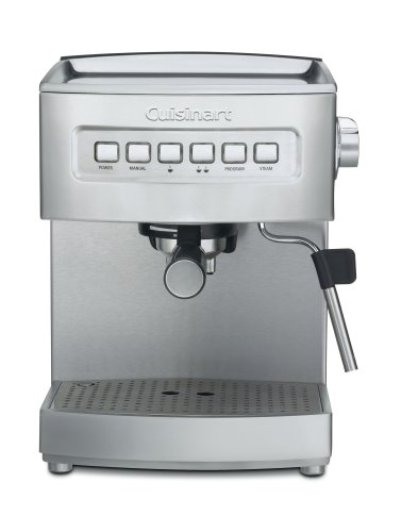 The programmable espresso coffee maker by Cuisinart lets you brew both single and double espresso. You can then change it into the rich delicacies of either cappuccino or latte also. The machine's stainless steel nozzle works well to churn your drink into deep froth, while the 15 bar pressure delivers excellent espresso. Its pre-programmed cup sizes deliver 1-1/2 ounces and 3 ounces.
Technical Specification
a. Cup warming tray on top, removable drip tray and cover for easy cleanup
b. 69 ounce removable reservoir
c. Separate steam button for easy use
USP
Professional stainless steel make with embossed Cuisinart logo presents a well built machine which works at its best to deliver professional quality of single or double espresso, cappuccino and latte.
PROS
Good water reservoir
A quality machine which overall produces flavored and aromatic espresso