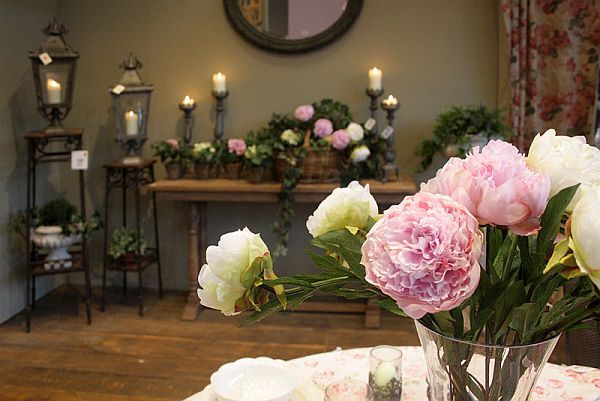 If you are a flower enthusiast and wish to decorate your home with simply beatific flowers, you got yourself an interesting job to do. Arranging floral arrangements to make your living space heavenly is a natural thing to do. But, if you are unsure of how best to fit flowers in your home, then follow these tips to get an idea.
Choose flowers that suits your house color
Now that you are ready to take full advantage of the flower season this year, take a good look at your house, the colors, décor and so on. This is important because the furnishing, the color combination of the house and the natural light plays a major role in highlighting the natural beauty of your house. So make floral arrangements that go well with the décor and are pleasant to the eyes.
Floral arrangement for colorful room
If your living room is already dashing with books, lamps and paintings adorning the wall, then the best flower arrangement to opt for is white like lilac or something that is equally powerful, like peonies or peacock feathers and so.
Vase full of dissimilar flowers
You can choose varied kinds of colorful flowers and cut them in long and short stems and place them accordingly in tall vase, so that it gives a nice stylish look, which can be placed on the coffee table to accentuate your living room.
Glass bowl for simply beautiful look
If you like to do it the simple way, then there is nothing is better than placing flowers in a glass bowl. It could be of any shape, if the bowl is large then you can place many flowers in the bowl with water filled in it. To get the nice effect of the floral arrangement, use bowls that suits the decors of your room. You can place bowl of blooms anywhere you like, but the more appropriate place is your bedroom.
Tall flowers for dining table
Dining table is one of the important places in home, hence it is vital to place the right kind of flowers in the right vase to get the ideal look. Use tall flowers to place it on the dining table in order to offer an elegant look to the table. You could use, freshly cut berry stems, white hydrangeas or bright sunflowers on the table for a more contemporary look.
Floral arrangement for small table
There are many types of floral arrangement for tables, so based on the size of the table and the color, make floral arrangements as such. For instance, if the table is white in color, create floral arrangement that is bright in color and pleasing in style.
Go antique
If you want to decorate your living room in a traditional way, then choose vases that are antique in style and place flowers according to the color of the vase in order to match the color scheme of the room.
Multicolor floral arrangement
Any kind of flower arrangement will do wonders to your living space provided that you had cut and placed them in the appropriate vase. Be it light or colorful room, all you have gotten to do is to choose different kinds of flowers and must make the combination right, like daffodil, dried hydrangeas and so.
Flowers for light colored decors
If your living room is painted in light colors, then place flowers that bring out the beauty of your living room like pink dahlias, berry branches and so. You could also place them in a small vase in front of your mirror and add colored stones on the bottom of the watered vase for a striking look.
Blooms in white
White is a rich color that brings the best in terms of simplicity and style. So, if you are not certain about which floral arrangement will go with your room, opt for white. For instance, you can place tall lilies with bright color long stemmed flowers such as pink dahlias and place them on a tall vase and keep it on the side of the kitchen or just go white. If you would like to add a tinge of contemporary beauty, use designed vase but keep it simple.