Nothing says luxury quite like a bespoke hand-tied bouquet from Moyses Stevens and a bottle of the finest champagne that money can buy. Making buying a gift so much easier, Moyses has a range of different high-quality champagne options to choose from when you purchase one of their exquisite bouquets from their website. Offering same day flowers and Champagne delivery in London as well, you'll be guaranteed to receive this special combination within a few hours of ordering it, perfect for those who may be a bit forgetful or for someone that just wants to treat themselves.
What is Moyses Stevens?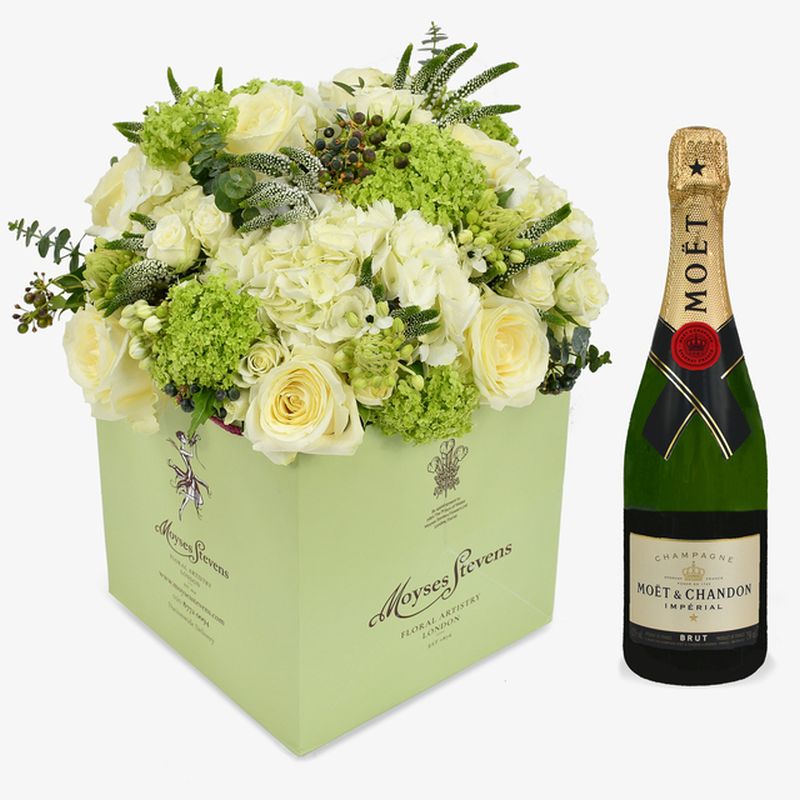 Based in London, Moyses Stevens was established in 1876 and have a great track record of delivering the most exceptional floral arrangements in the most exquisite designs. They are known for being proud of their rich heritage, just like the champagne brands that they stock; VeuveClicquot, Moet &Chandon, Dom Perignon and Ruinart. The two brands make the perfect partnership as they both specialize in hand-crafted luxury goods that are now readily available to you to ensure you're able to give the best gift to that special someone.
On their website you are able to choose from their pre-selected pairings that include Pastel and Blanc which is a bouquet that features the stunning bottle of Ruinart champagne and the most gorgeous pastel coloured roses in peach and pink, also available in 3 sizes which is great for if you're on a budget.
You can also choose from their Sweet Rose and Moet with the bouquet showcasing the most spectacular roses and stunning bunches of eucalyptus, making this a great gift for a loved one. If you're more of a Dom Perignon fan though and want a quick checkout then be sure to choose the Hydrangea and Dom Perignon Bouquet. Hydrangeas are an extremely popular flower and its no surprise with its breathtakingcolors, which change as we go through all of the seasons. Another pre-selected pairing that they do is for the bottle of VeuveClicquot which is featured in a bouquet that they call Sunrise and Veuve. In this arrangement there are strikingly stunning yellow vuvuzela, peach stocks, poppies, camomile, solidago and seasonal greenery.
Smoothie & Rose Sweet Passion & Rose Pastel & Blanc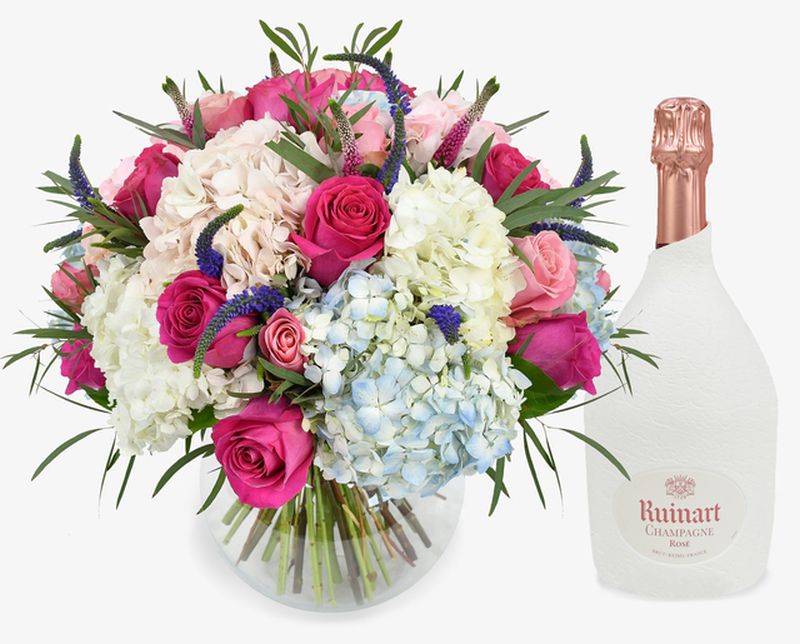 In 1743, Moet &Chandon was founded by Claude Moet who was innovative in his wine-making savoir-faire and has been passing it down from generation to generation. On the Moyses Stevens website you can choose this famous champagne to pair with a famous bouquet of Moyses flowers which have been lovingly put together by the extraordinarily talent florists who are masters of their craft. To give yourself an extra special Valentines Day you should choose the Love to Tango bouquet of red roses which depending on what size you choose, can feature up to 200 red roses. Having long been the floral symbol of love, commitment and passion, pair them with a bottle of Moet and Chandon and you would've just got the best arrangement that money can buy.
VeuveClicquot was founded in 1772 and just like MoysesStevens, it is a known luxury brand that is famed for its quality. When looking to buy a birthday present or just wanting to say thank you, you should look at pairing this bottle of champagne with the exquisite lavender sky bouquet, which is made up of pastel roses, pink astilbe, pink alstroemeria, pink veronica and a bunch of seasonal greenery.
You then have the Dom Perignon which would make for a great festive treat when paired with the Crimson Dream Bouquet. Make the holiday season great with this beautiful bouquet that's made up of red roses, red carnations, purple veronica, red hypericum, yellow and red spray roses, rubus berries, blue eryngium and seasonal greenery.
For more gifting options, please visit www.moysesflowers.co.uk
Article Submitted By Community Writer