Few things are as good a gift on Valentine's Day as some romantic Valentine's flowers. They can look incredible, and fill a room with a pleasant scent at the same time. Plants and flowers can also spruce up your home in the Winter, and bring the outdoors in. Some can even make great table decor for Valentine's Day, if you decide to have date night at home. Through this article we will check out some of the best Flowers to Combine with Roses for Valentine's Day.
Flowers to Combine with Roses for Valentine's Day
It is this versatility of flowers that make them so popular, as well as their natural beauty. While a bouquet of red roses is a classic Valentine's Day gift, it is not the only option when it comes to flowers. If you want to spice things up, consider combining some other flowers with your roses to create a unique and gorgeous bouquet. 
This article is going to go over some great flowers you can combine with roses for a Valentine's Day gift. Of course, these are far from the only options, so feel free to get as creative as you want when it comes to creating the perfect floral gift for your loved one.
Tulips
Like roses, tulips give off a very romantic and lovely vibe, which makes them an obvious  choice of Flowers to Combine with Roses for Valentine's Day. They are a joyful bloom and it's hard not to smile when looking at them. Tulips also come in a range of colors, so you can match and/or complement the roses. They are also very bright generally, and are sure to put a smile on the face of anyone who receives them.
Marigolds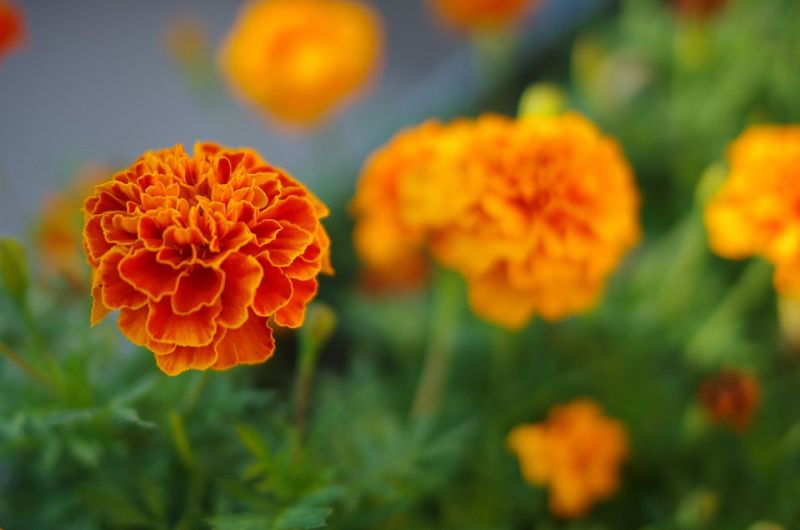 Another option for Flowers to Combine with Roses for Valentine's Day are marigolds. They are known for their round and layered shape, large bloom, and their beautiful color mixes. These flowers are often planted and used as companion plants, so it should come as no surprise that they work fantastically with roses. In addition to being a beautiful flower and companion to roses, marigolds also have many health benefits. They can assist with skin conditions, stomach issues, ease headaches and help people sleep.
Orchids
Luxury, beauty, strength, and love are just a few of the meanings behind orchids. They are a great way to show someone how special they are, and show them you care and appreciate them this Valentine's Day. In particular, purple orchids are a great choice. They stand for and represent delicate beauty, and pair well with roses of many different colors. The contrast in size and shape between roses and orchids are another reason this is a match made in heaven.
Sunflowers
While this is a bit of a unique combination, it is one that can work. Few flowers are as bright, sunny, and cheerful as sunflowers. They are sure to uplift anyone that sees them, and their shape and design reminds people of the sun. While some can grow quite larger, there are also smaller ones that can fit perfectly into a bouquet or other arrangement. While most sunflowers are yellow, they can indeed come in different colors if you want something a little bit different.
Carnations
Often given as a 1st anniversary flower for married couples, this is among the most romantic and special flowers out there. This romantic meaning and primary usage makes them a smart choice for a Valentine's Day bouquet alongside some roses. They are fragrant and while they come in many colors, going with a light or dark red is generally the best for a romantic occasion like this. They almost look as if they were created from tissue paper, and have a shape, design and petals unlike many other flowers.
Lavender
While you might not think to give lavender flowers for Valentine's Day or mix them with roses, both can be a good idea. The purple hue and the unique shape and petal layout make this an eye-catching partner to some roses. Not only does it look incredibly sleek and beautiful, but the scent that lavender gives off is second to none in the eyes of many. Lavender has been known to help people relax, assist people in sleeping, and generally help people stay calm and improve their mental health and these are also some of the reasons why you should consider this as one of the Flowers to Combine with Roses for Valentine's Day.
Gerberas
A Gerbera daisy is another lovely option if you want to change or spice up a traditional bouquet of roses on Valentine's Day. Their vivid color is almost shocking, and they are sure to turn heads and start conversations. Their large flower heads are full of color and combining them with roses is a powerful decision. They come in a few colors like red, pink and orange, so you have options to choose from. Other types of daisies, such as the white daisy, can also make a gorgeous addition to roses. They represent happiness, and are sure to put a smile on
Calla Lilies
Calla lilies are a sleek and very underrated Flowers to Combine with Roses for Valentine's Day that is a very unique and modern choice to pair with some roses. It provides a great contrast, and is an understated companion to roses that won't overpower them, but simply accentuate them. They are a very sophisticated flower and can look good with any type of decor. While they can be a little boring on their own to some, they make a near-perfect companion flower or addition to any arrangement.
Chrysanthemums
Often simply called mums, these flowers are yet another brilliant addition to any bouquet or arrangement that features roses. These are a symbol of joy and eternal optimism, and can be a romantic option for Valentine's Day. Their thin and layered petals are quite unique and contribute to a flower that is very visually appealing. They come in many different colors, but one of the best choices is white. The meaning behind the white chrysanthemums is perfection, which makes it a great choice to give to that special someone.
A final note on Flowers to Combine with Roses for Valentine's Day
In conclusion, any of these flowers make a great companion with roses on Valentine's Day. Feel free to experiment with different options until you find one that works for you and looks great. You can also combine these flowers with some beautiful gifts for your lady love. 
Article Submitted By Community Writer