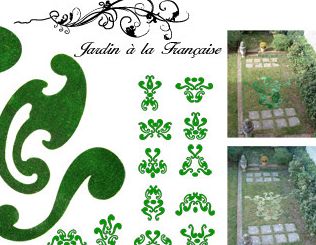 I had always loved those well-kept gardens, but never get time to maintain my own. If your pain is somewhat similar, them here is something that can give you an easier option to have a beautiful garden.
We are talking about Formal Garden, which is an innovative and easy way out to a decorated garden. With this at hand you can personalize your garden with beautiful motifs, which are temporary and can come to your rescue whenever you feel an instant need of beautifying your garden…like on a party or a get-together.
All you need to do is place the synthetic pochoirs on your lawn by following a figure…leave it for 10-15 days and there you have a beautiful design to welcome your guests and this is gonna stay there for a fortnight. A good option for those who believe in instant solutions…isn't it?
Via: DesignSpotter