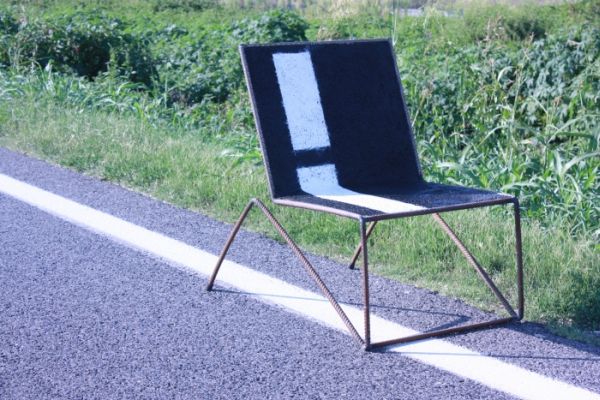 The designer/manufacturer
FordesignFor from Milan, Italy
Overview
The demure gray colored chair has a heavy-duty built. The robust framework provides it adequate support. For legs, the chair has a boxed square from which a spidery limb with a bend radiates out, giving it a distinct look. The back rest of the chair is angled at a comfortable incline and sports two dashes, which look a lot like markings you see on the road. The chair has been conceived by the Interior designer Luca Gnizio, who has dedicated FordesignFor studio to the cause of recycling industrial waste and turning it into artsy objects of use.
What's unique?
Rare and uncommon materials have been used to make this chair as not many objects are made from road surfacing asphalt. The basic chassis of the chair is supported by iron bars. While, the seats as well as the back are put together using steel sheets lined with a layer of asphalt. The piece has been coated on top with transparent water paint thus your clothes will not get discolored or sullied when you sit on it.
High points
The chair has been made entirely from recycled materials. It sends across the message to use all resources available on earth judiciously. The importance of conservation and preservation has been highlighted by reusing industrial waste. Only second hand materials have been utilized to build the chair. The steel sheets are taken from metal cabinets while the iron bars are obtained from reinforced concrete.
The rubber put on the feet of the chair is acquired from discarded walking sticks. Whilst, the asphalt for lining the chair is obtained from road resurfacing materials. The look of the chair aspires to remind onlookers about the increasing level of CO2 emissions in the atmosphere. Surely, there is dire need to keep a check on all activities like deforestation and burning of fossil fuels which contribute to the increased level of carbon emissions in the environment.