While talking about home office management, one should be very careful about utilizing each and every section and element of the work space, be it selecting the right furniture or organizing and placing other useful commodities. Selection of office accessories should be done in such a way that it will not look odd while placing them in their respective places. Also, the utility quotient of furniture and accessories, should be taken in to account. One should be very cautious while managing the look. The look that you will bring to your home office should blend properly with your home background. The following tips will definitely help you to organize your home office effectively.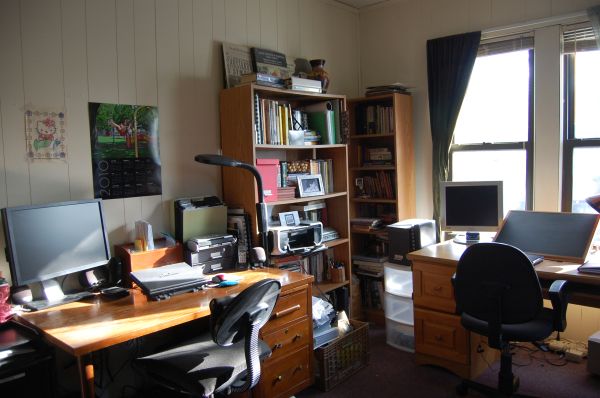 1. Selection of furniture
The most important thing, while creating home office, is the right selection of furniture. It should not look odd when compared to the art and deco of your home. Go for some 'least space occupying' furniture with attractive and sleek design. Blending with the look of your working desk, you should carefully choose chairs, which will be comfortable during hours. Don't go for cheap furniture, which might make you pay later.
2. Decorative box for handling office accessories
On the desk, place some fascinating box, with compartments, which will help you to place small things like staples, paper clips, etc. The compartments in box will help you to separate one thing from others.
3. Managing pen and pencil holder
Placing decorative pen and pencil holders will add to the look of your home office. While handling pen, pencil and markers, one should place all these stuffs at proper place after use. It will help you to locate them very easily.
4. Use of fabric or magnetic board
You should place proper fabric or magnetic board near your working desk, so that you can stick important notes, envelops, etc., which might be useful for future use.
5. Managing proper box for electronic equipment
Find proper home for chargers of mobile phones or other device, which might come in your way while working.
6. Managing walls
Don't go for hanging excessive stuff in the wall, which might give a messier look. Instead go for some art works, matching your working environment.
7. Stay out from regular selection
Try to create something out of the box. Avoid accessories, which are regularly used in office. You can buy similar things with sleek design and effective use, which are easily available in markets.
8. Avoid using ordinary recycle bin
Do keep wicker basket to manage paper wastes and make proper use of it.
9. Selection of electronic products
You should be a bit cautious while investing in electronics. Don't go for space occupying items. You can place electronics with sleek and fascinating design, which will blend with home environment. Invest in wireless items such as wireless mouse, keyboard, etc. It will prevent you from getting tangled in wires while you are working.
10. Placing sophisticated shelves
For managing various files, keep shelves with captivating design. It will help you to manage not only files, but also some useful books, giving perfect look of home library.