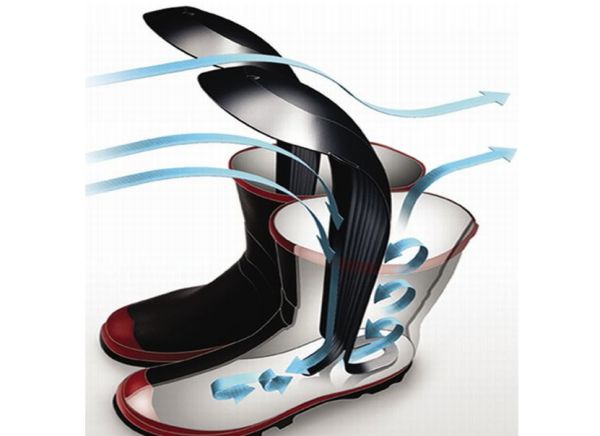 In various times of the year, we find it extremely difficult to dry up our clothes and shoes. But with time, there always comes a solution. Designers have come with up with such a solution that it won't be difficult to dry your shoes again, no matter which part of the year it is. Let us have a look at the seven futuristic footwear dryers to keep your shoes dry and hygienic.
1. Air dryer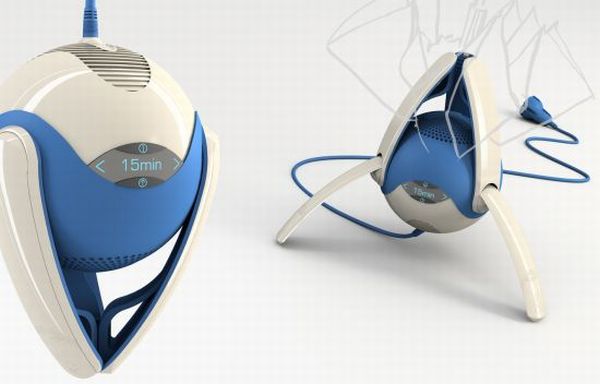 Made by Russian designer Olga Kalugina this portable dryer named 'Air' that absorbs the moisture from different objects with not with very less manual stress, seems to have solved our problem of keeping our wet clothes, shoes and various other household belongings really dried up, which used to become really difficult especially during the wet season. The drying equipment usually consists of a spherical design, which is divided into two parts upper and lower with a plastic line; the upper part is designed for breathing the air in and the lower for exhausting the air out. The equipment highlights three elements at the center, which are further divided into two parts. On the inner part there includes three flexible plates that create the effect of the clutch, when lined up in identical position and its working is very simple. That is, while the electric engine rotates the element, the plates become straight and make a loop that can be used to hang the article and the rotating elements make numerous variants to fasten or fix the object.
2. Orbicle footwear dryer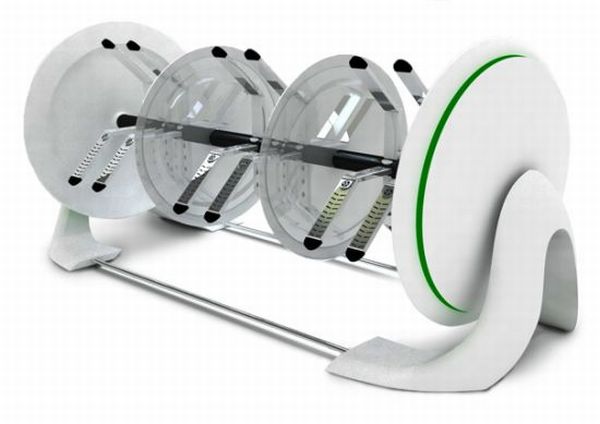 The chilly winters with good amount of snowfall can be really disturbing and drying the dress and shoes can be a tedious job. But now there are numerous designers coming up with various drying products, it won't be difficult anymore to dry the shoes and clothes. Hence to provide a solution, designer Seo Jin Hyeon has come up with Orbicle footwear dryer that would dry the wet shoes and make sure that fungus doesn't make it a habitat.
3. Genesun dryer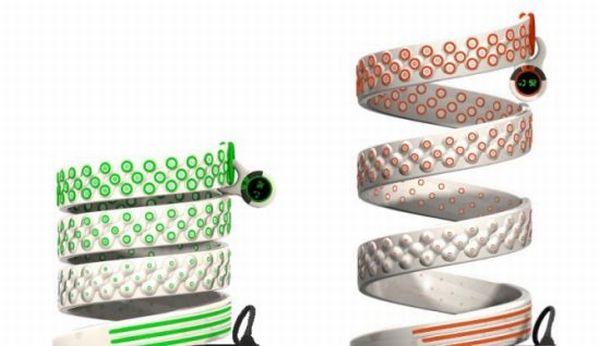 'Genesun' is a multipurpose apparatus that has the solution to dry up the clothes, shoes, umbrellas and also to heat the room when it's cold outside. So now the humid, wet monsoons won't bother you when you get drenched in the flood or if the work of drying stuff really bothers you. This instrument has its different modes that turns the flow of warm air either outside for heating the room or inside of the cylinder for drying the footwear or on both directions at once for clothes drying. The clothes are hung out on a construction that looks like a spiral and it is provided with the remote control to make it easier for switching modes to adjust the way that is required. So, Genesun is the universal solution to drying up all the stuff that is important to you.
4. Eco shoes dryer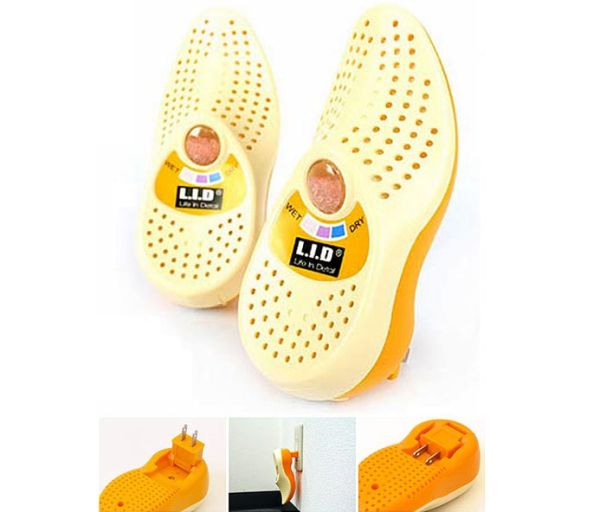 If your shoes are too grossed out in the monsoons or your sweat, the Eco Shoes Dryer, from Life in Detail, is the solution. It is a product designed to dry your shoes out if they get wet or your feet sweat is bothering you. It consists of packed silica gel that helps in absorbing moisture. To drain the water after the gel is saturated, it is to be plugged in to remove all the water from the gel so it's ready to be used again.
5. Shumidor ionic shoe deodorizer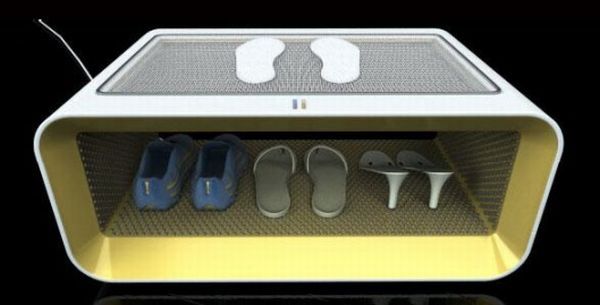 Is foot-odor problems from sweaty feet bothering you and you are disappointed because you just love shoe and you are dying to maintain them and retain that shiny new look? With foot sweat problems, it is a major priority to store them properly and just when shoe rack is not enough to cater to your need Shumidor comes to rescue. The famous shoe deodorizer by Michael Kritzer can be used to freshen up and clean your shoes in an environmental friendly manner. The Shumidor's air quickly fluff up the odor causing water, letting your shoes feel the cool and dry sensation and also preventing the growth of bacteria that find room in damp and warm conditions. Shumidor not just save your shoes from the bad odor but it also help deodorize the shoes placed in its air soles inside which are made out of biodegradable materials; a great eco-friendly way to clean up your shoes and make it odor free.
6. Wireless shoe dryer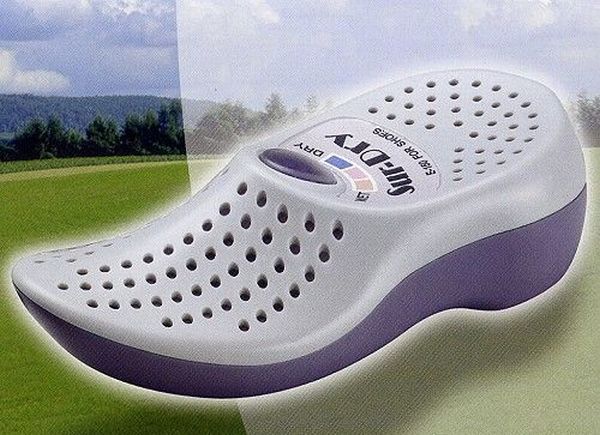 If you are looking for a portable dryer to keep your shoes warm and clean and off the bacteria then this is the stuff for you. This unit contains water glass technology crystals. It can be reused after regeneration. It keeps shoes dry and deodorized to prevent fungus and athlete's foot. And no wires or batteries needed, without heat that can harden and crack the shoes. The absorbing material is SiO2.
7. Wind driven boot dry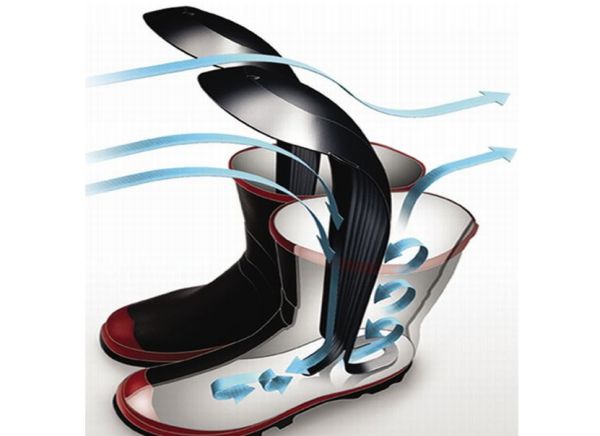 This boot dryer is a portable and easy home product by John Lee is a really pioneering and an award winning (NZ Awards) wind driven boot/gumboot dryer. WinDry is reasonably priced and a very efficient boot dryer. It basically uses wind as a natural source of energy to dry your wet boots. Its unique feature is that it allows the air movement even within the dead end spaces of the boots and other unapproachable corners and that's how it makes itself truly efficient.