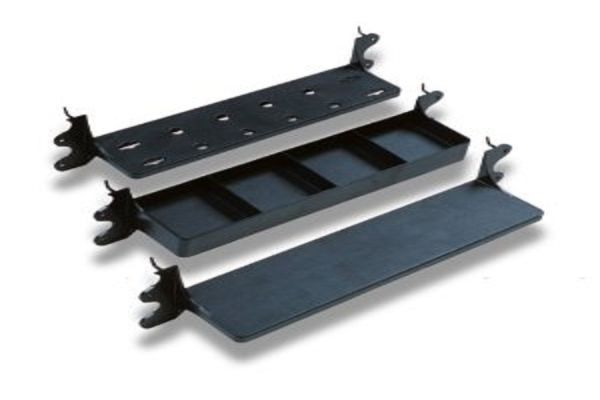 Garage shelves not only create vertical space, but also make your garage time more productive and your garage a safer space to work in. The garage shelves keep the floor of the garage free from the mess and bring in a more uniformed look by storing the items in an organized way, making it easier to find tools and to avoid any unfortunate incident due to heavy duty tools. All you need to do is to find the right storage to create the perfect space to spend your time in. Here are some of the most practical and versatile garage shelves to provide you a storage solution.
Gladiator Garage Works GAWA45SFTG 45-inch Gearloft shelf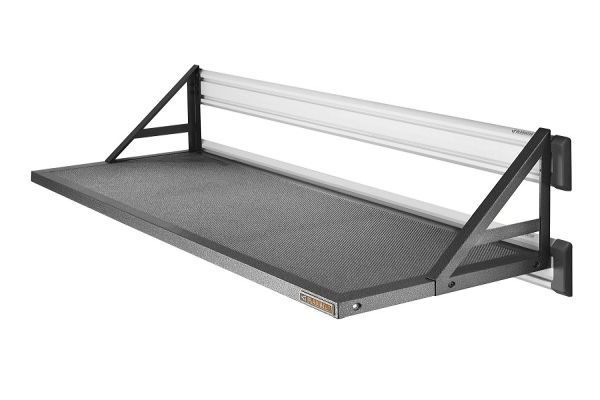 Easy to install GAWA45SFTG Gearloft shelf by Gladiator Garage Works is a great garage storage option with an extra deep surface for large and heavy items. Made of heavy duty welded steel with the weight capacity of 100 pounds is a wall mounted garage shelf with easy reposition options on Geartrack channels and gearwall panels. The sleek see-through mesh design gives a clear view to inspect the items when the shelf is mounted high. With dual mounting shelf brackets, the Gladiator Gearloft shelf also has the flexibility of downward or upward installation to make your garage time more productive.
Heininger 5560 GarageMate versa shelf 3-pack shelving system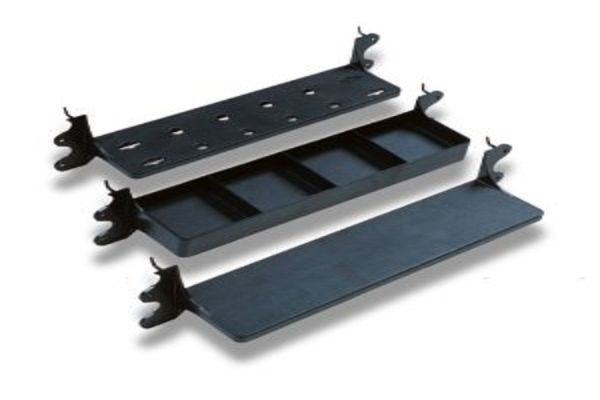 5560 GarageMate VersaShelf shelving system is a versatile and practical storage solution for garage by Heininger, which includes tool holder shelf, standard shelf and four pocket shelf, making it an excellent pick for shops and utility rooms as well. Easy to install VersaShelf shelving system is simple yet sturdy option to make your garage more organized and clutter free. Made of weather resistant plastic and durable chemical, VersaShelf by Heininger is a perfect garage shelving system to create a vertical storage to take the utility items off the floor, making it a more productive time in your workshop or garage as you will not waste your time and energy to locate the tools and other items to be used.
HyLoft 00651 45-inch by 15-inch wall shelf, Hammertone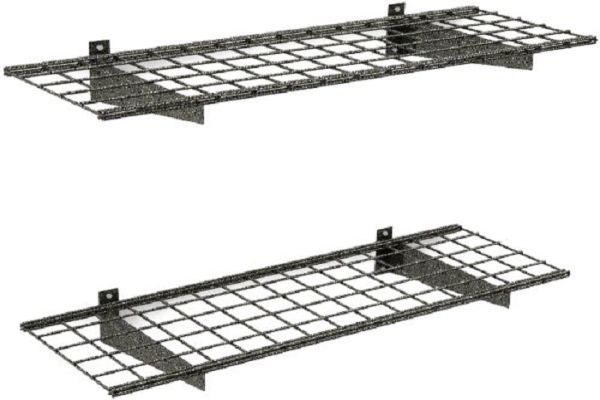 Increase the storage capacity of your garage with sleek and functional 00651 45-inch by 15-inch wall shelf by HyLoft. Spacious and easy to install, with the weighing capacity of 200 pounds, the wall mount storage shelve is an easy way to save plenty of your valuable space in the garage. Made of strong and sturdy steel with patented brackets, wall shelf by HyLoft comes with a full life guarantee to create a more organized structure of your garage space, laundry room or mudroom.
Workbench and shelving storage system with hooks and clamps

Customizable, durable and functional, workbench and shelving storage system by 2×4 basics is an easy, do-it yourself system to provide a perfect solution to your storage requirements in your garage. With an innovative and striking design, the workbench and shelving storage system with clamps and hooks can be customized at any length up to eight-feet and width up to four feet to cater to your needs. With the weighing capacity of 1000 pounds and lifelong guarantee, the storage system by 2×4 basics includes six shelflinks and four workbench legs. Safe and portable, workbench and shelving storage system by 2×4 basics will make your time in garage more productive and less tiresome.
Triton wall mount garage storage system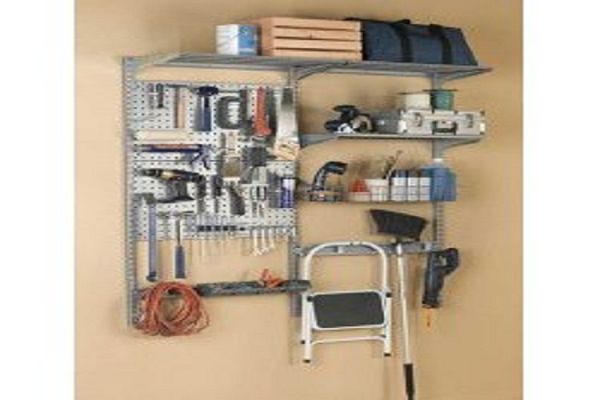 Modular garage storage by Triton is a dependable and functional system with expandable and interchangeable components to make your garage more organized and spacious by keeping the tools off the floor. The wall mount garage shelf is made of epoxy coated heavy gauge steel for resilience and can be wall mounted to various types of surfaces. Ideal storage solutions for your garage, the Triton wall mount system is simple yet versatile with its components that include vertical hang rail sections, steel wire shelves with LocOn brackets, steel square hole pegboards, plastic bins, and assorted locking peghooks. Modular garage storage by Triton is a must have for you, if you spend plenty of time in your garage.
Powell Hot Rod garage two wall hanging shelves in dark gray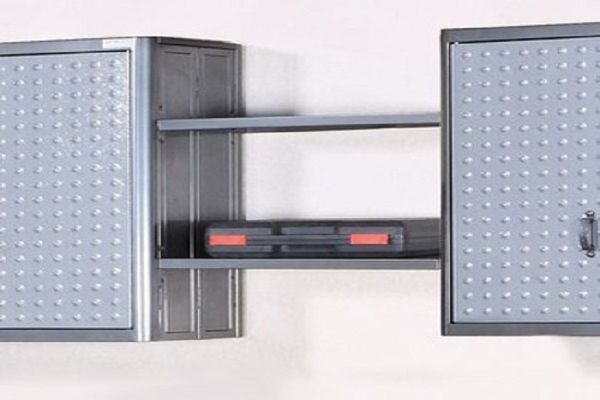 Sleek and practical, wall hanging garage shelves from Powell Hot Rod collection can also be installed in bedrooms or living rooms. In the striking dark gray finish, the storage is made of powder coated steel for durability and the heavy duty shelves are sturdy enough to store the heavy garage tools. The wall mounted shelves create excellent vertical storage and bring in a more organized look to your garage. Eye catching, functional and versatile, Powell Hot Rod dual wall hanging shelves will make your tiring day in garage a pleasant experience.
Arrow shelving system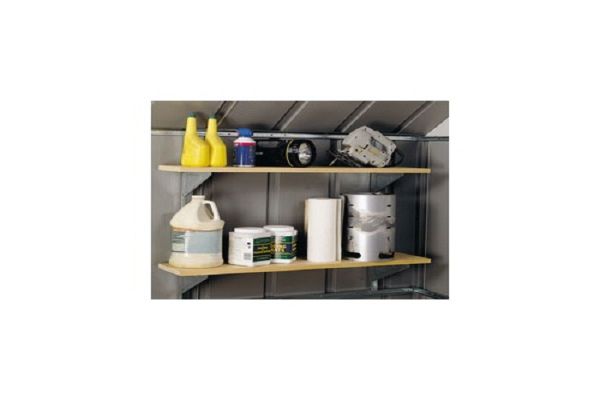 The garage shelving system by Arrow is a simple yet highly functional storage solution for workshops and basements as well. The heavy duty galvanized steel ensures durability and four shelves create ample storage for your garage tools or any other heavy items. The wall mounting system saves the space in the garage or workshop by lifting the tools to the vertical storage and also lends a clean, clutter free look to the working space. Easy to install and long lasting, Arrow shelving system is a great way to make your garage experience less tiring and more organized.
Edsal 72 in. 5 shelf heavy duty steel shelving unit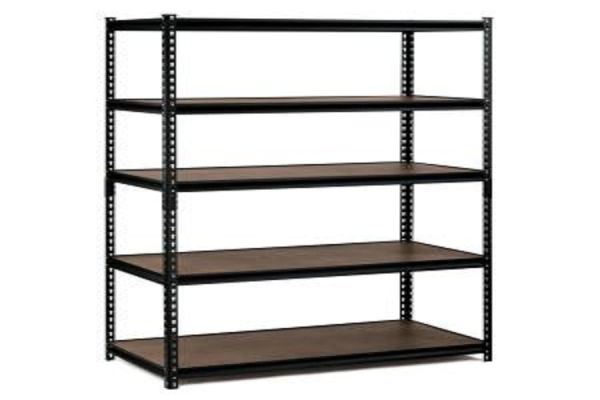 Make your garage more productive and safe with Edsal shelving unit. The 72-in. 5-shelf unit is made of heavy duty steel, making it sturdy and durable to hold the heavy garage tools. You can also create a customized storage as the shelves can adjust every 1-1/2 inches. Easy to assemble and install, 5 steel shelves have wood grain particle boards in black enamel finish making it last long. The shelving unit can also be used horizontally as a workbench for convenience.