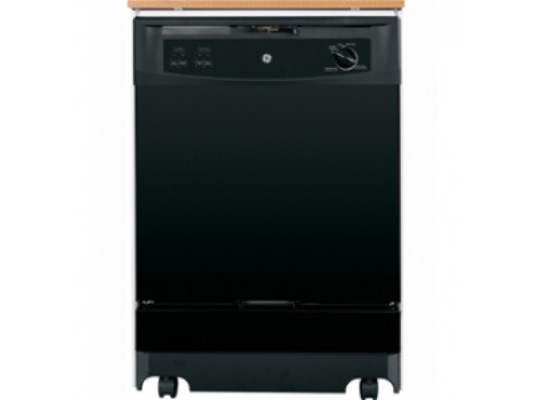 Dish washing proves to be an extremely tedious work sometimes. At the end of a hectic day, you often feel lazy to wash dishes. Dishwashers simplify your life and give you more time to do the things you enjoy. All you have to do is load all the dirty dishes into the dishwasher and press a button.
GE is focused towards producing quality products using innovation and technology at each step. It also understands that efficiency is the key towards saving your time and other resources. The list below provides a complete review of some of the best dishwashers by General Electric. Select one of these if you plan to make a smart addition to your kitchen electronics.

1. GE Convertible/Portable Dishwasher GSC3500VBB
PRICE : USD 549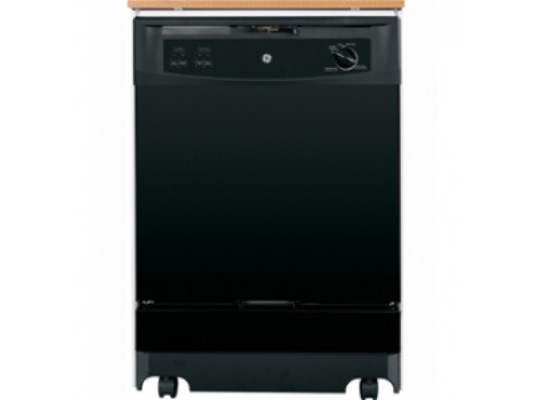 This 24 inches portable dishwasher by GE works quietly while cleaning your dishes using a powerful 4-level powerscrub wash system. It helps you to get rid of tough stains with its quick-rinse cycle. Its Piranha hard food disposer breaks up food into smaller particles that can be easily washed away. Moving a step further with cleanliness, the dishwasher uses two-stage filtration with extra fine filter system, which helps to keep the water clean. Soil and dust layer over unused utensils can also be cleaned by its pots and pans cycle. Its 12-place setting capacity racking feature can easily accommodate all kinds of dishes, be it your delicate crockery and glass set or large serving platters and wash them at once. Being Energy Star compliant, the appliance lets you save on your water and energy bills and is also eco friendly. The appliance uses 307 kWh/yr of energy, which approximately amounts to $34.05 yearly.
USP
This is a quality machine with large sized baskets and delivers spotless dishes without any hassle.
PROS
Its casters allow easy movement of the appliance.
The dishwasher works quietly and it can be used even while watching TV in the next room.
2. GE Convertible/Portable Dishwasher GLC5604VBB
PRICE : USD 699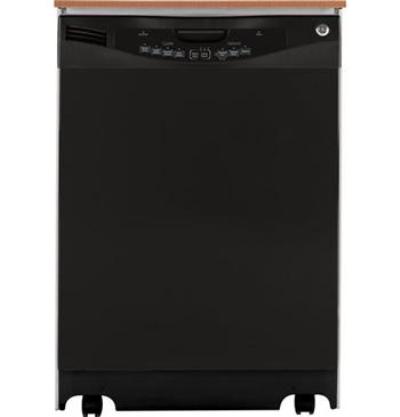 This attractive surfaced GE dishwasher with Woodgrain laminate top offers a 4-level wash and 5-stage filtration process. Its 5 self-cleaning filters working in conjunction with the Piranha hard food disposer ensure clean dishes. The silverware area is specifically targeted with its pressurized spray jets, so as to achieve improved cleaning. This dishwasher further reduces your work by avoiding pre-rinsing, as its steam prewash loosens tough soil particles before the cycle. Its natural convection heated dry feature works effectively in drying the dishes, thus, avoiding the need to manually towel dry after the cycle.
USP
This dishwasher has clean sensor technology, which keeps monitoring the soil level and temperature during each cycle to achieve perfect results.
PROS
The appliance is encased within a durable and attractive exterior.
3. GE Spacemaker 18″ Built-In Dishwasher GSM1860NSS
PRICE : USD 799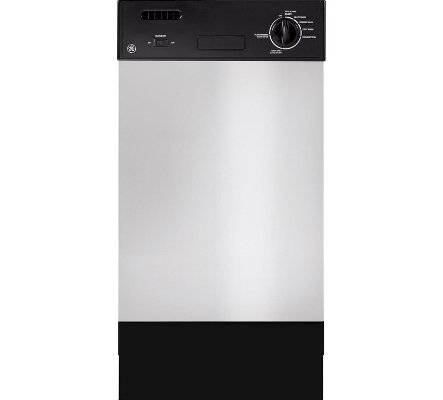 Featuring a lustrous stainless steel interior, this GE spacemaker dishwasher is completely resistant to stains and corrosion. The heavy-duty nylon rack design is resistant to rust and also manages all kinds of dishes securely. The highly reliable pots and pans cycle not only cleans the soil and dust layer over the utensils, but also rubs off the burnt food clinched to the dish layer using pressurized hot water. In continuation with its bright surface and visual appeal, the dishwasher also has a full-length flat door which blends almost seamlessly with the adjacent cabinetry in your kitchen. The appliance also marks efficiency by being Energy Star compliant. It uses 281 kWh/yr of energy, which estimates to a yearly operating cost of $34.05.
USP
Designed for easy operation, this dishwasher is ADA compliant for height, thus, allowing effortless access to everyone.
PROS
It is easy to load.
Its removable upper rack allows easy washing of large items.
4. GE Profile 18″ Built-In Dishwasher PDW1800NII
PRICE : USD 849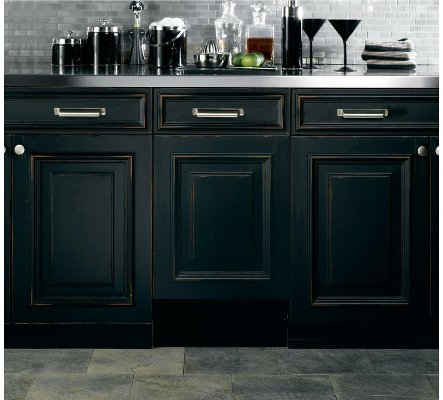 Designed with an appealing lustrous finish with efficient 7 wash cycles, this 18 inch GE profile dishwasher functions as good kitchen companion. Its hidden electronic controls framed inside the door's top edge are an add-on to the beauty of the appliance. These are fully integrated with light touch maintaining a smooth and clean appearance. Its speedy wash saves time, the air-dry cycle washes lightly soiled dishes without drying and the glasses cycle handles your glassware and other delicate items gently. The heavy and secure nylon racks work perfectly to fit all items and also protect them during each cycle.
USP
The 1-24 hour delay start feature provides you the ability to start the dishwasher even when you are not at home.
PROS
Though small in size, this dishwasher has a large capacity.
The concealed controls add to the grace of the appliance.
5. GE Spacemaker Under-the-Sink Dishwasher GSM2200VWW
PRICE : USD 849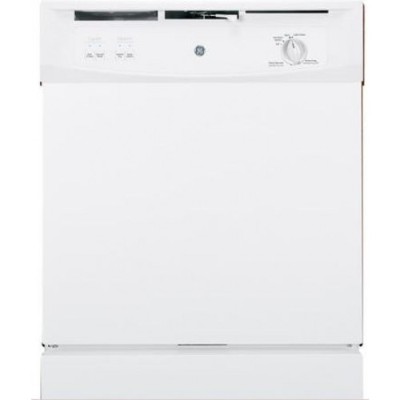 This full console spacemaker dishwasher cleans your dishes thoroughly with a powerful 4-level scrub and wash system. Its two-stage filtration system and Piranha hard food disposer feature assure sparkling and hygienic items. This dishwasher excels in providing efficient space management – its spacemaker upper rack maximizes the available space without getting rid of the cabinets and the Deluxe silverware basket allows convenient capacity to effectively clean the silverware. Its motor functions at 64 dBA to maintain a quiet and peaceful kitchen environment. Being Energy Star compliant, the appliance uses only 307 kWh/year, costing $35.93 yearly.
USP
The new hotstart option in the dishwasher maintains an optimal water temperature for perfect performance.
PROS
This dishwasher can be installed beneath a sink, thereby maximizing your cabinet space.
6. GE Spacemaker Under-the-Sink Dishwasher GSM2260VSS
PRICE : USD 949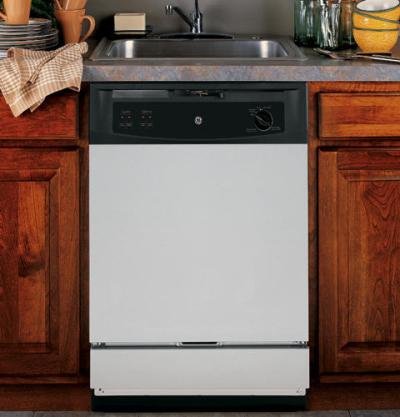 Designed to function as an effective kitchen appliance for your household, this GE dishwasher ensures quiet operation and energy efficiency. Being spacious and well acknowledged to manage different kinds of dishes, it cleans well by scouring the burnt food and soiled dishes. It maintains an automatic temperature control to optimally manage the cleaning process with its 4-level powerscrub system. Its exterior is also well designed with a flat stainless steel finished door. The available kitchen space can also be used optimally by installing it under the sink.
USP
The washing system of this dishwasher also provides the rinse only option, in case of fast cleaning of less dirty dishes.
PROS
The exterior is eye-catching with black control panel and stainless steel door.
It is both space and energy efficient.
7. GE Profile Dishwasher PDWT505VBB with SmartDispense Technology
PRICE : USD 1599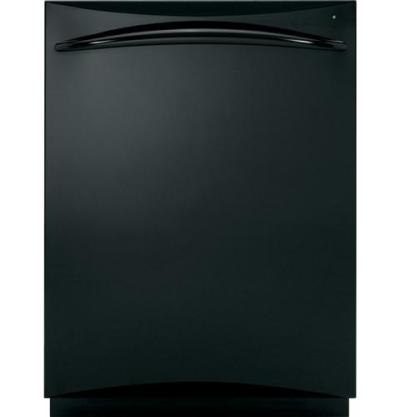 What could be better than an almost silent appliance working close to you while you continue with your normal chores in the kitchen? This smart dishwasher renders clean sanitized dishes and works 48 dBA sound level. Its nearly silent two-pump system works without creating any interference. Powerful focused silverware jets and 5-stage filtration with Piranha hard food disposer ensure fresh results. Its special DeepClean cycle is useful in removing tough soils like eggs, oatmeal and rice. Along with this, the Steam Prewash loosens dirt and soil before the main cycle. Its hidden fan assisted drying with heating option helps dry dishes more effectively by circulating the warm air in the interior.
USP
Being an efficient saver of resources, selecting the top rack only uses less water than required in a full load.
PROS
Its racks are durable and allow flexible loading to handle dishes of all shapes and sizes.
It is completely noise free.
It can easily fit even oversized bowls and holds up to 16-place settings.