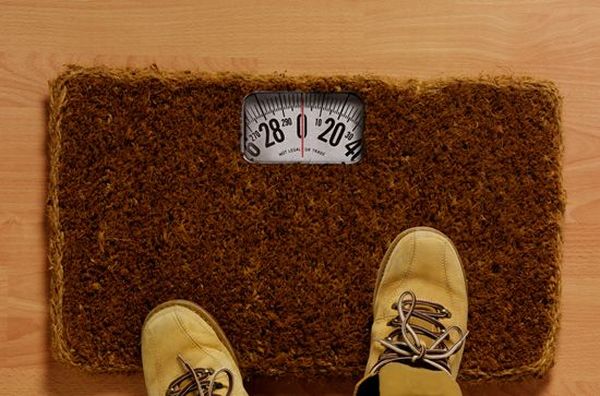 Almost all of us have doormats at home. When you look more attentively, they are placed everywhere – Infact, we don't even notice them anymore.One may think that it's not even worth talking about them. However, there are some really interesting facts and cool doormat designs worth seeing.
1. Motion-Sensor Doormat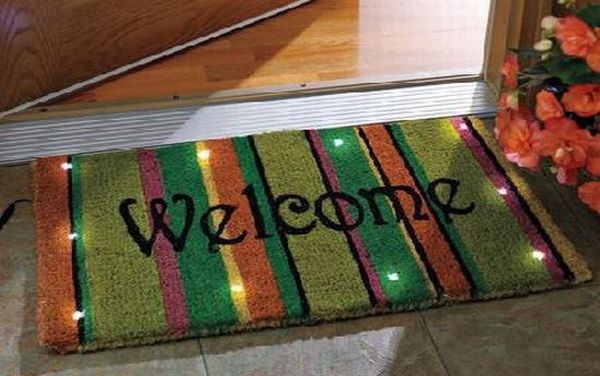 This is an excellent door mat made with advanced technology. Motion sensors are incorporated in this doormat. These sensors detect anyone coming near to the doormat and once you put a foot on a mat, the lights glow instantly. Apart from the motion sensors, this mat ensures you that no dirt will come into your home. It consists of 10 LED lights that glow when you stand on it.
2. Space Invaders Door Mat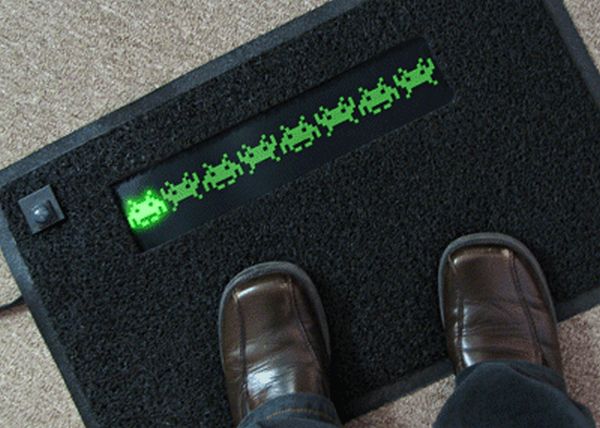 This doormat has space invaders' light on the doormat. This is a very attractive doormat to be put in front of your door. It catches the visitor's eye at the first glance.This doormat consists of inbuilt LED lights, that blow with some type of animation sequence. When you put your foot on it, LED bulbs start blowing immediately. These bulbs are configured with some kind of animation that catches a visitor's attention. It is also an indication to wipe your feet before entering a house. This mat works on AA batteries.It is costlier than others but gives a great look at the door.
3. Binary Doormat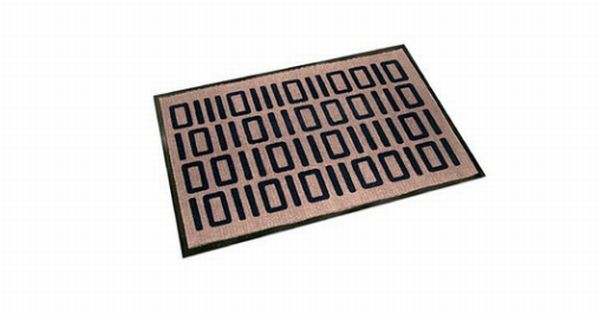 This is an excellent piece of technology, which welcomes the visitors in the binary code. This is very popular among the computer generation people. It displays several messages in the binary form. People find this doormat very cool and funky since it displays retro pattern. The surface of this mat is made up of polypropylene and vinyl material. It has dimensions of 2 inches by 3 inches. This mat is punched by a needle and gives you maximum durability. This mat doesn't allow any dirt or moisture to enter your home. The rugged vinyl material is very good for removing the dirt at the door itself. You can use this doormat at the door and also indoors.The usability of this doormat is excellent. You can easily clean up this mat by sweeping, vacuuming or spraying with an ordinary hose. No dirt or dust remains in the top material of the doormat.
4. Black River Stone Doormat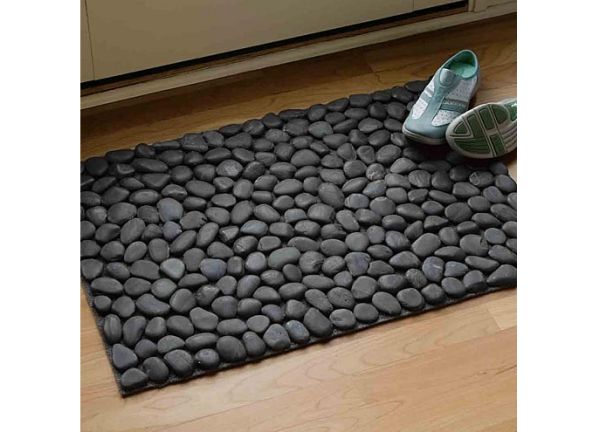 This doormat is the strongest from the lot. This can be used heavily and it is made up with the durable material. You can use this doormat in all seasons. This mat has great natural looks and certainly catches an eye of a visitor. It is made up of a washed and polished river stones applied over the doormat with the strong adhesive. The stones are fixed manually in such a way to fit into each other and maintain a plain surface. This can be used as bathroom mat too. Polished stones give your feet a great experience of massage. The dimensions of this mat are 20 inches by 30 inches. If you find any the rocks loose, you can fix it yourself using two-part epoxy adhesive, which can be available at any hardware store.
5. iDoorMat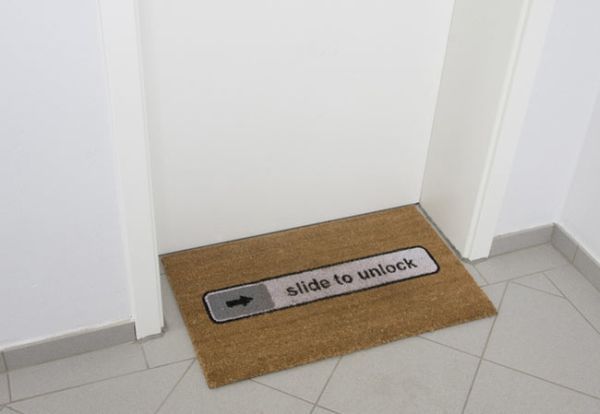 You can have an Apple experience while sweeping your feet too. This iDoor mat gives you the feel of using some Apple application while entering your home.This is a 'must buy' doormat for hardcore Apple fans.Excite your guests with this special product. This doormat comes with the printed message "slide to unlock" like in all Apple products.Visitors also enjoy this unique style of instruction for wiping off the dirt. This doormat is made up of coconut fiber with PVC as the base. It looks really simple but states your unique choice. So, if you want to be different, buy this doormat.
6. Pitfall Croc Doormat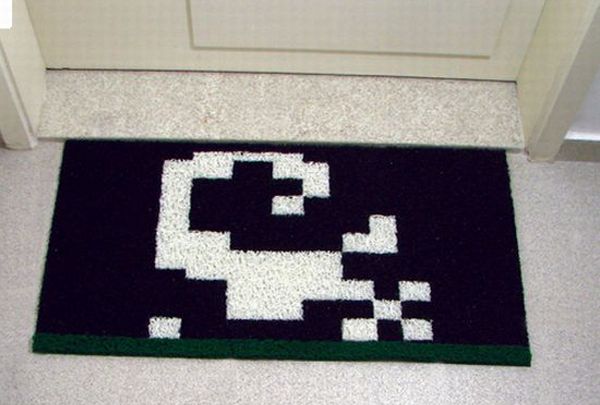 These are very cool types of doormats that you would love to put at your door. These are made up of rubber material. They are very durable and can be used heavily in all the seasons. These are available in both; crocodile and scorpion versions. These types of mats are popular among the gaming freak people. It states your geeky personality.
7. Doormat Scale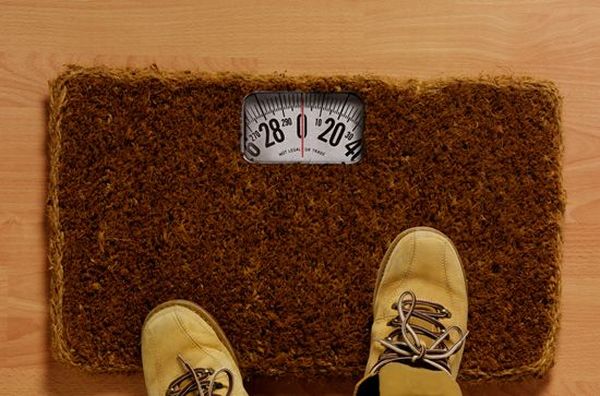 Doormat scale has the weight scale incorporated within it. If you are weight conscious, then you will love this doormat. You can check your weight while coming and going out of the house. This is very innovative idea. Weight is an important issue and should be checked regularly. However, today's fast lifestyle doesn't allow us to check it regularly. So, this is a very good option to have an eye on your weight. Your visitors will also like this innovative idea. This is made up of durable material and can be used heavily.It is really a great idea to have this doormat at your door.
8. Bamboo Door mat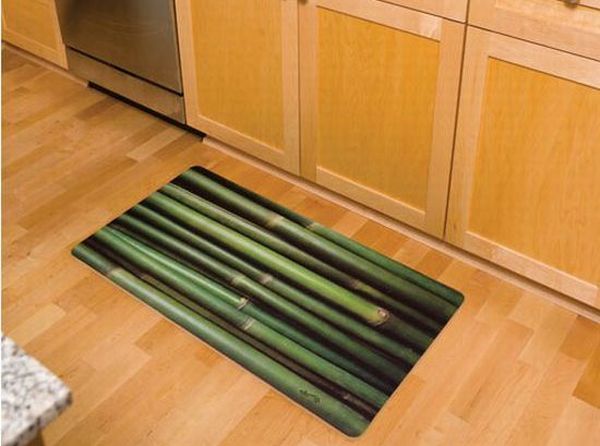 Bamboo mat is made up of a polyester material and looks absolutely beautiful! Using natural material is really a great idea and it gives an immense pleasure to your feet. You can use it as a bathroom mat. It can also be used indoors at various places. This mat is a real eye catcher and has a picture of bamboos on it, which looks really attractive. You feel as if there were real bamboos on the doormat. The rich green color makes this mat quite fresh. These mats are available at very low cost. So, you can surprise your guests by putting this fresh looking doormat at the entrance of your house.