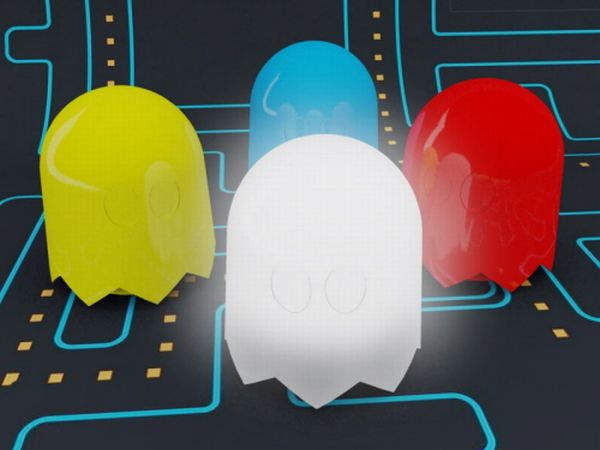 People are now filling their homes with geeky accessories, which are an expression of who they are. It is quite fun trying to find weird and bizarre items of your choice to accessorize your home décor. Apart from that, it is always a human habit to pick up things, which strikes our fancy at a particular point of time. Now this may not be appealing for others but if it works for you and you find something to like in it, there is no harm in displaying that as a style statement in your home. For those technologically oriented geeks, there is no dearth of vendors and manufacturers catering to your particular taste. Here is a list of some great geeky home accessories, which can become part of your collection.
Batman coffee table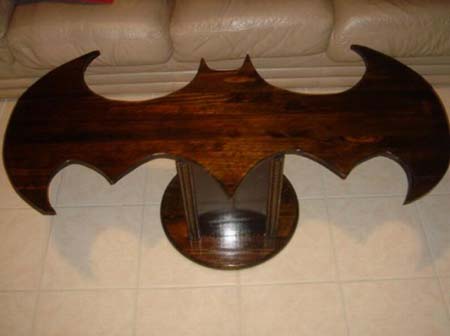 Now this is a table fit for batman himself and you can actually use it for storage as well. This wooden and hand sawn table has rippled columns on its four corners and has been given a rough sanded look. The batman logo top can be even used as a coffee table centerpiece, while you store all other magazines and journals in its rather deep storage box. The table top has been attached with hinge on one end so that you can flip the top open to remove or store things. This table can make your home feel like being in Gotham city.
Social Media pillows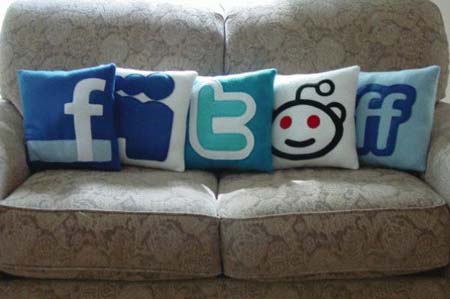 These social pillows come in wide range of social networking character display like Flickr, Reddit and Twitter. They are all hand decorated to give it a very personal touch and are priced at $18 a piece. These pillows have been created by Craftsquatch, a Chicago based Twitter user. There are many other characters from which you can choose your favorite social pillows. They can really spice up your home with colors and patterns.
R2 D2 trashcan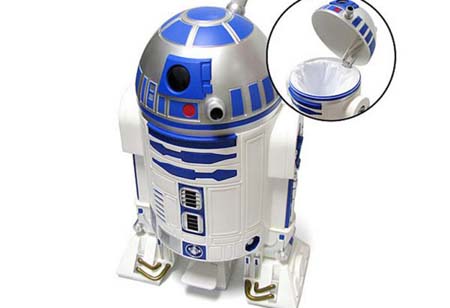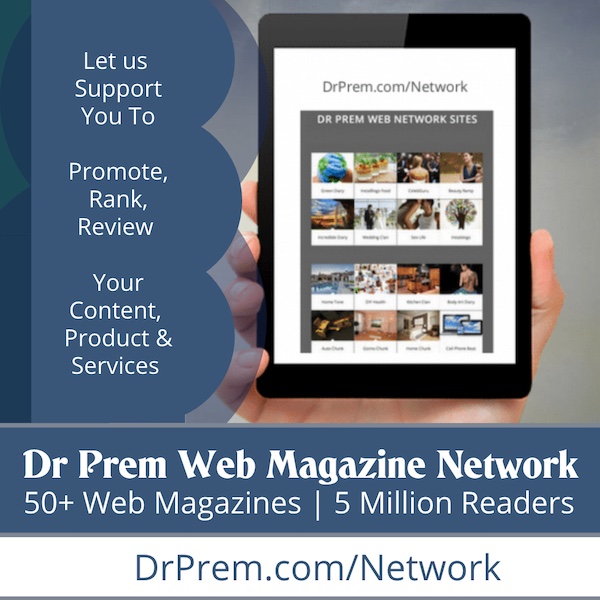 This astromech droid has been given an ultra modern factory touch and can take more than 40 voice commands. The R2 can tell you of his friends like Luke Skywalker and Jabba the Hut with amazing alacrity. You can even make R2 take on a game mode where R2 will play multiple spins and games, play music and even dances. He also has a sentry alarm to guard your room. The amazing thing about R2 is his ability to bring up different response depending on his feelings regarding a particular character. When you follow the proper voice commands you can even discern secret message from R2. Your adorable trashcan can move by itself and turns his front beam on and off as he saunters along.
Lego Star Wars alarm clock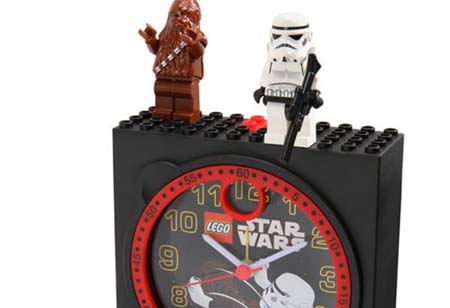 This Japanese quartz clock is great for your children as it has a face with hands, which can be quite an education on time. It comes along with clone tropper and Chewbacca, which are some of the lego star wars stuffs. Your kids can have great fun assembling these characters and even building toy turrets on this functional alarm clock. It is operated by a AA battery, which comes included in the set. This is ideal for kids of 6 years but still dangerous for less than 3 years of age as it has small parts, which may be hazardous.
Interactive LED dining table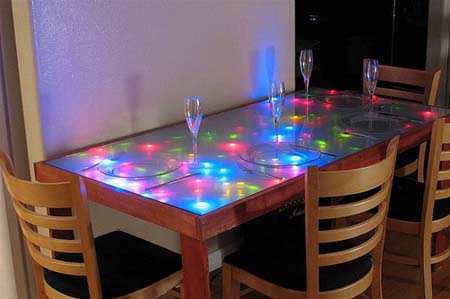 This dining table has incredible LED lights numbering up to 448 inside and response according to movements on the surface of the table. These are light sensors, which can detect shadows and responds accordingly by activating the LEDs in those particular areas. This is a great way of spicing up your dining experience and for making it more interactive. The LED dining table has been created by Eindell Oksay of Evil Maf Scientist Laboratories, although you can buy the LED panel kit and make one for yourself.
Motherboard picture frame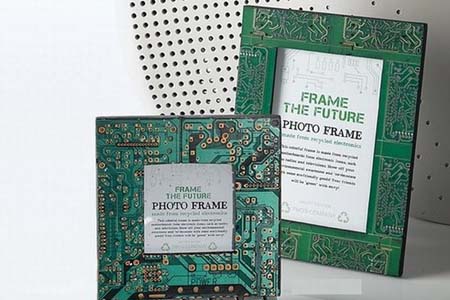 There is nothing like a good picture frame made out of recycled motherboard, which actually makes for a good art piece for the wall. It is a really good style statement if you want to be more of a geek enthusiast. Even if you are not knowledgeable about motherboards, you can put it on the wall for proving others wrong.
Home Key doormat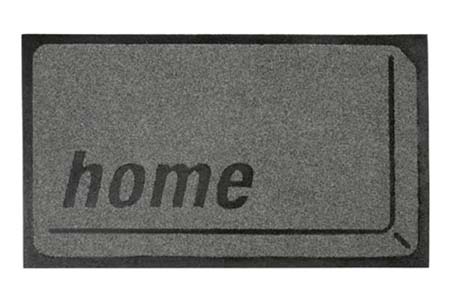 This doormat is made out of recycled rubber, which has a non-slop backing for safety purpose. It is very durable and can be used outdoor as well as indoor and is easy on maintenance as it is washable by machine or hand. It has been exclusively designed by Pieter Woudt and comes in 18×30 cm size.
Mushroom lamp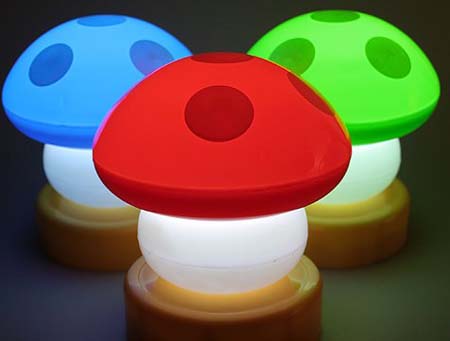 These mushroom lamps are really out of fairytale stories and are so adorable when they light up. They come in color range of green, red and blue with tiny LED lights, which can be turned on with a gentle touch. They make a great night light especially in the kids' room and are powered by four AA batteries. The price stands at $12 a piece and well worth for its functionality.
Geek clock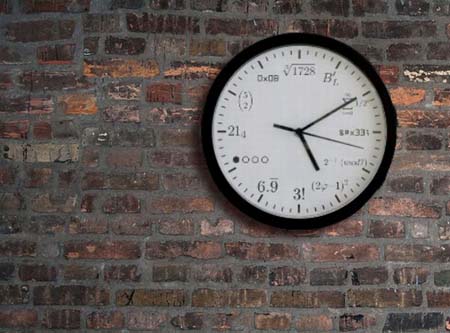 This clock does not have the conventional numbers but comes with mathematical notations. This can give others the impression that you have great calculus skills for reading the time. This $25 pretty geeky stuff is from Uncommon Goods and has a black and white clock style, which can complement easily with any room decor.
Pouf-Man Sofa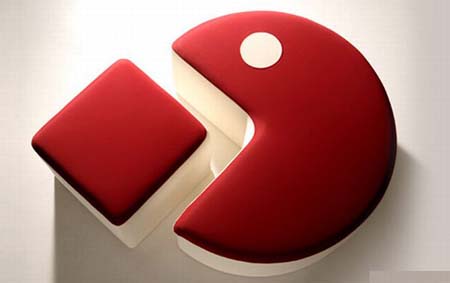 Talk about geeks filling up your living space with these pouf man sofas. They can be separated out or joined up again whenever the need arises and comes in color variations. This sofa will add a lot of color and spice up your living room.