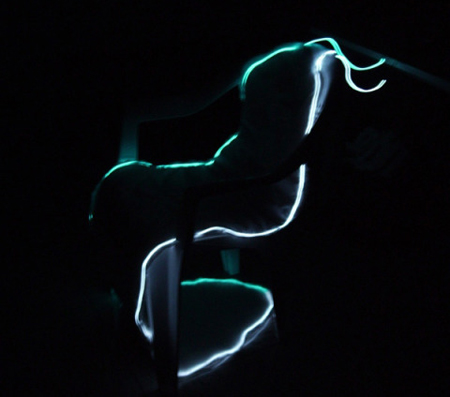 Those that have seen ghost movies would have observed a piece of furniture being moved by some invisible hand. When it comes to ghost chairs, it is not a ghost's intent that scares you but the illusion that a chair may not be there at all! Definitely not the furniture to look for when you are inebriated. If you are not, you may feel inebriated! Such are the illusory and ghostly effects that these chairs produce. Here is a list of some such ghost chairs that impress.
Victoria ghost chair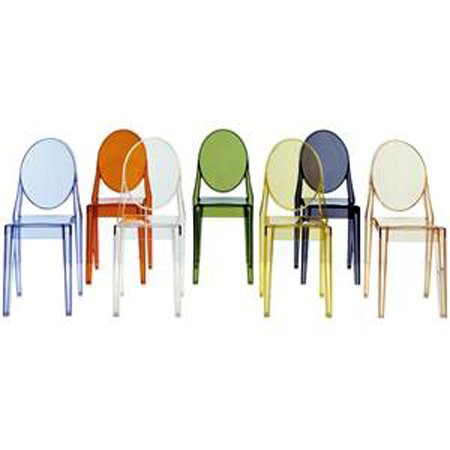 Price: $330
Made from either transparent or opaque polycarbonate, this chair has been created along the lines of the classic Louis Ghost. The chair is shapely in its linear and geometric form and measures 15″ w x 35.5″ h x 15.7″ d with the seat being located at 18.3″. The technological innovations make the chair highly durable. With multiple color options, the chair stands high in its style, personality and charisma. It can be used anywhere, indoors and outdoors.
What's unique?
The chair has been shaped as antique medallions and features clean lines and simple elegance. It has been produced by injection into a single mold and is comfortable, scratch-proof as well as shockproof.
Louis Ghost Chair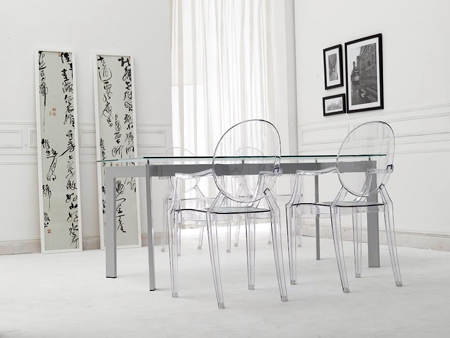 Price: $149.99
This stylish ghost chair is clear and trendy. It has been built sturdily in a stylish manner. The chair measures 36 inches in height, 21 inches in width, 22 inches in depth and with the arm at 26 inches. The chair is suitable for both indoor and outdoor use and it weighs 35 pounds. Introduced in 2002, the chair's design has been touted as indestructible. The calming and fluid design of the chair makes it suitable for both residential and commercial purposes.
What's unique?
The chair has been designed in the Louis XV style. It is a harmonious blend of the classic baroque style and the modern design innovation. It is enchanting to see and very comfortable to sit on.
Design Drift ghost chair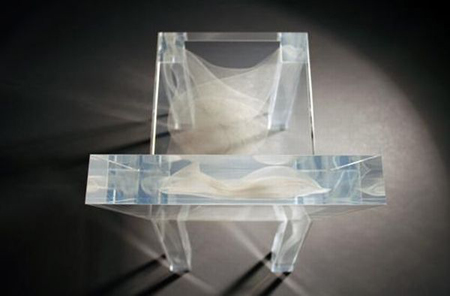 Price: NA ( Not yet released)
Giving the appearance of a chair that exists and yet does not exist is this chair from Design Drift that is made completely from plexiglass. It is light and highly durable. The phantomatic interior stands out through the transparent exterior. In terms of the shape, the chair is normal but the internal 'ghost structure' seems very random. However, there is great order in that randomness too. The chair is totally organic in its appearance and it lends a special charm to it.
What's unique?
The looks of the chair is definitely its striking strong point. The powerful contrast between the interior whites and the external transparency simply takes ones breath away.
Barbie Lou Lou ghost chair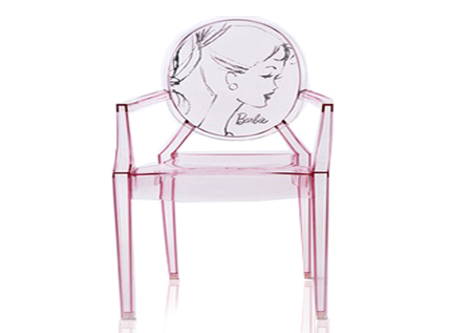 Price: $133.00
This chair was released to mark the 60th anniversary of Kartell. It also turned out to be the the 50th birthday of the iconic and world-famous Barbie doll. This Lou Lou ghost chair definitely has a feminine look to it. The chair is easy to clean and is scratch-resistant and smudge-proof. It comes available in transparent and translucent versions. The chair has been designed by Phillippe Starc and is a smaller sized version of his classic ghost chair.
What's unique?
The chair comes in two sizes, made for a one to one conversation between mother and daughter. It is specially available only as feminine models and is a limited edition.
Lionel Dean's Holy Ghost Chair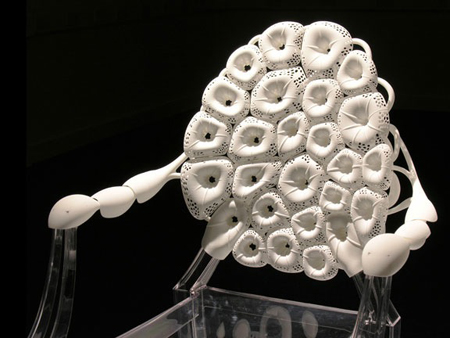 Price: NA
This chair has been made through the process of laser sintering of plastic. The Holy Ghost is custom made and is a frilly-plastic sleeve that fits neatly over Starck's Victoria ghost chair. The design has been computer generated using precise rules along with random inputs. The design is reminiscent of interlocking sand dollars and jellyfish.
What's unique?
The chair's cover design has been actually generated by a computer algorithm! Along with adding beauty, the algorithm also ensures that each piece is completely unique and special. The design builds in the computer over a 3-D model of the Louis Ghost chair.
Stefano Merlo's Phantom Ghost Chair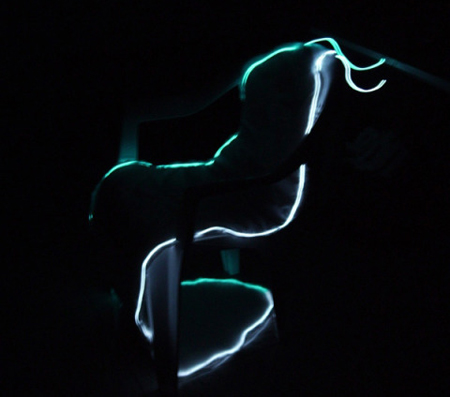 Price: NA (not yet released)
You should better be prepared to see this ghostly chair because it is as spooky as a ghost chair that you will ever see. The concept takes its inspiration from the fear of night and the dark. In reality, the Phantom chair is actually a cover, a veil that has been made from transparent silicon-rubber and can be used over any chair. The chair has been designed as part of a doctoral thesis.
What's unique?
The chair's cover has been designed in such a manner that it will simply blend into the darkness. The specialty of the chair cover is that any ordinary chair at home can be transformed into a ghost chair.
Clear Glass Ghost Chair

Price: $7175
This chair dates back to the 1980s. However, the technology at that time did not make its manufacture possible. Today, Fiam's manufacturing technology has ensured that glass can be used in the creation of a seating masterpiece. This has happened through the harmonious blending of technology with handicrafts. The sensuous and sinuous curves on the sofa make it an ergonomic delight. It has been well contoured to take in cushions. However, be careful lest you break it without noticing it.
What's unique?
This chair can claim the title of being the perfect ghost chair. The completely transparent glass can make it almost invisible when set against any background. It is perfect for furnishing a home without losing any visual space.