When the temperature drops, you find yourself reaching out for a hot cuppa brew or cocoa quite often and preparing your brew in stylish kettles has a charm of its own. This small add-on can really give a jolly vibe to your kitchen and make it appear classier. Listed below are some of the most stylish kettles you will ever come across. Available in a wide array of colors, most are ergonomically designed for ease of use. They are perfect as holiday gifts and give a facelift to your mood and spirit in the festive season. Have a look.
1. Farberware Luna Tea Kettle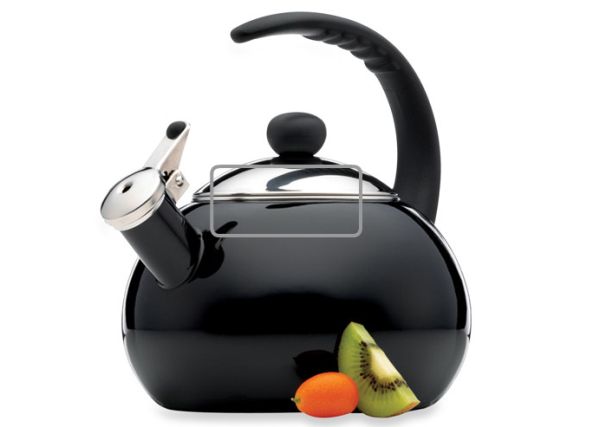 Price: $43.25
Manufacturer: FARBERWARE COOKWARE
The all black rounded exterior of this kettle looks delightful. It has a stainless steel lid on the top. The high quality porcelain enamel finish makes it look absolutely stunning and will brighten your kitchen interiors. The kettle is really easy to use and gives out a whistle when water boils. It is has a thoughtful ergonomic design with accents that are resistant to chipping. Despite the high temperature of the bubbling brew inside, the upturned curvy silicone handle always stays cool. With a capacity of 2.5 quarts, the kettle has a diameter of 8 inches and is about 9 inches in height.
Buy Now: Amazon
2. Circulon Contempo Teakettle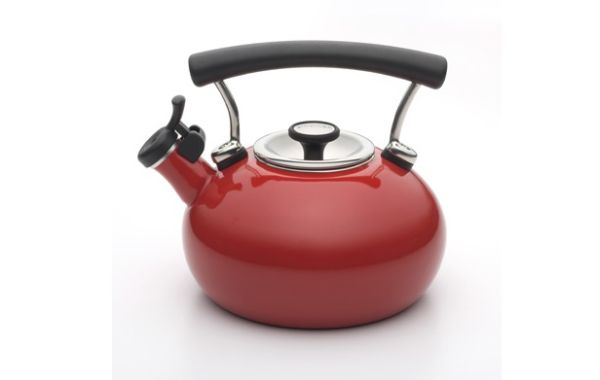 Price: $31.02
Manufacturer: Circulon
With a stout rounded shape, the kettle is available in three colors; red, black and silver. The straight handle on top looks classy and has a firm grip making it easy to lift the kettle and pour out. The lid on top fits on tight and shuts heat inside the tea pot. The outer surface is resistant to stains and can hold about 2 quarts of liquid at a time.
Buy Now: Amazon
3. Alpine Tea Kettle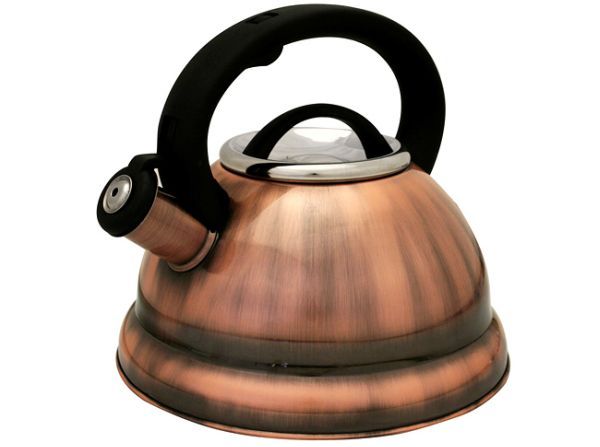 Price: $48.46
Manufacturer: Alpine Cuisine
The stubby body is wide at the bottom and has a copper finish. Holding a capacity of 3 quarts, water will come to a boil in this kettle in a jiffy. A blow out of whistle lets you know when the water has reached boiling point. The steel body is quite durable. The spout seldom drips and the capsule base of the tea pot heats the contents evenly. It has a large opening that allows water to fill in easily and also aids in cleansing.
Buy Now: Alpine copper steel kettle at overstock
4. Chantal Tea Kettle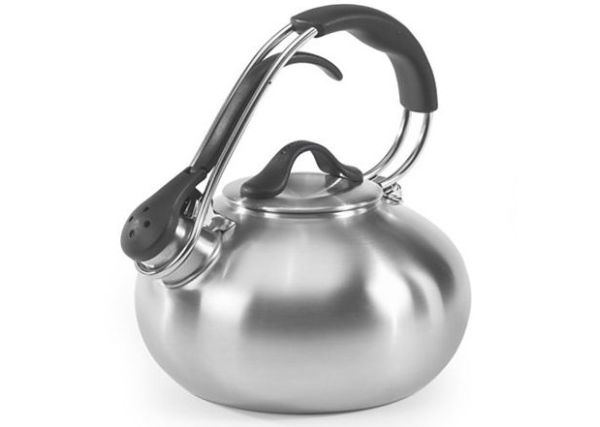 Price: $44.56
Manufacturer: Chantal
A silvery metallic rounded kettle with an outsized opening for easy filling and cleaning. The handle always stays cool and is made in such a way that you can hold onto the kettle easily even with one hand. The steel body has a shiny finish and the bottom has a sizable disc made of aluminum. When water boils, a whistle goes off warning you to turn out the heat. As the base is quite large, heat is conducted fast and water boils real fast.
Buy Now: Amazon
5. GSI Outdoors Small Tea Kettle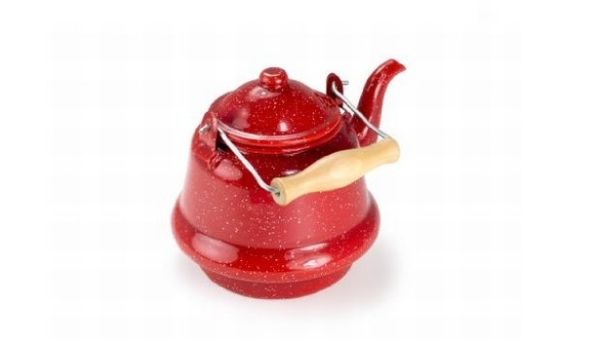 Price: $25
Manufacturer: GSI Outdoors
The old school look will enchant you and the heavy duty steel makes this appliance very sturdy. It will resist scratches and chipping easily as it has been hardened in the scorching kiln two times. The finish is also quite alluring, the speckled enamel looks neat. Heat gets distributed evenly when you are using the kettle owing to its three ply construction.
Buy Now: Amazon
6. OXO Good Grips Anniversary Edition Uplift Tea Kettle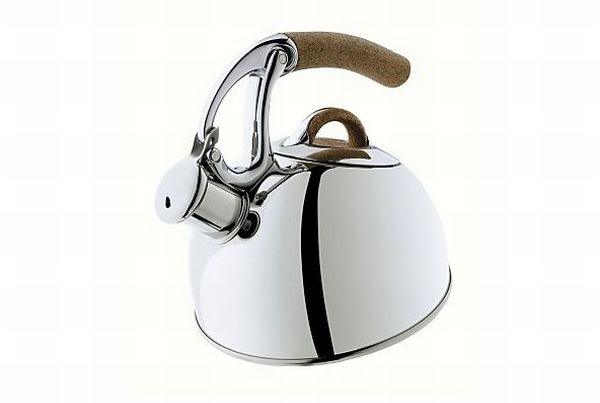 Price: $69.99
Manufacturer: Oxo
Touted to be the best in functionality and appearance, this kettle has won numerous awards. The steel body with touches of zinc has a handle made out of cork. Even the handle of the lid is made from cork, a material that will always stay cool no matter how long the kettle stays on the burner. It has a large opening, a whistle function and the spout opens whenever the kettle is lifted.
Buy Now: Amazon
7. Range Kleen Basics Stainless Steel Tea Kettle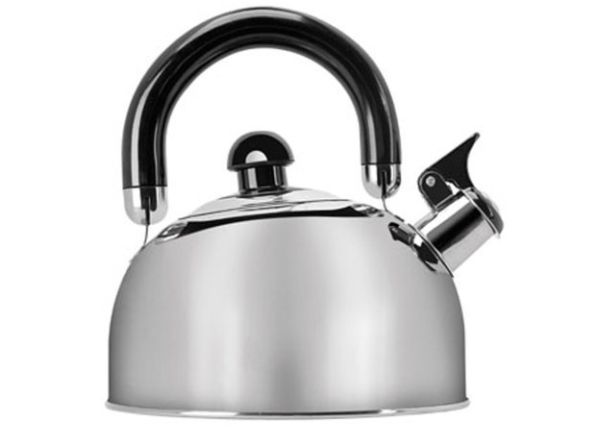 Price: $33.37
Manufacturer: Range Kleen
A kettle with a flat base, rounded top half and a silvery steel body. The knob on the lid and the handle are made from phenolic so that they always stay cool. It has an encapsulated bottom. With capacity of 2.75 quarts, the kettle also lets out a whistle.
Buy Now: Amazon
8. WMF Ball Shaped Tea Kettle
Price: $95
Manufacturer: WMF
An all round globe shaped silvery steel body, this kettle also has a whistle function and handle that never gets hot. It has a capacity of 1.5 quarts. You will have to spend a hefty price to buy the premium looking appliance. The exterior has a glistening mirror finish. An infuser that can be removed is fitted right beneath the lid.
Buy Now: Amazon
9. Le Creuset Stainless Steel Tea Kettle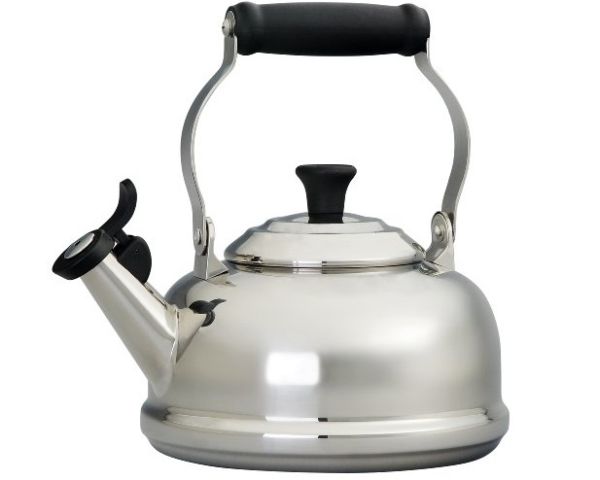 Price: $99.95
Manufacturer: Le Creuset
Something that has a traditional touch while also retaining a modern look. The kettle has a sparkling stainless steel body. The whistle goes off when you are using it. The handle and knob on the lid do not heat up.
Buy Now: Amazon