If you are looking for a compact and modular design for your table that not only has a creative development approach but also saves your room space, then here is a perfect design you may love to keep in your house. This table design is given an appropriate name too – This Side Up! The name does not indicate that its sides could be lifted up or it has an upside contrasting shape given to it. The name gives a playful and humorous touch to this ordinary table's design that shows up like an inverted carton box with its opening sides folded upward. It simply is the other way round with a well thought-off concept!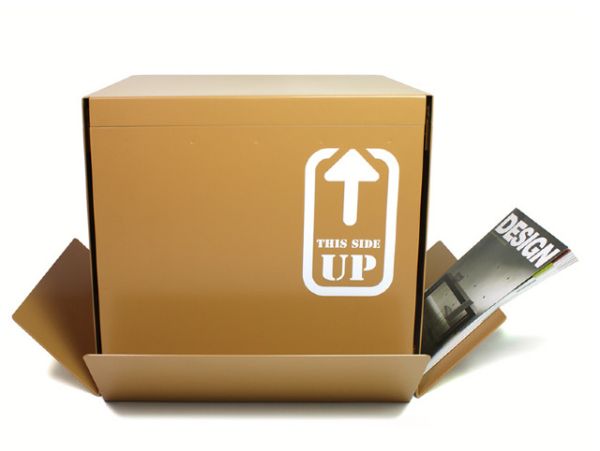 A winner of the RED DOT award and presented in Milan's SALONESATELLITE 2010, This Side Up offers a lightweight and useful furniture option for households. This table is crafted out of an aluminum sheet of 2mm thickness and is thus quite sustainable, as well as recyclable when it needs to be disposed off. Its beautiful carton shape not only gives a stylish look and feel, but also saves a lot of space by accommodating several small items that you generally spread on top of your table or here and there in the room.
The four side panels are clever enough to offer more free space to keep your magazines, newspapers or remote controls. If there is immediate need of space, you may simply throw away all your junkies under this table. This Side Up table is very easily transportable as its five panels can be disjointed and compactly packed. This table can also be quickly dragged and taken to another place where there is a need. Place this colorful creation in your room and you may turn your surrounding more cheerful and bright!
Via: de zine