Blending the charm of bygone era with modern times is Yaroslav Galant, a designer hailing from Kiev. The lead designer and founder of a company named Shimma, he has come up with a vivacious furniture collection that is a reflection of past but has been specially crafted for the present era. The Corian furniture collection with its tasteful and charismatic appearance will fill the space with warmth, sprinkling doses of beauty all around. It was presented at the Milan Design Week 2012, which unfurled Russian creativity in terms of design and architecture.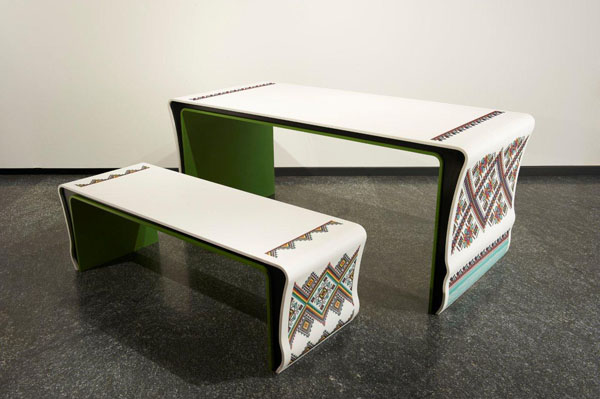 Traditionalism rules the furniture line with hints of Ukrainian culture especially incorporated to preserve the rich heritage. The furniture collection comprises of several pieces like a couch, poufs, coffee tables, a bed, night tables, dining table, a wardrobe, hanger, folding screen as well as a TV stand. Adding to the awe amazing collection is a washbasin, a bath, benches, mirrors wall panels and a chandelier that are equally magnificent and rich in terms of embracing the traditional touches. All these mesmerizing pieces of furniture feature embroideries with Ukrainian patterns, which have been given a colorful life by using threads in various hues.
Threads were meticulously woven on the furniture items because the high tech material was punctured carefully with small holes. Traditional colors have been to make the embroidery all the more attention grabbing. The pieces hold great value and ooze brilliance in terms of designing and revival of Ukrainian art traditions. The sumptuous collection can be used to ornament or furnish just any kind of an environment, be it a house, an office or a luxurious hotel.
Via: Freshome