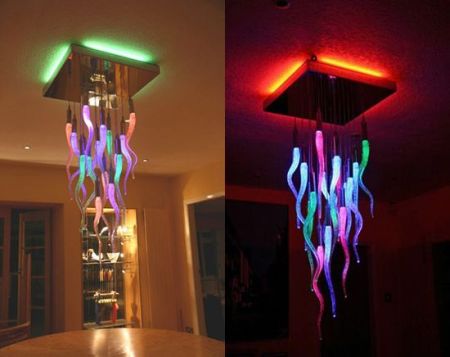 Undoubtedly, there is something very classy and romantic about the chandeliers, as they can light up any space with sheer elegance. The chandeliers are a timeless creation that has been inside our homes for ages and they are available in a range of shapes and sizes on the shelves. While you can go for any regular chandelier for your abode, it's always nice to do for something unusual and interesting. Designers from around the worlds have created some stunning chandelier designs that are sure to both illuminate your space and attract everyone's attention. From the beer bottle chandelier to butterfly chandelier, listed here are some of the most unusual and amazing chandelier designs for your home.
Chandeliers Made From Kitchen Items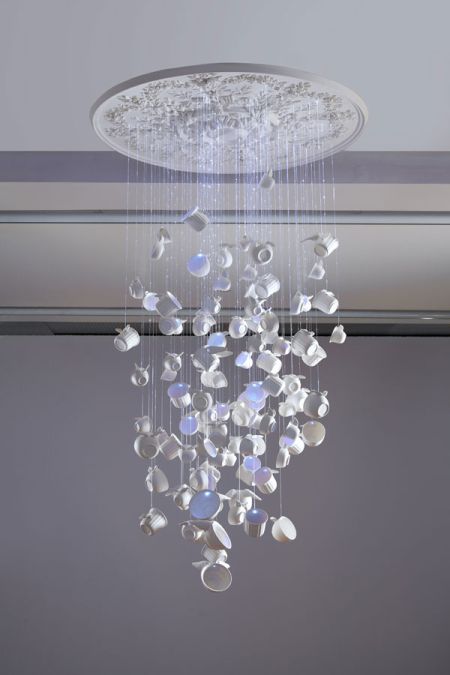 This chandelier christened as "Memoria; 100 Cups of Tea, Never To Be…" that has been wonderfully created by Rebecca Wilson reflects the eye-opening beauty of everyday objects. The beautiful chandelier tells the story of a shattered gold teapot, which was of no use after being broken. The soul leaving the damaged vessel is represented by the 100 ghostly little winged teacups that are made of bone china. The elegant tea cups are suspended single fiber optic strand connected with an LED light source hidden within the lightweight ceiling rose fitting. This haunted story is completed with the cool white light glow of this amazing chandelier.
Recycled party waste chandelier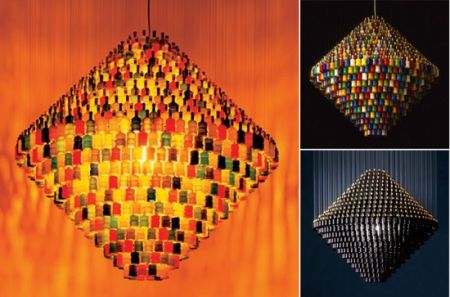 Industrial designer Stuart Haygrath has created an amazing chandelier that gives a shimmering look to your home. For the same, he has gone green in choosing the material used to make this wonderful and unique lighting fixture. He has employed or we can say reused 1000 exploded party chandeliers and created this colorful artistic chandelier. Since these party poppers had variant hues, therefore a multi-chromatic chandelier was formed that looked simply brilliant and elegant. To add to the eco factor, he affixed an energy saving lamp to the chandelier for illuminating your living room.
Old bicycle chains chandelier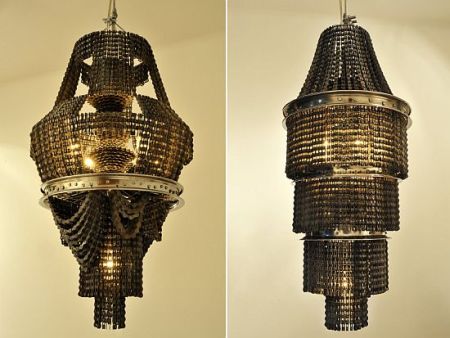 Chandeliers are the light fixtures that make our interiors look prosperous adding a different charm to the décor of the room. A beautiful chandelier is usually made out of glass beads and crystals. However, some designers have created this simple light fixture by making use of discards and transforming it into a masterpiece like the one pictured above. Eco-artist Carolina Fontoura based in Mexico has created these beautiful chandeliers and other light fixtures from a very different material – recycled bicycle chains and other parts. These antique looking chandeliers are although heavy in weight due to the material used but looks quite delicate and elegant as a room accent.
Beer bottles chandelier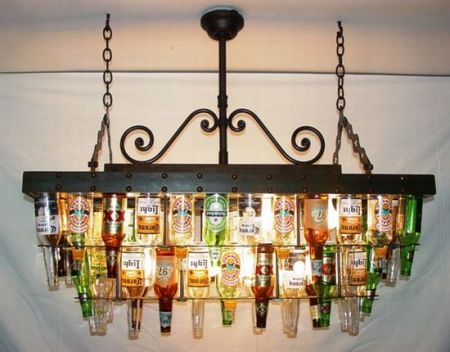 Empty beer bottles are usually thrown away in trashcans finding of no further use. However, these used beer bottles can be interestingly used to make a unique and amazing chandelier that makes out to be a one of kind home décor. This two-tiered chandelier includes 52 beer bottles with eight bulbs distributed in the two levels to brighten up the room. You can use your own discarded beer bottles in this customization design.
Color changing chandeliers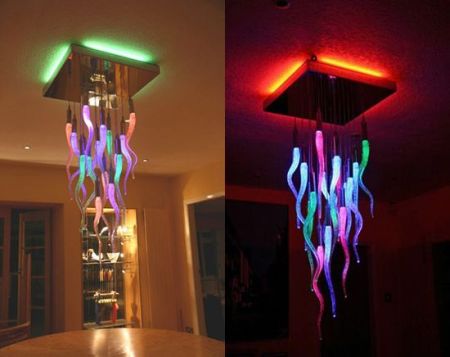 For those looking for a vibrant and inimitable chandelier that is contemporary as well to accentuate their modern home décor, the ice spike chandelier is just the perfect fit. This chandelier changes color and can completely match any interior space. Each of the spikes from this unique lighting fixture is handmade and collected from the furnace at 1070 degrees. These incredible chandeliers integrates super-bright 1 watt LED with power supply, while every spike is fitted with a 3 Watt RGB LED which is further linked to a controller for controlling the color change manually. Available in a single or mixed color of green, red, blue, amber and white, these chandeliers stand apart with their amazing design and color changing technique.
Planter chandelier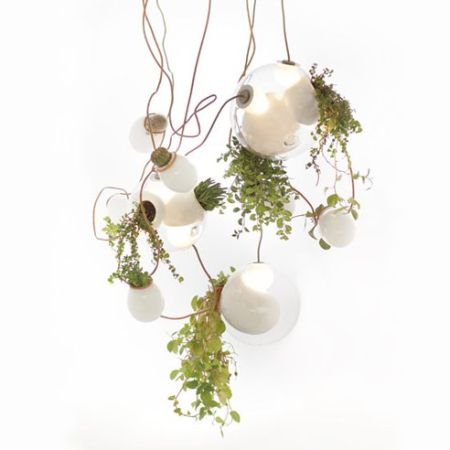 Uniting planters and lighting together to form a chandelier is a unique iteration that makes out a striking home décor. Canadian designer Omer Arbel has created this new lighting concept called as the 38 series planter chandelier. He has employed mouth-blown glass to house the lighting and different sort of plants ranging from cactus to soiled plants. A jumble of wires that actually mimic a tangle of vines is also used in the planter chandelier where the lighting cleverly imparts necessary heat to the plant.
Invisible Chandelier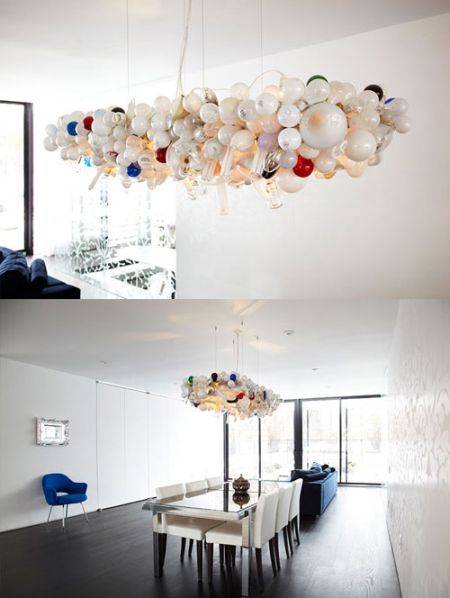 The 'Invisible Chandelier' is another lightning pendant that gives a second life to hundreds of burnt out light bulbs. Magnificently designed by Toronto based team of designers called as Castor, this beautiful piece implies only trashed and non-working lamps and bulbs. They gathered all sorts of dumped bulbs of different colors shapes and sizes and put them together giving a shape of cloud. For lighting purposes they made use of a low energy bulb that was located within the fixture. This elegant cloud shaped chandelier is suspended through independently mounted support cables.
Wire Chandelier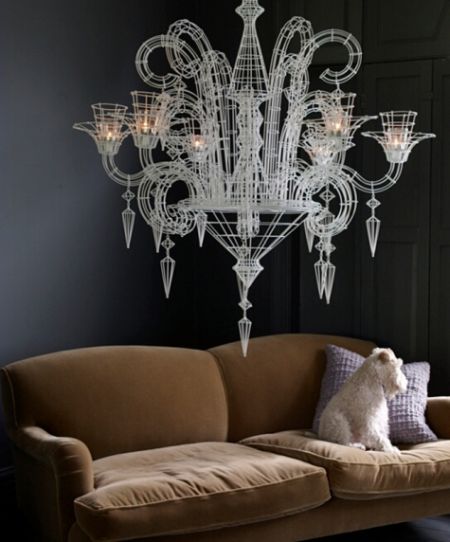 This Wire Chandelier pictured above is a cool addition to your home décor that will really grab the viewer's attention and will also provide a special look to the interiors. The Neo-Baroque inspired Wire Chandelier pictured above designed by Abigail Ahern with wires molded to a perfect shape. The elegant chandelier can hold taper candles or t-lights thereby creating a magnificent romantic dim light that soothes your brain and eyes.
Silver ware Chandelier by Ali Siahvoshi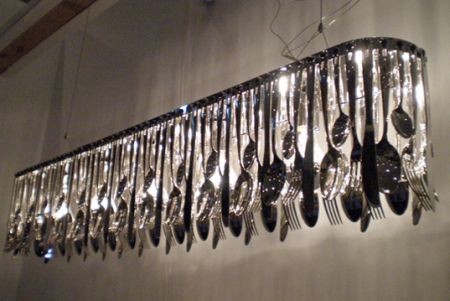 Another eco minded designer has repurposed trash and dumped objects into making out this beautiful lighting fixture christened as 'Hungry Suspension'. Designer of Fabbian's, Ali Siahvoshi, has created a line of these stylish chandeliers carved out from knives and forks. He has made use of table legs, coat hangers and cutlery to create a range of light fixtures depicting the beauty of discards. This eco designer with his unique approach to contemporary lighting design, has rekindled a new life to the dumped objects which would have ended up in trash.
Chandelier made from 500 solar butterflies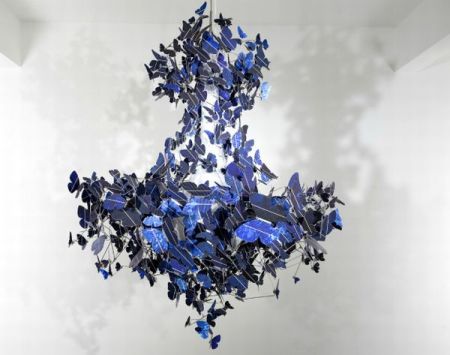 Called the 'Virtue of Blue', this exquisite blue chandelier is designed by Dutch designer, Jeroen Verhoeven. Instead of bulbs, the designer has employed solar powered butterflies effused with a hand blown glass bulb. The chandelier is made up of cesium solar cells and captures solar power which is later converted to electricity. The butterfly shaped solar cells harness the sun's energy during the day and powers the hand blown glass bulb during night to diffuse a soft glow. This sheer lighting fixture was displayed in London's Blain|Southern along with other such brilliant works.
Ink Cartridge Chandeliers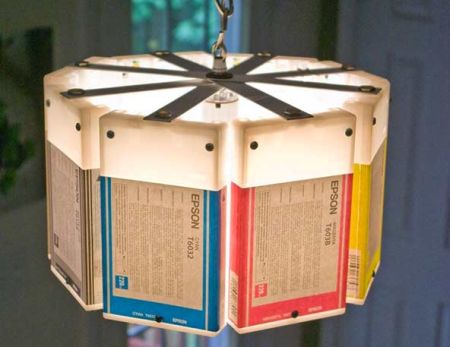 Tremendous amount of ink cartridges can be seen in the landfill each year. Reusing these dumped ink cartridges and re-purposing them as light fixture pictured above is a clever way of keeping them from landfills. The designers of the Ink Cartridge Chandeliers, Lowell and Louise, made use of all kinds of unwanted ink cartridges and created these stunning lighting fixtures. The one in the above picture has employed Epson 220ml ink cartridges for 7800 & 9800 series printers. The cartridges are simply drilled with small holes and gathered together with wires to create small light boxes that can be elegantly hung through the ceiling. The Ink Cartridge Chandeliers are available in matte black, light cyan, magenta, light magenta, yellow, light black, and grey.
Milk crate chandelier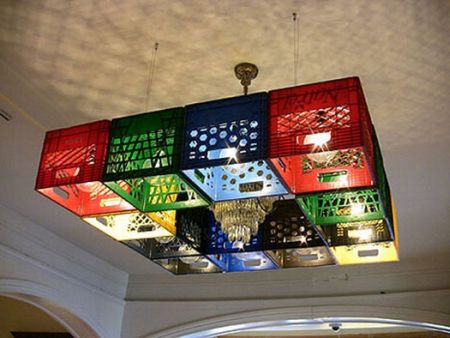 Now even the inanimate objects like milk crates, which are often disposed to landfills, can be repurposed as lighting fixtures. Created by MADE, this pixel block style Chandelier is a simple design illustrating the reuse of dumped milk carters. This design is although not very stylish and may not be preferred by everyone for their modern houses but will definitely be chosen by an environmentally conscious person to add interesting dimension to his house. The holes of the milk crates disperse the light to every corner of the living room making it more colorful and energetic.
Bird Poop Chandelier by Wyatt Little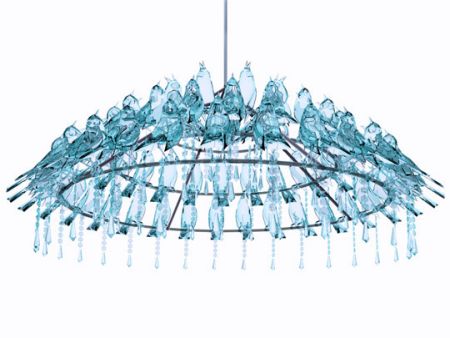 The Bird Poop Chandelier is a fun lighting fixture created in a marvelous way by Wyatt Little. His childhood memories of a bird that pooped on him, while he was standing underneath an oak tree, inspired him to create this on of a kind chandelier. The name given to the chandelier makes you laugh aloud, but after looking at the whimsical chandelier, you will definitely fall in love with this lighting fixture.
Steel scrubbing sponges' chandelier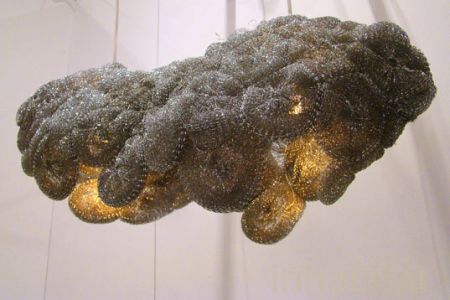 Japan based designer Daisuke Hiraiwa, has transformed the stainless-steel scrubbing sponges into striking chandeliers that makes out to be perfect home accent. This suspended lighting fixture appears like a fluffy, black metallic cloud oozing out sparkling light. The reflective qualities of the steel sponges increase the glow of the light that is fixed inside this beautiful chandelier.
Flora chandelier takes plants to the ceiling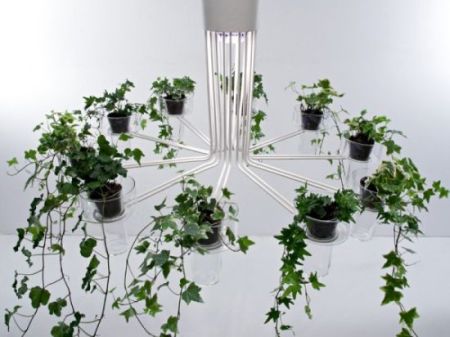 The Gumdesign's Flora chandelier is perfect fit for those who want to reflect their eco values. This classy Flora chandelier was designed for TrediciDesign and was showcased at the Salone Internazionale del Mobile. The plant chandelier comprises of metal and glass and is characterized by the bulb located in Osram Floraset that projects the light down to the centerpiece. The entire process gives a spectacular view of light and shadow amongst the metallic rods. Each branch of the Flora chandelier ends up to a glass pot that holds all kinds of houseplants. This beautiful and green lighting fixture adds to aesthetics of a modern home.
Gun Chandeliers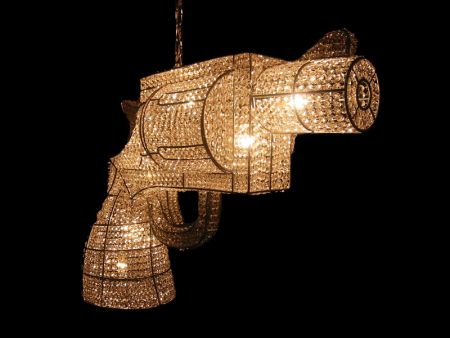 "Rock and Royal" is a company based in Rotterdam, Netherlands that designs luxurious and unusual chandeliers and other lighting fixtures to ornate elite households. They create the chandeliers in shape and specifications desired by the customer. They make use of rich quality Bohemian crystals and carve out each piece with their own hands. The one pictured above is a .38-cal revolver shaped chandelier. This hanging fixture provides a striking and very scintillating home décor.
Volivik Chandelier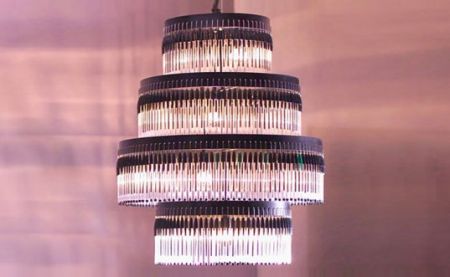 Madrid-based design studio enPieza has reused the discarded Bic pens to create a beautiful hanging lighting fixture. Called Volivik Chandeliers, they make use of unwanted and used bic pens available in a range of colors. The elegant piece pictured above is made from 347 recycled Bic Pens and paper clips. You might prefer to choose a clear pen Volivik over the orange one, as the clear pens would reflect as well as refract light splendidly.
Books Chandelier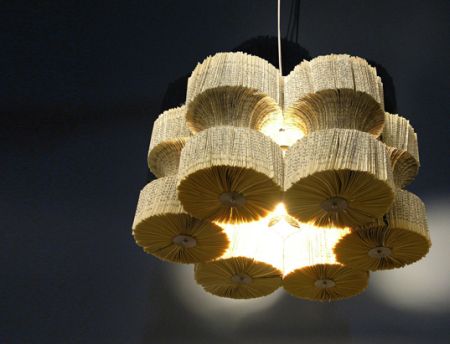 Lucy Norman of Lula Dot has reused old books and magazines and has repurposed them as lighting fixtures. She innovatively creates these old books chandeliers from a vast variety of unwanted books that are dumped every year. She folds every page of the book and suspends them around a ceiling light in a circular pattern to make out designer chandeliers. These eco friendly book based chandeliers have been displayed on the UK television's Grand Designs
Unique Deer Antler Chandelier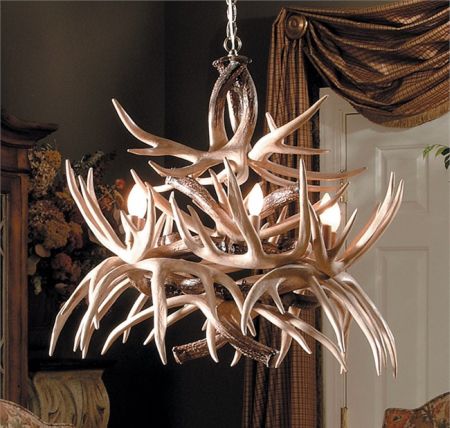 The unusually amazing Deer antler chandelier has been designed to give a rustic, natural and pleasing appeal to your home. These unique lighting suspensions provide a different kind of style and beauty that redeems a classy look to your modern home. You can choose from a simple and sophisticated design to an intricately elaborated one, manufactured from either of the materials from plastics, metals, wood or other materials.