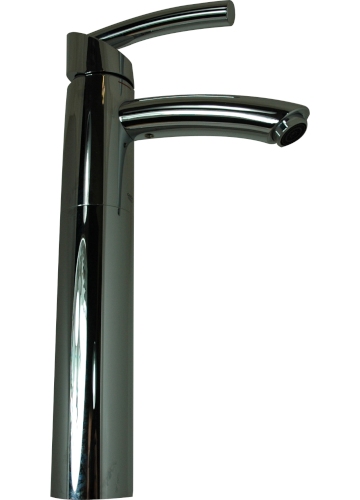 Most of us are familiar with the conventional water taps but faucets have gradually risen to become the order of the day. Faucets have certainly made the otherwise manual task of acquiring water, simpler to a considerable extent. Apart from that, these also add to the very presence of a bathroom, making it appear more glamorous and gracious. Let's take a look at some of the best faucets from the house of eminent faucet manufacturer Grohe, from which you can pick a few.

1. Grohe Tenso Tall Mono Basin Mixer Tap
PRICE : USD 470.771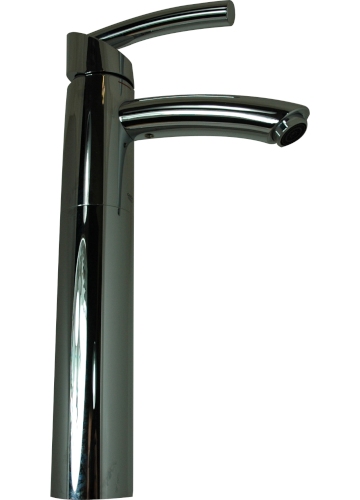 This beautiful faucet from Tenso range will surely mesmerize your aesthetic senses. Keeping the basics firmly in mind, Grohe has rolled out a truly contemporary curved cylindrical faucet, which features a dazzling chrome finish, resulting in producing a sheer class & elegance of its kind. The cartridge has been designed carefully using the highly advanced ceramic alloy technology with special Teflon coated lubricant to ensure smooth and easy handling along with a long & durable life. If you have an eye for high ended style, then you should definitely go for this product.
USP
A dazzling design enveloped in rich Teflon coated layer, makes this faucet a sheer object of beauty.
PROS
It comes with liftless rod & without pop up waste.
It has copper pipes for a better & longer life.
2. Grohe 24 017 000 Atrio Centerset Bidet Faucet
PRICE : USD 433.185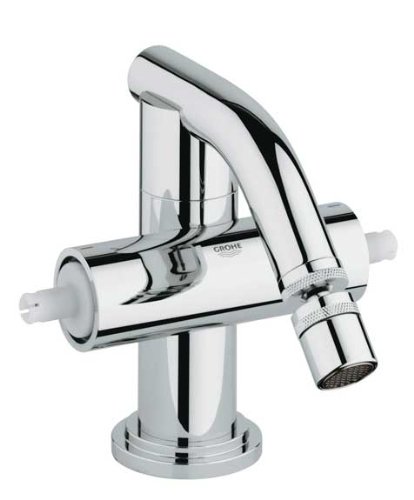 Grohe's 24 017 000 Atrio Centerset Bidet Faucet is inspired by the subtle theme of the Bauhaus movement. This faucet is one of the best & premium products from the house of Grohe. Atrio produces a rare combination of design and technology, which results in a truly gracious appearance. Further, it has been given the silken touch of Grohe StarLight and Grohe SilkMove that allows you to have an ultimate control over the water flow as well as over the level temperature. Built of cast brass, this product will surely give a much presentable look to your bathroom.
USP
The 'StarLight' & 'StarMove' feature allows you to have a complete control over the flow & temperature of water.
PROS
It features horizontal spray for better water flow.
Less vacuum breaker.
3. Grohe Eurosmart Deck Mounted Bath/Shower Mixer Tap – 25105
PRICE : USD 349.879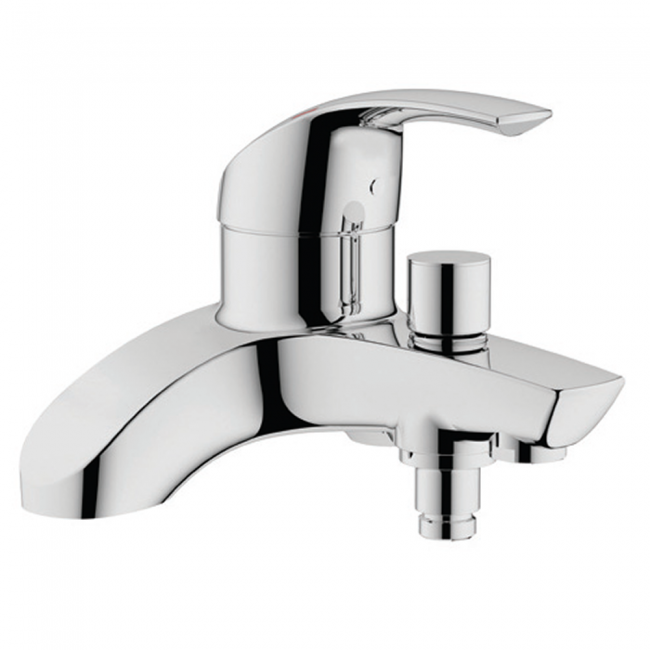 If options had not been limited, then you would have certainly loved to make use of these, more & more. Well, Grohe's Eurosmart Deck Mounted Bath/Shower Mixer Tap – 25105 comes loaded with a host of attractive features to produce one piece of faucet, worth drooling over. The cartridge has been designed with 56 mm ceramic cartridge with Grohe SilkMove, which results in you taking total hold over the amount of water flowing. Further, it has an adjustable flow rate limiter along with automatic diverter, which makes the entire operation a cake walk.
USP
Grohe's customized feature – StarLight, makes it a faucet worth a countless delight to use.
PROS
Adjustable flow limiter.
Integrated non-return valves.
4. Grohe Essence Mono Basin Mixer Tap with Pop Up Waste
PRICE : USD 152.962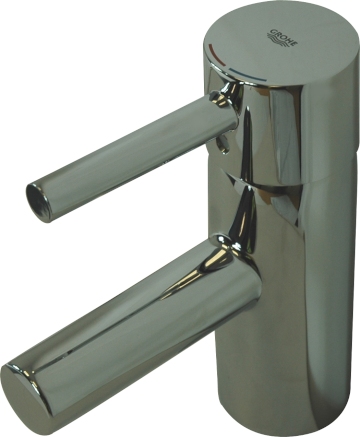 Are you looking for a faucet which can stand on your requirement of both class & performance? If the answer is yes, then this product from Grohe is going to fit in to your needs, quite comprehensively. The gleaming chrome finish, courtesy Grohe StarLight technology produces a clean, neat, minimalist design while Grohe SilkMove will give you a faucet, which is loaded with advanced technology. The designers have put in lot of efforts in coming up with a plain & smooth chrome finish that further protects it from soiling & actively repels scratch and tarnish.
USP
The SilkMove technology delivers a feature rich faucet along with an enhanced durability.
PROS
Adjustable flow rate control.
It come with copper pipes for long lasting life.
5. Grohe Europlus
PRICE : USD 237.172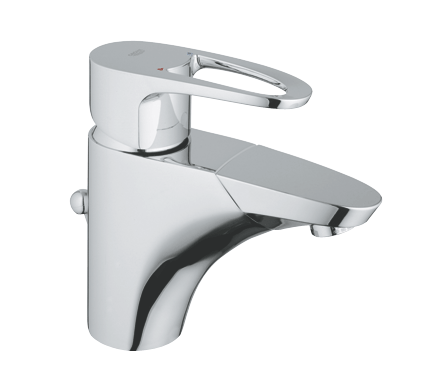 Europlus brings you as truly modern, yet time resistant faucet, which comes embedded with a vista of features. Sporting a loop shaped lever for ease & comfort of usage, the patented SilkMove technology of Grohe promises to make the operation smoother by several degrees and lets you take control over the flow & temperature of water. Again, the dashing & dynamic design via Grohe's StarLight feature produces a rich & deep chrome. This faucet should certainly cruise its way to make into your list of one of the premium products.
USP
The simplistic design of Grohe Europlus makes it one of the easily operated faucet, to be seen around.
PROS
It has flexible connection hoses.
6. Grohe Essence
PRICE : USD 502.79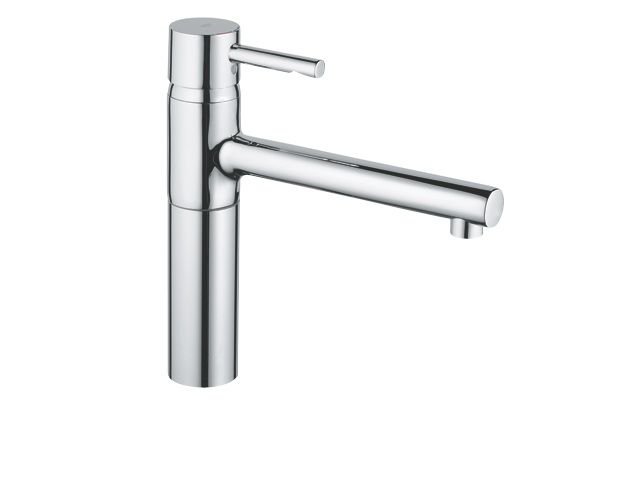 If you have an inclination towards precision, then you would surely love this product, exclusively designed for your kitchen. This faucet bears a cylindrical cosmopolitan outlook, that would stand up to the scrutiny of even the most demanding chef. It comes with and also without a pull out mousseur and in two hardwearing finishes – the high glass Grohe StarLight Chrome and the stainless steel look SuperSteel version. The sleek operating lever is a delight, which ensures easy and convenient water and temperature controls to deliver significant saving of water.
USP
A product which serves both ends comprehensively – it delivers a smooth water flow & also lets you adjust the temperature.
PROS
Adjustable flow rate control.
Available in two fine quality finishes – StarLight Chrome & stainless steel SuperSteel version.
7. Grohe Allure
PRICE : USD 715.787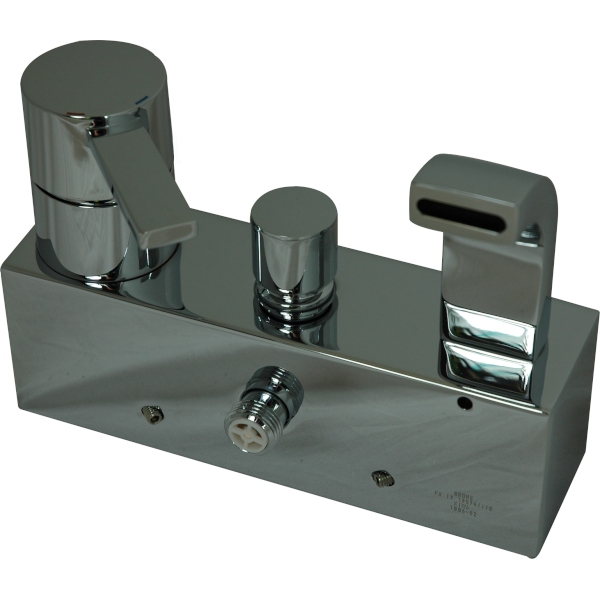 If you are a puritan seeking a modern yet classically designed faucet, then you will go gaga over this for sure. Sporting paired down lines along with a charming spout, it appears highly original and truly authentic. Further, it offers two different basin mixers for better versatility. The 28 mm cartridge is there to take care and enhance the compact dimensions in a more refined way. Moreover, the sub layers made from copper and nickel ensure a complete non porous surface, which actively repels dust and soil, protects it from scratches and tarnishes.It produces a mirror like gleam.
USP
The robust & feature packed design of this faucet, makes it much deserving to fit in your bathroom.
PROS
Flat wall installation with covered union.
It comes with backflow protection.