Transform your outdoor space into an amazing space you can entertain in, spend a good amount of time relaxing in. The fun need not stop when the sun sets, if you have good outdoor lighting. Outdoor lighting is more than just putting up some wall lights or string lights. You can create a wonderful ambience in your backyard by choosing the right light fixtures. This guide will help you know about the many options for outdoor lighting you have, and the way to use them to lend charm and beauty to your backyard. Here are some tips on selecting modern outdoor lighting for your yard:
 Guide to selecting modern outdoor lighting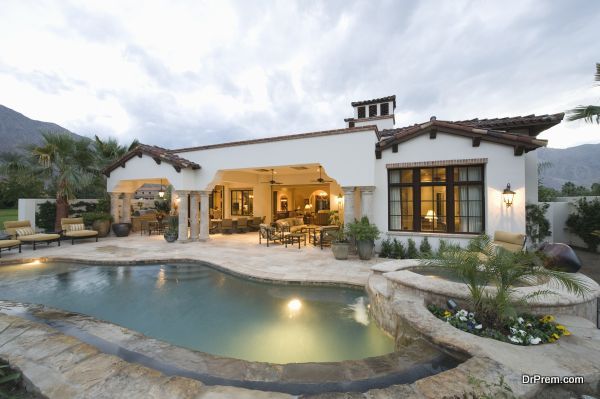 While checking out lighting options, you have to incorporate three types of lighting – accent, task and ambient lighting. Observe the space you have and take correct measurements. It's best not to choose fixtures which are on the large side. The lights you buy should be sturdy, high-quality and weather resistant. Design the lighting on paper first, which will give you an idea of the entire outdoor lighting décor.
Check from the inside
One of the excellent tips while selecting modern outdoor lighting is to look at your garden area, pathways, and patio space from inside your home. Lighting up the gardens and shrubbery which are visible from inside the dining or living rooms gives an expanding view to your outdoors at night. Path lighting using solar lights is a modern style update you can easily incorporate.
Ambient lighting
You can choose backyard lights according to the use. Ambient lighting is used for general illumination which sets the tone of the space. While selecting modern outdoor lighting, you'd be amazed by the vast number of choices you will have.
Ambient lighting can be achieved by using post lights, wall lights and hanging lights.
Fix your budget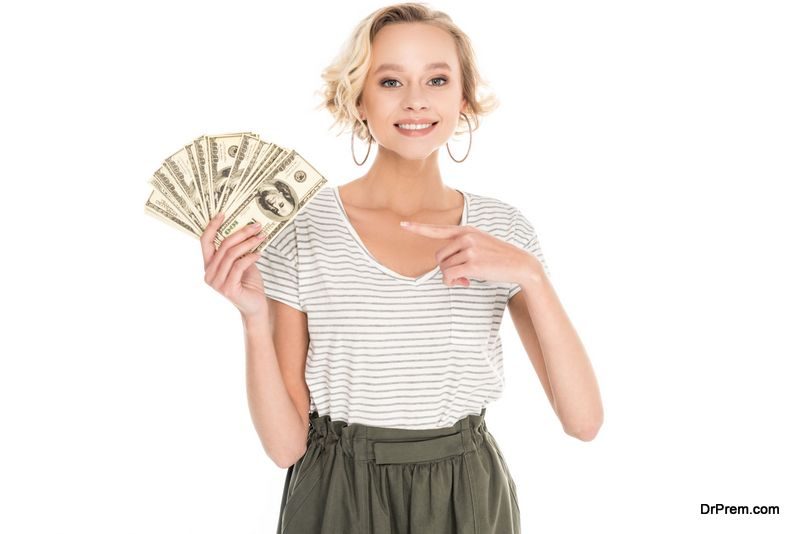 Your garden can look a fairy tale space using affordable light fixtures. Before you go shopping, you have to figure out find out how many lights you need in total for the walls, pathways, patio, barbecue and so on. A quick calculation is to multiply the sq ft of the area to be lighted up by 1.5. For example, you would need 150 watts to light up 100 sq ft.
Wall lights
This is the classic choice for back or front choice lighting. Wall lights are attractive and durable and brighten up your home and its surroundings. You can use it for your entryways, garages, patios and porches. Selecting modern outdoor lighting is best as you can buy stylish and trendy wall lights to take the style up a notch.
Hanging and ceiling lights
The correct size of your hanging lights should be 1/3 rd the height of your front door. Hanging/ceiling lights can be used in place of wall lights or as additional lights. Use low wattage lights if using both wall and ceiling/hanging lights so as not to create an overbright light scheme. Choose backyard lights which are marked as 'damp' resistant.
Security lighting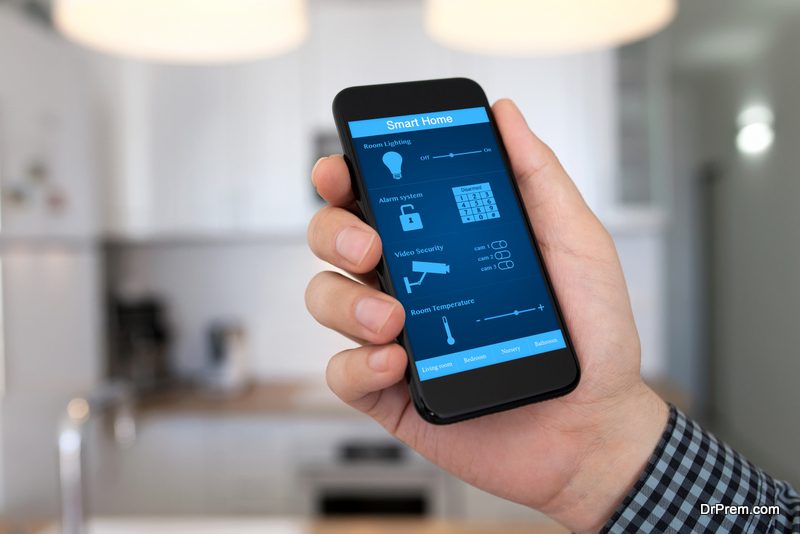 Security lights lighten up the areas of your property which you seldom use, as these areas are vulnerable to burglars.  Buy motion sensor lights for entries and walkways for extra security.
'Dusk to dawn' lighting options are designed with special light sensors, and are turned off and on when there is less light outdoors, after the sun sets. It's a hassle free solution to keep your outdoor space lit up even when you're not at home. Some light fixtures are a combination of motion sensor and 'Dusk to dawn' lights.
Task lighting
Task lighting is secondary source lighting which gives distinctive lighting in a particular spot. For example, lighting up the barbecue or outdoor kitchen area, security lighting, deck lighting etc.
Accent lighting
Accent lighting reinforces the style of your outdoors' style scheme. There are landscape kits as well as spotlights for accent lighting. You can buy affordable light fixtures for your modest budget too – consider using solar spotlight, LED candles, pretty string lights, or install soffit lights.
Lawn lights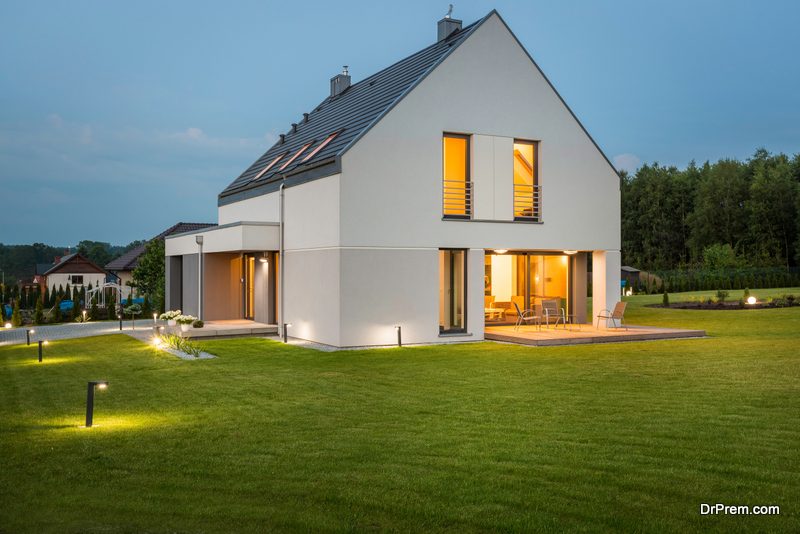 Use landscape kits to light up the lawn. Try a lawn kit which has spotlights on a single cord. Create a dramatic arrangement around the patio or lawn perimeter to set the mood for your party.
Pier mount and Post lights
Post lights are mounted on top of posts in the driveway and/or pathways. While selecting modern outdoor lighting for posts, buy the ones which are 'wet' rated as they can withstand the rain. Measure the post diameter before buying your beautiful post light fixture.
Pier mount light fixtures are installed on the top of walls or columns. Some manufactures offer adapters for post lights, which can then be mounted on walls or columns.
If you're planning to use multiple lights, go for low wattage LED lamps to achieve a warm and soft glow.
Swimming pool lighting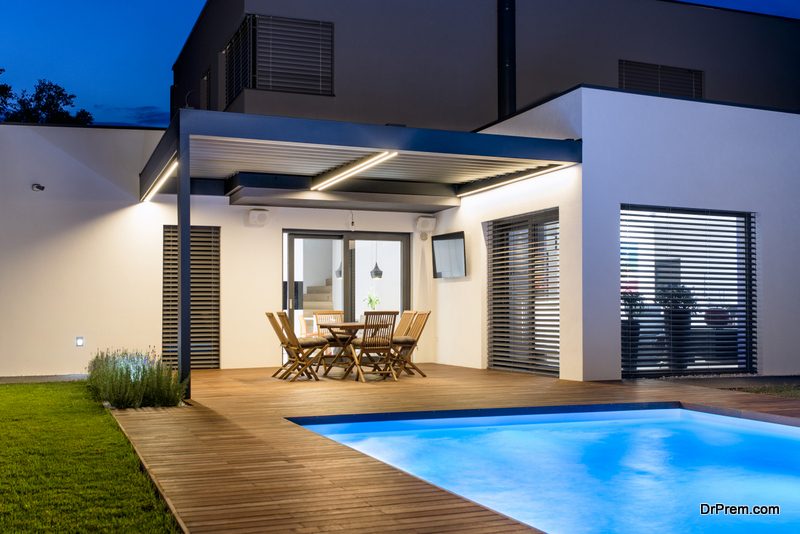 The pool tile color and lining should determine the lights for the pool. Remember that light colors will reflect light and dark colors absorb it, so buy pool lights after you have bought the ambient light fixtures.
What is the difference between wet and damp rated outdoor light fixtures?
We have talked about damp and wet rated lights. Now, what is the difference between them, you might be wondering. Wet rated lights are used in spaces which face direct exposure to rain and wind. Outdoor post and wall lights as well as motion sensor lighting are wet rated.
Damp rated lights are to be used in covered pergolas and patios which do not face any direct rain or moisture. Outdoor hanging and ceiling lights are damp rated.
Save on your energy bill – use LED lights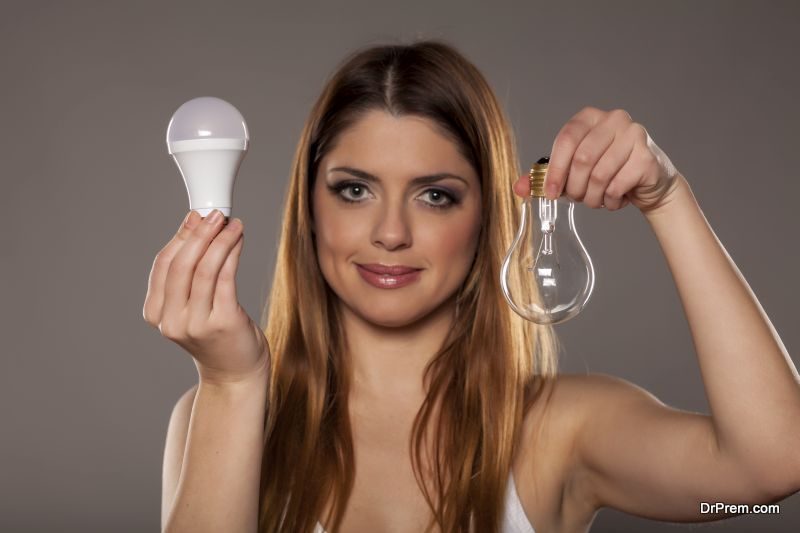 Lighting up your backyard will make it an inviting and enchanting space you'd love to spend time in. But you can also end up with a huge energy bill. To avoid this, use LEDs which give the light you need but will use very little energy, so that you have a bill which you can afford.
While selecting modern outdoor lighting, go for lights with dimmers which can be toned down while having a meal and yet can shed a bright light when you're cooking outside. A subtle lighting effect gives a restful effect which enhances the experience of sitting outside in the company of your friends or family.