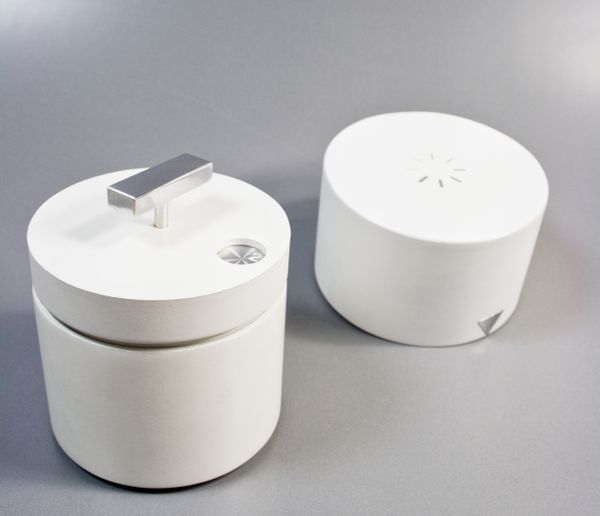 Hej means 'hello' in Swedish and make it two times to get an internet telephonic device to chat, talk and share in a completely new fashion. Yes, we're talking about "HejHej", a concept that is quite close to Skype and VOIP and designed by Anna Clara Rendahl from Sweden.

A white colored, small, trendy, cool, light weighted, portable, wireless, user friendly cylindrical box, what it seems to look at, is expected to take users by surprise in performance as well. Anna Clara seems to be a crazy mushroom follower that she has ended up designing this device almost in the same look. She has brought together modern design language with metallic features of phones as in the olden days like the rotary dial. Irrespective of where you are, you can carry it along and talk to your loved ones for hours provided you are connected to the Internet.
A simple process to make calls from HejHej makes it more interesting. Removing the top lid and then pressing the four interchangeable speed dials is all what you need to do to make a call also just press the lid to pick up or hang or use it to even turn on the loudspeaker.

Skype would certainly need to tighten their belts as HejHej is expected to overpass it with its unique features. However, we also need to wait and watch its actual performance in terms of connectivity, reach of WLL, uninterrupted service, clarity of voice, battery life, if any and of course not to forget, the cost.
Anna's promising device does need an applause, hope it gets the same response even after it is officially launched across markets.