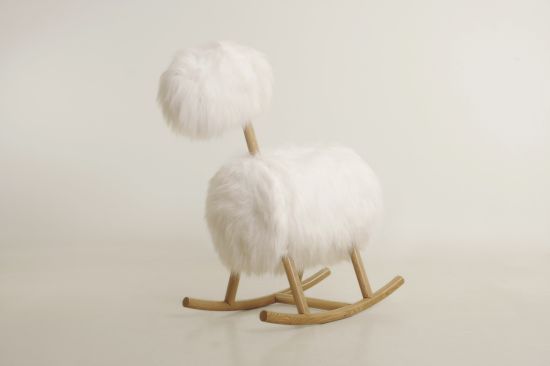 The Hi Ho by Jarrod Lim not only reinterprets the traditional rocking horse with the idea that it should be viewed as a piece of modern furniture to fit into the most stylish interior, but also redefines modern seating for all of us. It is a mature design that is fun without appearing childish. The Hi Ho examines the idea of a rocking horse in reference to traditional craft techniques, which is combined with contemporary design sensibility.
By simplifying the animal shape to its most basic form, the result is a design that is fundamental yet unique. It is such an appealing shape that it doesn't require any additional embellishments. It is something that can be related to easily and instantly explains its purpose. Intuitively you attempt to ride on it. By employing tactile materials the horse becomes very engaging to both young and old alike.
The Hi Ho rocking horse is constructed using a wooden skeleton frame with turned solid-oak legs and a foam-covered body and head. Variations in upholstery materials allow the design to fit into a variety of interiors. The fabric covers slip on and are fastened together with Velcro tabs. They can simply be removed for cleaning or to update the appearance.
Thanks, Jarrod Lim