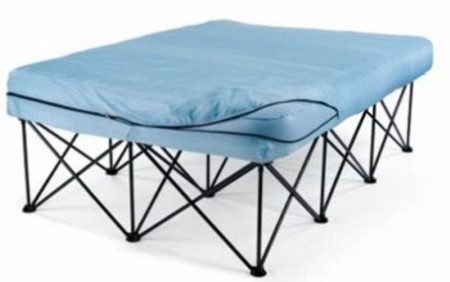 A guest bed is a furniture that can give a tough time to any person. With the diminishing size of today's homes, it is practically impossible to store a guest bed as a permanent furniture. The best solution is to have a portable bed that can emerge out of thin air as soon as a guest arrives, and disappear as the guest departs. The Hide-Away Guest Bed Frame will help you a lot in such situation.
The heavy-duty steel frame takes just two minutes to unfold and set. Once opened, the frame is 20″ off the ground and ready to support a huge inflatable mattress. The frame features a durable nylon webbing to assure you an even surface for laying the mattress. The frame also features a mattress enclosure to keep the mattress from sliding off the frame. The frame is sturdy enough to support 450 lbs. The frame comes with a special bag to store the frame when not in use. The frame measures 52 W x 791/2 L in open position.
The Hide-Away Guest Bed Frame sells for $69.95 at Hammacher Schlemmer.
Click here to check availability.