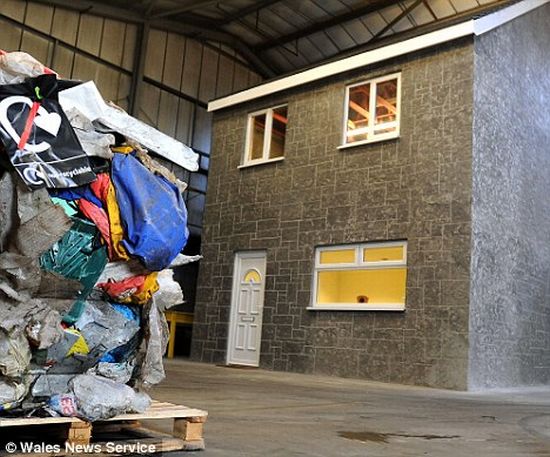 Affresol is the name of the company in Swansea that has developed a technology to build low carbon houses, and you all know the material that is being used. The company has launched eco-friendly homes and four-tonne modular portable buildings. And, as touted by the company, these homes could revolutionize the building industry like no other. Plastic is the main component of Thermo Poly Rock (TPR), which is a new material that has been developed by the company. However, minerals have also been used to form this material.
Construction
The panels made form TPR are bolted together to form the frame of the house that is load bearing. This very frame can also be externally clad with brick, block, stone or can be insulated indoors like any other house. The roof of the house is tiled with recycled materials. As Affresol managing director Ian McPherson says, "TPR was stronger and lighter than concrete, waterproof, fire retardant, did not rot and had excellent insulation properties". The life of these houses is estimated to be more tan 60 years old and it is also being said that all the elements of TPR will be recyclable at the end of 60 years.
Development
In past two years the company has worked with Cardiff, Glamorgan university, the Building Research Establishment and the Carbon Trust in order to develop this product. The entire project has also been supported by the assembly government's single investment fund, and Finance Wales, a provider of commercial funding to businesses in Wales. The funding was also provided by a subsidiary company of the assembly government.
Mr McPherson said the buildings had huge potential for use across the world. He said: "Every country in the world has issues with waste and we now have an opportunity to turn waste into an enduring housing resource that is 100% recyclable."

Success
After a long duration of hard work, the company has already tasted success with domestic heating and water system company Worcester Bosch ordering the first modular building. "Worcester Bosch said supplying Affresol with plastic from recycled boilers would enable it to achieve a zero waste policy".
Via: BBC/Mail Online