Long gone are the days where a mirror was purely about function – where a slightly reflective piece of tin was enough to keep yourself in check.  Mirrors have evolved – we've seen technological changes, with mirrors fitted with LED lighting, as well as the introduction of smart mirrors, to changes in their use in people's homes, now often treated as a piece of art, the focal point of the room and a way to enhance your home's aesthetic.
While we've seen these changes in mirrors, the room where the mirror matters the most has stayed the same – the bathroom.  So, with more options than ever available to us, how do we go about finding the right mirror for the bathroom?  The team at Luxe Mirrors can help you out with some key things to think about that will set you on the right path to finding your new bathroom mirror. 
Purpose of the mirror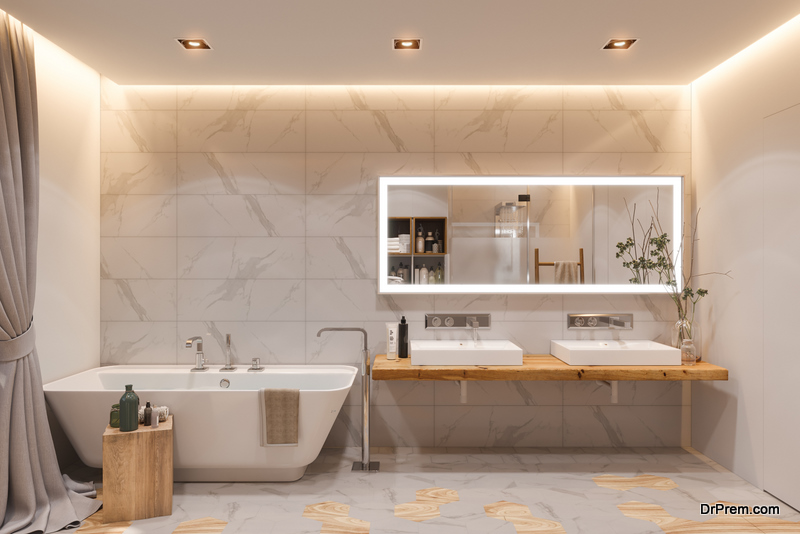 While a mirror's purpose might seem obvious, there is a lot more a mirror can do other than showing your reflection. So, while its primary function is for you to use while you are grooming or applying make-up, if your bathroom is short on natural light, it can help enhance the current lighting with its reflection.  Depending on the mirror size and placement, with their reflective quality a mirror can change the whole feel of a room and make it feel lighter, brighter, and often larger.
For bathrooms that are short on natural lighting, mirrors that are fitted with LED lighting can act as the light source of the bathroom. Mirrors with lighting are usually front lit or backlit, with mirrors that are front lit often being brighter, while backlit mirrors do offer extra lighting, they have a softer lighting approach.  For bathrooms that do suffer from a lack of space, a mirror with LED lighting is a good option because you don't need to worry about making room for light fixtures which can potentially take up wall space, and precious mirror space.
And if you do have a bathroom that is lacking in size and space, you can opt for a mirror with storage.  Mirrors with storage can come in many shapes and sizes, from those with ledges, to those where the mirror is also the door to a cabinet.  These styles of mirrors don't need to be saved for a small bathroom though, because if there is one room that could do with more storage, it's this one. 
Mirror type
Now it's time to think of the type of mirror you may need.  We've already touched on some of the types available above, but once you have an idea of the purpose of your mirror, finding the type of mirror will come a lot easier.
In addition to the mirror types we previously mentioned – lighted mirrors & mirrors with storage – some other mirror types to consider are:
Vanity Mirrors – more of a traditional style, a vanity mirror is meant to be hung above the sink and usually be the same size or slightly smaller than the vanity unit below. They will usually be one large mirror, or if you have twin basins in your bathroom, you may have a mirror above each sink
Framed Mirrors – simply put, these are a mirror with a frame. The frame can be made from many different materials, from wood to steel, and everything in between. One of the most important factors when it comes to selecting a frame, besides the style of your bathroom and you, is the material the frame is made out of.  Given the bathroom experiences some extreme humidity, you want a frame that is built to withstand this.
Frameless Mirrors – These are mirrors without frames and are often simple and minimalistic. They can be a great option when finding a mirror for an existing bathroom as they are easy to blend in with almost any design and décor.
Extendable/Movable Mirrors – attached with an extendable arm, these mirrors are great for small spaces as they don't take up much space, but they are also a great addition to a bathroom that already has a mirror. These ones are usually available with lighting and magnification making those harder to see jobs a little easier.
Size of mirror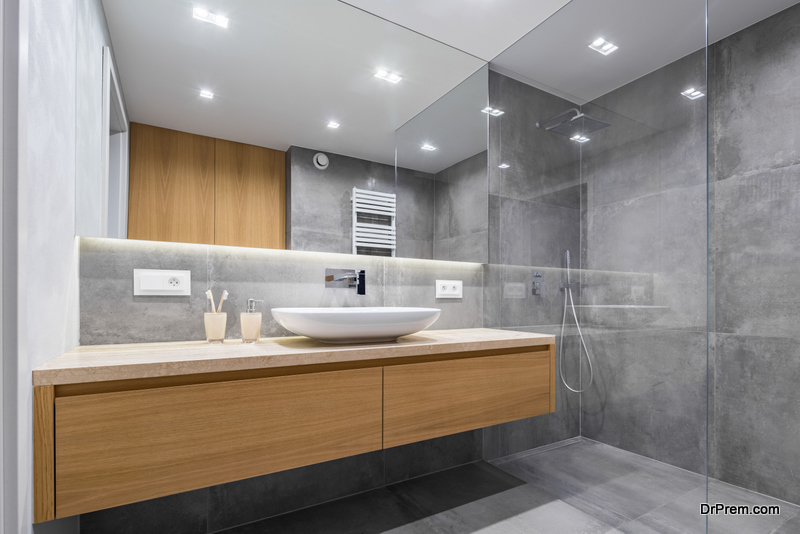 When working out the size of the mirror you need, one of the key things to think about is proportion.  You want your mirror to look like it belongs in your bathroom.
So, the first step is to measure, measure, measure – measure the wall space you have available, both width and height, as well as your sinks and cabinets, and the overall size of your bathroom.
If you do have a sink and cabinet unit below where your mirror will be placed, your mirror will usually be slightly less wide and hang centered above this area; understanding the wall space you have available is important as this will help with placement of the mirror, and ensure that the mirror is usable for those who will be using it; and knowing and taking the size of the bathroom will help with selecting a mirror size as you don't want to select one that is too small or too large for the space you have available as this can make the room feel unbalanced.
While the actual space you have available is going to be the ultimate deciding factor when choosing the size of the mirror, understanding how your mirror will look in proportion to the rest of the room should always be considered.
Shape
This part of finding a mirror is when you can really start to let your personality and style flair.  The shape of your bathroom mirror is really a personal preference, but some things to think about include:
Round Mirrors – these mirrors are perfect for adding a softer touch to a bathroom – particular more modern designs with sharper edges. Round mirrors are also great for the mirrors that you want to make the focal point of the room, as they generally draw the eye and capture your attention.  Round mirrors that have LED backlighting are perfect for creating a relaxing mood in your bathroom and give a halo like appearance.
Rectangular Mirrors – the most traditional shape, these mirrors often have a wider visual scope, regardless of where they are hung vertically or horizontally. These mirrors will work in most bathroom sizes and designs, and depending on whether they are framed or frameless, they can be the focal point of a room or blend in quite easily.
Your style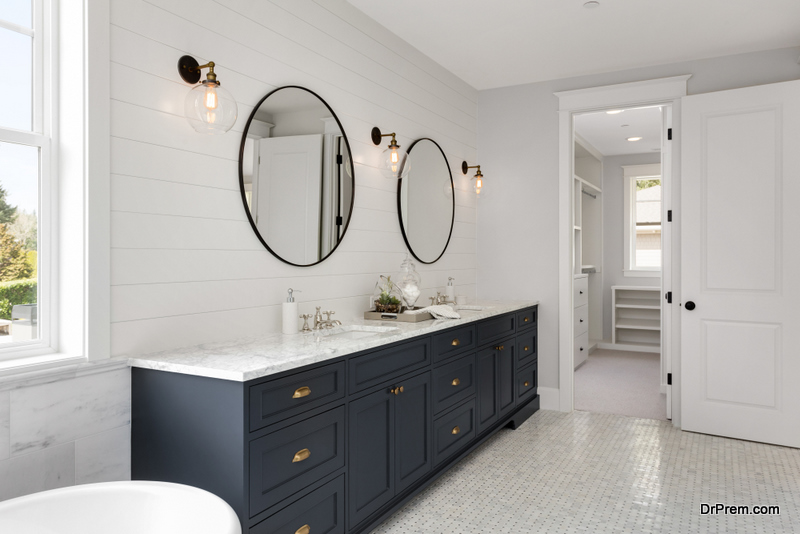 Selecting a mirror that works for both your home and your style preferences is the last piece of the puzzle.  While you want a mirror that is going to do its job, with so many different materials, styles and shapes now available, you should be able to find something that will reflect not just your reflection but who you are as well. You can be as elaborate or as simplistic as you wish, the only thing you need to remember is that you don't need to compromise on finding one that will suit your home.
With so many options available, choosing a bathroom mirror can seem overwhelming, but with this information handy, you now know the key things to think about when starting your journey.  And if you want more helpful tips and information, check out this bathroom mirror guide from Luxe Mirrors. The team is well versed in all things mirrors and can help make the job a lot easier.
Article Submitted By Community Writer