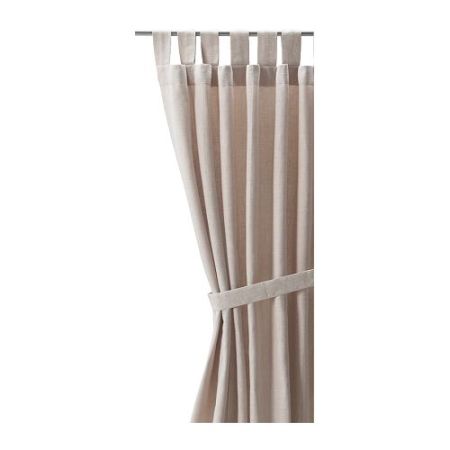 Curtains are capable of lending mood and ambiance to a room apart from their traditional use of keeping away cold or sunlight. A right curtain will always have a perfect combination of rich color, nice pattern and beautiful texture. Heavy textured curtains can make a room look grand and luxurious while cotton curtains give a softer and lighter look. And, when it comes to a brand like 'Ikea', it's a marvel to own. Ikea assures you rich colors, excellent fiber details and an easy care to maintain them. Browse down this list of most stylish Ikea Curtains to pick your favorite.

1. LENDA curtains
BRAND : Ikea
PRICE : USD 31.0717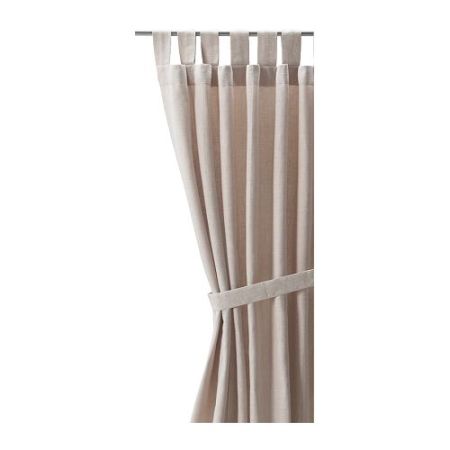 This pair of curtains from IKEA, lets the light in but dims direct sunshine. This light beige colored curtain emits only the required light in your room.The measurement for this pair is 300×140 cm and the weight is just 1.00 kg. This pair can be easily hemmed to a desired length with an enclosed iron-on hemming strip. The organic cotton fabric used in this curtain is hypo allergenic and is suitable for sensitive skin.
USP
Renewable cotton has been used in the manufacturing of this curtain which is a preferred choice of eco conscious consumers.
PROS
You don't need to dryclean this curtain.
2. MERETE curtains
BRAND : Ikea
PRICE : USD 43.5091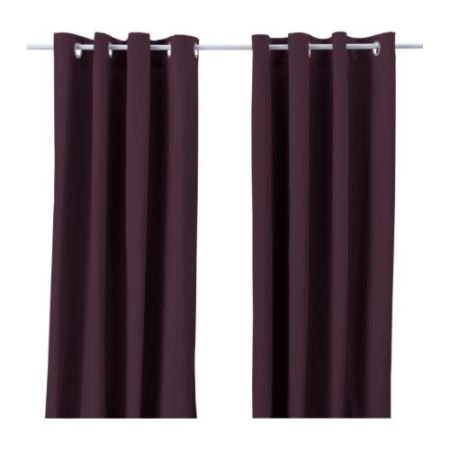 MERETE comes with a length of 300 cm, width of 145 cm and weighs 2.70 kg. This purple pair of curtains perform a heavy duty for you. The dark purple color has its own benefit of absorbing light inside and helps in keeping your room warm and snug. With this color, there is no chance of penetration of UV rays inside your room. The Eyelet heading of the curtain makes it an eye-catchy alternative.
USP
The heavy fabric used in the manufacturing of this curtain helps in reducing sound and keeps extra light out of your room.
PROS
These can be easily hemmed to a desired length .
3. SANELA curtains
BRAND : Ikea
PRICE : USD 87.0197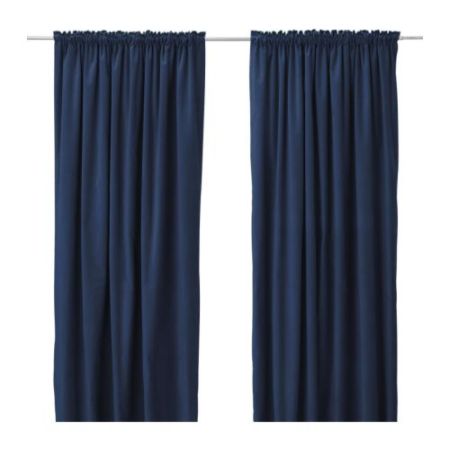 A heavy material curtain that reduces sound and sunlight from entering into your master bedroom is 'SANELA'. The only thing you must be aware of is that the thickness of the fabric will provide almost total black-out when curtains are closed. But, if your windows face direct sunlight, especially in the bedroom where early sunlight may disrupt your sleep, this can be a blessing. Those who have trouble in sleeping will be glad that they chose these thick velvet curtains for their bedroom. The weight of this curtain is mere 2.5 kg.
USP
This cotton velvet curtain will give an extra luster, adding a touch of luxury and elegance to your home.
PROS
A high quality cotton velvet lining is used in this curtain.
4. RITVA curtains
BRAND : Ikea
PRICE : USD 40.4035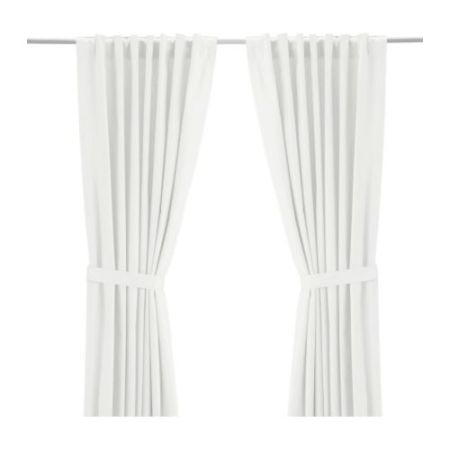 Hang Ikea Ritva white curtains will be a good bet for your living room as they have an amazing look. These curtains will keep the extra light out of your room. To update the plain white curtain panels, try this 2-inches wide, black, grosgrain ribbon along the inner edges. The process is quick and painless too.
USP
These curtains demand an easy handling and maintenance, you don't need to do any bleach. Mere machine wash will do the cleaning for you.
PROS
These curtains contain 2 panels with tie-backs.
5. HEDDA BLAD curtain drapes
BRAND : Ikea
PRICE : USD 29.4825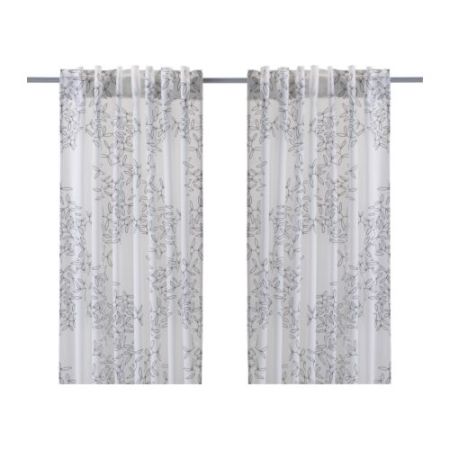 Imagine a lissome look for your walls. With a pair of curtains from HEDDA BLAD Curtain Drapes, this slim look is quite possible to achieve. The renewable cotton material used in its manufacturing contributes to the environment. It is an eco friendly choice.
USP
A white colored base with grey color slim print on the curtains transforms your room's austere ambiance into an elegant one.
PROS
It is a light in weight, stylish curtain.
6. BIRGIT LJUV curtains
BRAND : Ikea
PRICE : USD 46.6095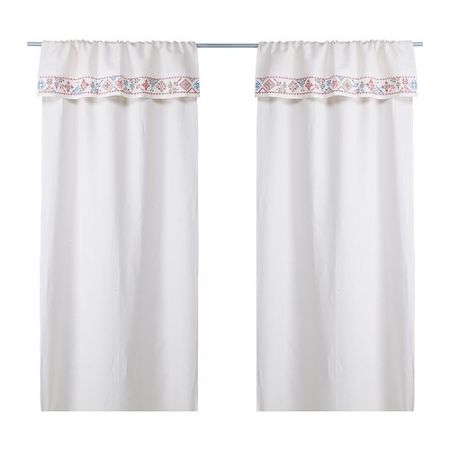 Replace your old ones with these new linen curtains this season. These curtains are composed of 55% linen and 45% viscose/rayon. Linen feels good to touch because of its high absorbent nature which absorbs extra heat from your room. Linen is a gorgeous, comfortable and durable fabric that is made of fibers of the flax plant with a high natural luster. Taking care of linen is easy and it grows softer and more lustrous with time.
USP
The viscose rayon used in the curtains gives a shiny and silky appearance to this pair.
PROS
Taking care of linen is easy.
It has a lustrous shine.
7. HENNY RAND curtains
BRAND : Ikea
PRICE : USD 59.99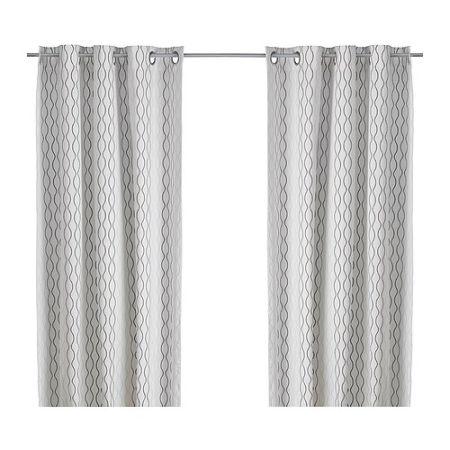 HENNY RAND curtains are made of 100 % cotton.These curtains can easily be hemmed to a desired length with an iron-on hem strip. The assembled dimensions include a width of 10-5/8″inches, height of 2-1/2″inches and a length of 14-5/8″inches along with a weight of 5lb. Cotton fibers are naturally convoluted or bulked. This serves to trap air within the fabric structure.
USP
Made of 100% cotton, these curtains protect from heat in summer and cold in winter.
PROS
The curtains can be washed in cold water.
8. RENATE LJUV curtains
BRAND : Ikea
PRICE : USD 40.7779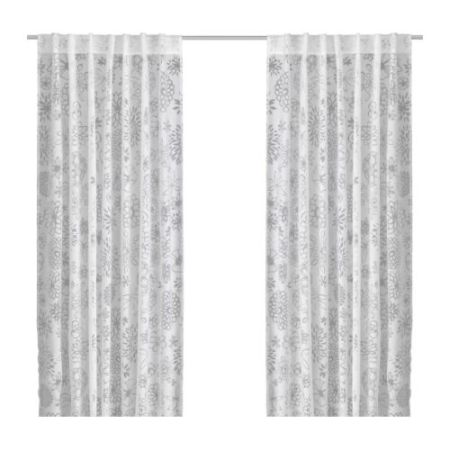 Harder wearing, non-shrinking and less creasing are the three main features of this RENATE LJUV curtains.This curtain is a blend of polyester and cotton. Polyester is a strong fiber that keeps its shape and therefore resists wrinkling. The mix of polyester and cotton is versatile, as it retains the shape and coolness of the cotton fiber.
USP
Being a polyester-cotton blend, this curtain is versatile, durable and wrinkle-resistant.
PROS
The weight of this curtain is just 1.00 kg.
9. NINNI RUND curtains
BRAND : Ikea
PRICE : USD 77.7091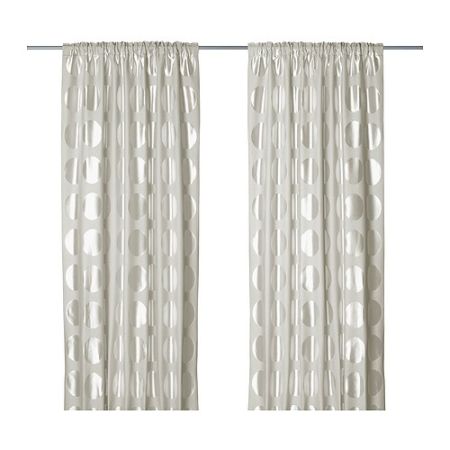 This pair of NINNI RUND Curtains by Ikea is strong, durable, tough, mildew resistant, wrinkle resistant and hydrophobic in nature. This is a complete product in its own because of the fiber polyester, it is composed of. Its hydrophobic nature and quick drying feature offer an easy maintenance without the use of any bleach or any laundry wash. Also, these curtains retain their shape, and hence are good for your Patio and outdoor uses in harsh climates.
USP
This curtain is wrinkle resistant and does not shrink.
PROS
It is easy to launder.
10. SARITA curtains
BRAND : Ikea
PRICE : USD 9.30901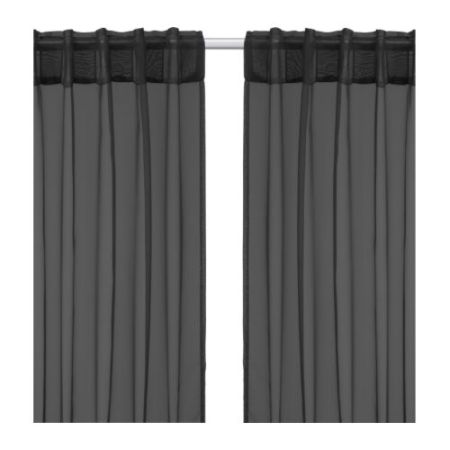 Contribute towards nature with this Ikea black curtain. A thin, lightweight curtain that weighs 0.30 kg and can be easily be hemmed into any desired length. These black colored curtains are just not for blocking light. You might be aware that 33% of home heating and cooling energy loss occurs via your windows. But, black curtains can help insulate your home, saving your money in heating and cooling. Energy savings can also assist in reducing greenhouse gas emissions associated with energy production.
USP
An important benefit of these blackout curtains is that they block heat and offer a cooling effect to the room.This in turn leads to savings on electricity bills.
PROS
A good choice for your room.