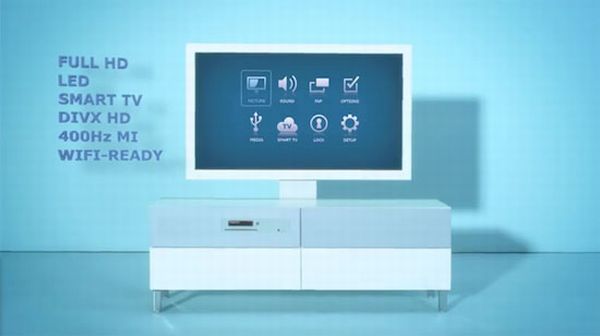 IKEA is known for its mind blowing and awe-inspiring furniture that offers grace and style to any living space. But, this time IKEA is entering into something new and unique that can completely change the definition of an HDTV.
IKEA has created an all-in-one HDTV, which is built into a piece of furniture with a sole intention to cut the clutter around your entertainment hub.
While unveiling this interesting product, IKEA announced that people face many problems when installing or shifting a television in the living room along with speakers, digital boxes, cables and Blu-ray players. But, this HDTV will get fixed into your living space without any problem or difficulty.
IKEA has named this product as Uppleva, which is 1080p HD LED Smart TV. The company asserts that this product shouldn't be categorized into a TV or a piece of furniture, it should be called a 'FurniTV'.
The Uppleva comes with an integrated Blu-ray/CD player along with wireless subwoofer, 2.1 sound system and sections to camouflage the wirings and cablings.
What's more? One interesting thing about this HDTV is that you can control everything with a single remote. In addition, it also features USB ports and four HDMI ports so that you can easily connect all your gears with this HDTV.
Moreover, you can even customize the screen size, colors, frame and other elements to meet your requirements, as IKEA is providing mix and match customization for the Uppleva.
The Uppleva will be available for sale form this fall for about $960.
Via: Dvice