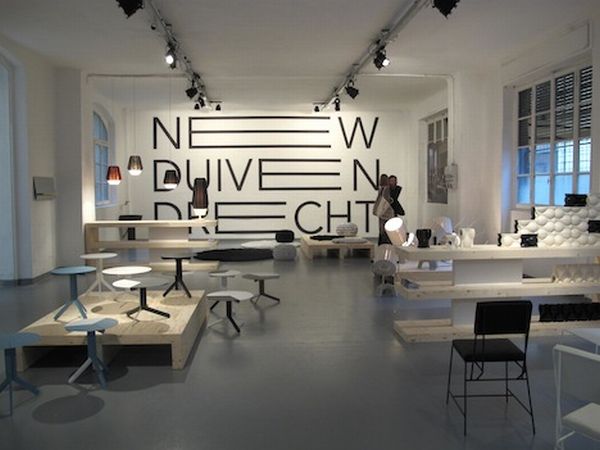 The year 2012 has dawned and all eyes are trained on the new product line from Duivendrecht in this year's Salone Milan. The futuristic designs of lighting and furniture incorporates a breathtaking simplicity with shapes that spell comfort and lightness. The interiors are mostly combinations of steel grey, shell white with a hint of pink and black. These colors with matching accents here and there and cleverly diffused lighting, paint a picture of expanse.
Contemporary design shapes the beautiful contoured art piece of continuous vases again in shell white and a contrasting jet black. The ergonomically designed lean back chairs are perfect for offices. They occupy minimal space with legs that are spindly thin and neat looking.
Black and white colors used for the chairs give them a chessboard look when put together. The three layered tray for feeding birds is a piece of novelty in an otherwise strictly office space. The white plates are interspersed with wooden ones in teak, the whole stand topped with a white knob shaped clasp.
The next article that draws your attention is the variety of lamps. Polar lamps suspended by such slender rods that they seem to be coming from nowhere. The lampshades that look like pleated fabric is an interesting silhouette fitted closely to the source of light. The other lamp has an extraordinary shape that reminds one of sand dunes in the desert or a crimped skirt of a ballerina.
Hand knotted foot rugs and a pouffe add a touch of village craft for a refreshing change. On the whole, it is an amazing array of aesthetics, a very futuristic urban office with details that evoke a refreshing change that makes it unique and absolutely one of a kind.