Perhaps the best gift that you can give your woman is not always a diamond. It could be your time or showing her affection in simple ways that make her feel special. Here is one tip that will work definitely and not for a day or two but for a long time. Put all your creative ideas and design her dressing room. If you are saying there isn't any separate dressing room for your wife, then make space for one. You can always transform a spare room into your wife's dressing room. She will now have her own space to get ready, maintain her wardrobe and spend time to think how she should be coordinating her outfit with accessories. Briefly, she will have a space, which is exclusively hers. Apart from her 'thank you' smile, there is a bonus point for you as well. Now that she will have her own space to get ready, she might take less time to do so and you will not have to wait for long!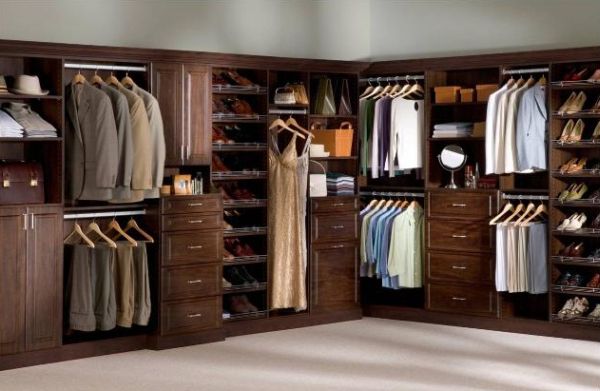 Choose each item wisely, lovingly
Remember you are presenting this room as a gift to the person whom you love the most. So, pay minute attention to each component, the color of walls, floor, wardrobe, dressing table and décor. You know her favorite color, her choice of paintings and her preferences when it comes to furniture and designs. If you want to make the dressing room as a surprise, then ask about her choices discreetly and then use those tips while designing the room.
Walls that call out to her
Either walls can be painted or you can use wallpapers. Give preference to her choice of colors. You can put a large size photo of hers on the wall to make her feel more special.
The star of the room – the wardrobe
Since the entire room is for dressing, you can choose the widest wall for the wardrobe so that your dear wife can have a bigger space for her clothes and shoes. A floor to ceiling wardrobe will be all the more better.
The dressing table – stylish yet comfortable
Get a custom-made dressing table so that there is enough space for her cosmetics and accessories. Let the table be little bigger in size and let the mirror be full length. Give extra attention to the chair. A chair is more preferable than a stool because chair gives back support. If she is spending an hour at the dressing table doing her make up, then let her sit comfortable and not ruin her back.
Summary
Design the exclusive dressing room for your wife by choosing special wall colors, a stylish and functional wardrobe and a comfortable dressing table.