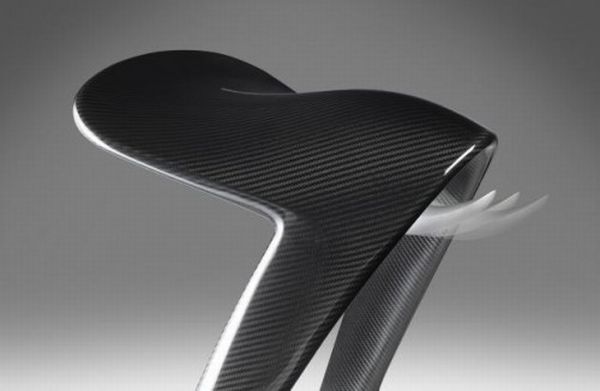 There is a wide variety of unusual stool designs made available by innovative manufacturers throughout the world. Let us look at the description, manufacture and cost of eight such unusual stools.
1. German design modern innovative stool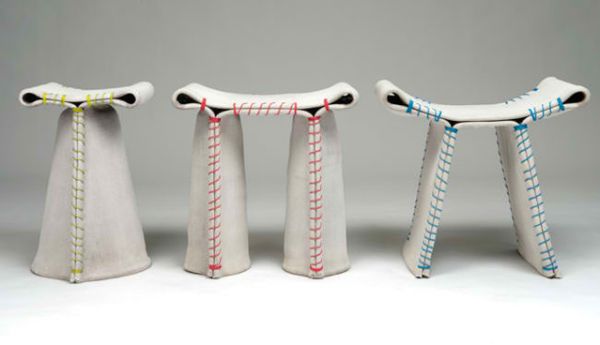 This modern day German furniture is designed using concrete canvas which is a new material for furniture's and is called stitching concrete stool. This furniture, designed by Florian Schmid leaves an artistic appearance to this modern day stool design.
Features:
a) It is a water proof and fireproof model.
b) It is durable and contains more resistance against UV rays.
c) It can be used both indoors and for outdoor activity
d) It only takes 24 hours to harden the concrete.
e) The cloth used in the stool gives it a warn appearance.
2. Portable and innovative stool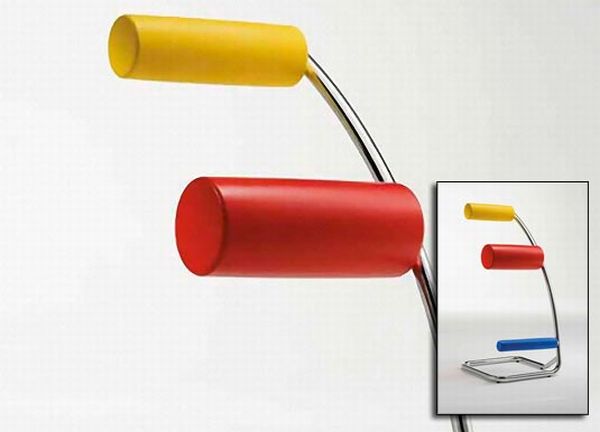 Nature Eva stool designed by Infiniti Design is an inspiration from nature. One or the other time we have used some twig or branch to sit upon, this is where the inspiration comes from. It consists of three cylinders of three different soft colors and an ultra-sturdy frame.
Features:
a) Best suited for places like cafe's and bars.
b) This innovative stool is built around a high resistance chromium plated steel tube.
c) The stool provides backrest and footrest as well.
d) The cylinders are made up of washable material.
e) It is also available in other different colors or in plain colors.
f) It is also easily portable.
3. Ceramic rocker stool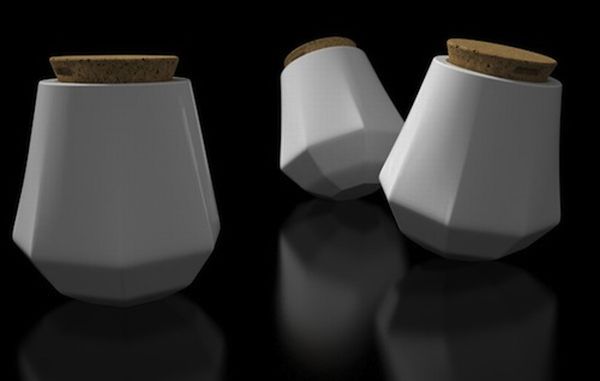 This ceramic rocker stool is a very innovative and fun stool designed by Hamish Tennent. It has an exterior ceramic foam pillow which gives a unique vibration.
Features:
a) It provides an air of fun and playfulness in spite of your bad mood or tiredness
b) Though it is wobbly looking, it is very functional.
c) It shifts in the direction of the last seated person leaving an imprint of the previous user.
4. Spinning seat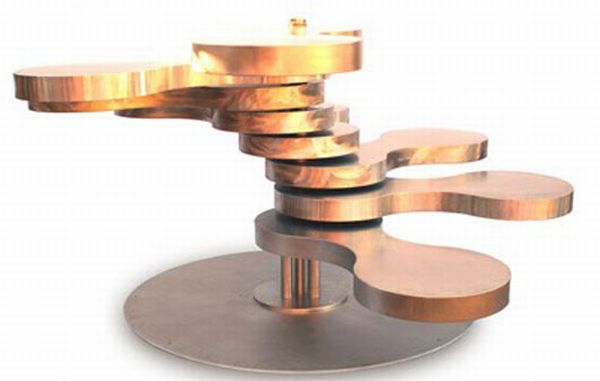 This unique spinning seat designer stool was designed by a U.K manufacturer Noel Blakeman. This is called spinning seat as it contains innovative stainless steel platform for seating. There are 8 sections in total each of which spins to about 360 degrees around the central post.
Features:
a) This spinning seat stool adds beauty to places like restaurant, cafe and lounge.
b) It can also be placed in modern homes which forms a part of interior design.
c) It gives artistic nature at the places where it is placed.
d) Totally 8 persons can be seated round the post from bottom to the top.
e) Though it looks simple, it is strong enough to bear the weight of 8 persons.
5. Multifunctional office trash can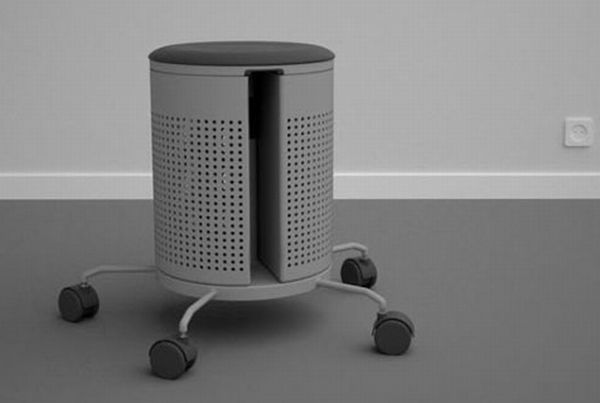 This office trash can stool design is a very innovative approach. This brilliant concept uses empty space stool construction and then fills it with garbage can design. It gives a contemporary and compact office stool design.
Features:
a) It saves space in office interiors.
b) It provides mobility due to the presence of wheels.
6. Innovative Boet stool chair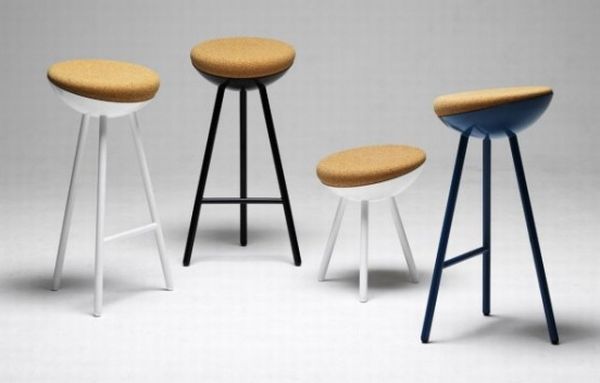 This kind of Boet stool design by note design studio gives a modern and nice look to the room in which it is placed. This stool has got its inspiration from bird's nest as boet means nest.
Features:
a) Available in different heights.
b) These are not easily breakable because the feet of it is made from tough steel.
c) It is also available in white or blue color.
d) For kids, the low height stool an be used.
7. The saddle stool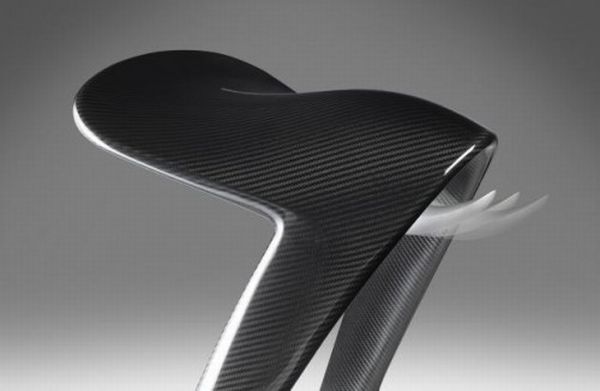 This saddle stool, inspired by the horses' seat, was deigned by a Spanish designer. This is made from the material of carbon fiber used in aeronautics, which proves the innovative and creative idea behind it.
Features:
a) Innovative design makes you wonder.
8. Smile stool in a cherry form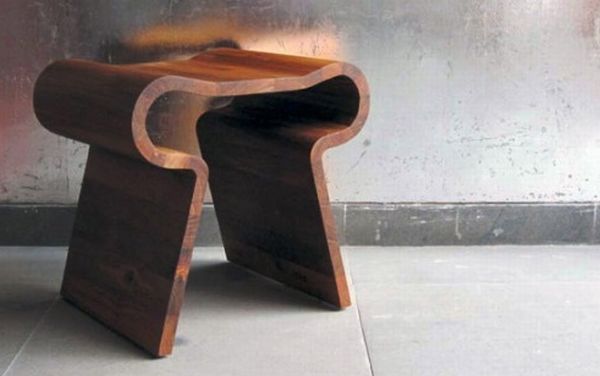 Smile stools are designed by Indonesian designers. It proves their craftsmanship. It is made by recycling the left over scrap wood by local furniture makers. The finishing is done by using coconut oil. It proves a symbolic icon to the declining Indonesian furniture industry through its smiley design. Traditional wood bending technique is used in its design process to create a happy smiley design.
Features:
a) It is a Eco friendly stool having made of recycled wood.
b) Gives a positive inspiration to Indonesian furniture industry.