Pot lights or can lights have been around for quite a few years now. This innovative fixture design in led technology has grabbed many architects and interior designer's attention with its smart and discreet profile which has proven to be quite efficient to date.
The prospect of this light going out of style seems very less and rightly so for a number of reasons.
A recessed light fixture goes inside the ceiling and the light appears from an opening through the ceiling with its various trim designs. Light architects gain a vast margin to experiment with the lighting scheme of any area they are being used in.
While designing a new home or redecorating an old home, recessed lighting can be a key element in both the layout and apparently so elegance of the space. Recessed lighting creates a bright, sleek look in a home within a room, it can increase the amount of light, highlight artworks or special features of the room, and make the space appear and feel larger.
Manufacturers design and offer a variety of decorative LED recessed lighting in a range of aesthetics to help complement your interior design.
Part of the reason why they gained popularity is due to the fact that they are the only kind of lighting fixture which allows designers to get creative with lighting schemes of an interior.
This article is an overview of the functional features of recessed light with a short guide on how to install or retrofit recessed light fixture.
Recessed lights are available in a range of designs vintage or modern paired with different trims and finishes like copper, bronze and brushed chrome trims which instantly elevate the decorative style of any interior.
Shapes, bodies, finishes, trims allow the buyer to choose the best fit according to the requirement.
Placement of the fixture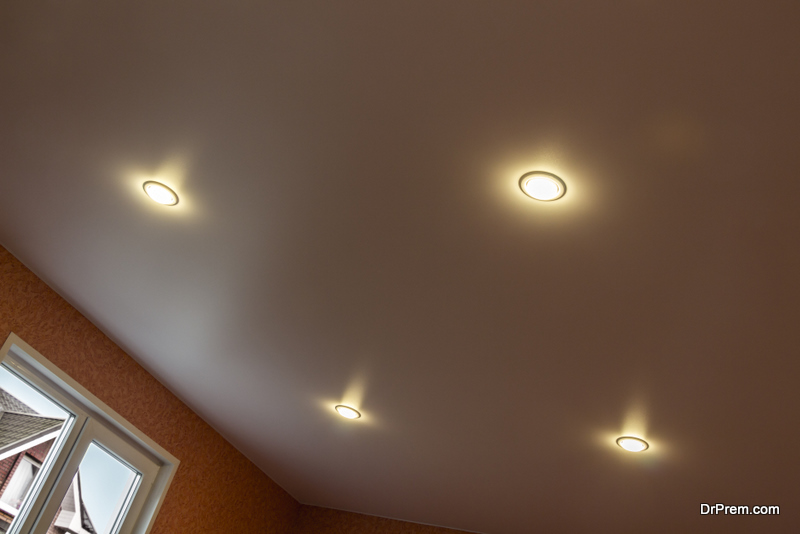 Recessed lights are mostly used in spaces which require the entire area to be illuminated with minimal space occupied by the fixture itself or in places where down lighting, spotlighting is essential.
For larger spaces like living rooms, dining rooms; trims are used because they are specifically designed to reduce glare.
When choosing recessed lighting for kitchen areas or workspaces, a decorative recessed light cover with a reflector trim does the task. This type of design relies on its polished interior to maximize the light its bulb produces.
When the place is decided, one should:
Take necessary measurements of the room in order to avoid placing these fixtures too close together or in rows towards the center of the room.
The size of the fixture helps determine the distance between each fixture. As in for 4"fixtures, each fixture should be fixed 4 feet apart from each other.
To highlight any important corner in a room or any shelf or panel, the recessed light should be positioned in front of the object at least a few inches away from the object so the beam angle falls perfectly over it.
For task lighting they are generally placed overhead a bit away from the head's position so the light doesn't get obstructed by the body.
To illuminate a corner or sculpture generally two or three lights are placed in a row or alternative fashion so they can illuminate the object from all sides.
Aside from this they can be used to cast a wall washing effect to make the place appear spacious.
Sizing of Fixture
The basic available sizes are 4", 5" or 6" in diameter.
Smaller 4" fixtures are used in confined or smaller places while in tall, extra-long spaces 6" fixtures can be used.There are 8", 3" and 2" fixtures as well but not common, 2" fixture are rare to find.
Bulbs for fixture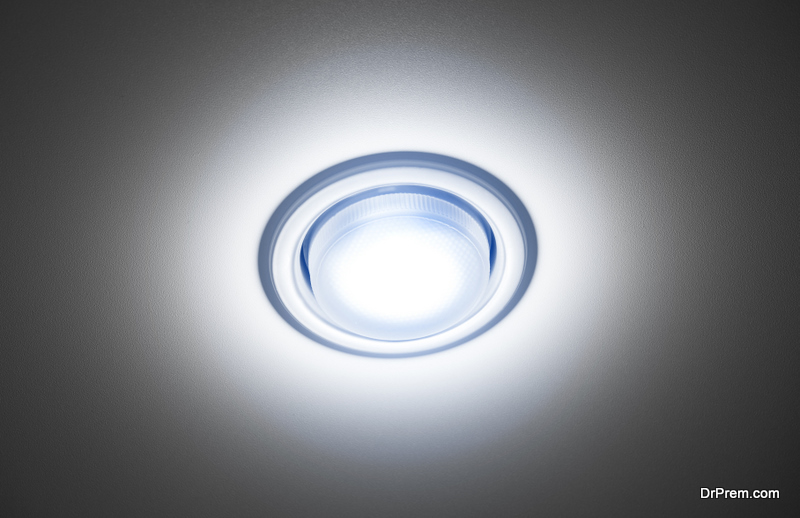 Several sorts of bulbs are available for various recessed light fixtures to cast the desirable lighting affect such as:
Incandescent bulbs were used for general light or wall washing effect with the use of reflectors. These are slowly getting out of fashion.
Halogen bulbs have been used for wall washing effect or spotlight because they are super bright than incandescent bulbs although special kinds of housings are used.
LED bulbs are the most energy efficient bulbs to date and have a very long life. They do not heat up unlike halogen bulbs offer a clean white light and are available in both flood and spotlight types.
One of the main advantages of recessed lights is that they allow layering of light. For this specifically different bulb types are used like:
reflector bulbs,
parabolic reflector bulbs
Bulged reflector bulbs etc.
The difference in specification of these bulbs is that of beam angle and direction of light.
Nowadays LED bulbs are widely preferred over traditional bulb sources for the very reason and that they can be installed or retrofitted quite quickly and easily.
Procedure of Installing/retrofitting recessed lights
1: Main circuit is located and the power is switched off.
2: In case of retrofitting, first the old fixtures are removed then the wires from the preexisting fixtures are located.
3: Accurately sized/measured holes according to the housing size of fixtures are cut through the ceiling/wall. Extra space should be left for non IC rated lights.
4: Power cables running through power source and switch box should be fished from the ceiling
5: Wires are joined through the housing.
6: Housing is then installed; most retrofit housings have external clamps which help the fixture to stay in place.
7: Then the trim is installed which is flushed against the ceiling. The choice of trim largely depends on the type of ceiling.
8: Bulb is installed and then the power source is finally switched on.
Article Submitted By Community Writer