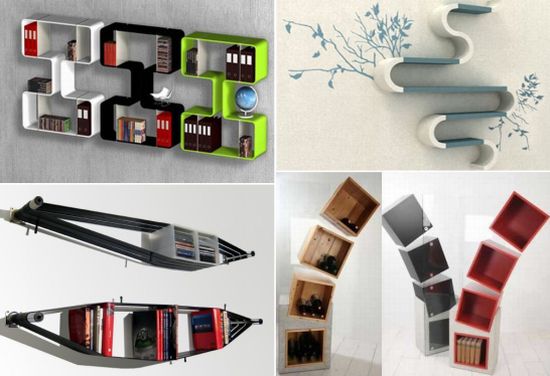 Shelves for long have remained the same, except for their design that has taken a leap with pace each time. Shelves are an important part of the home, be it a decorative shelf or a simple one, they have always added flair to your décor. Today, on HomeQn we have tried to gather some of the interesting shelf deigns that looks more like some decorative aspect. Hit the jump to check out the interesting collection.
• Unisys Cube system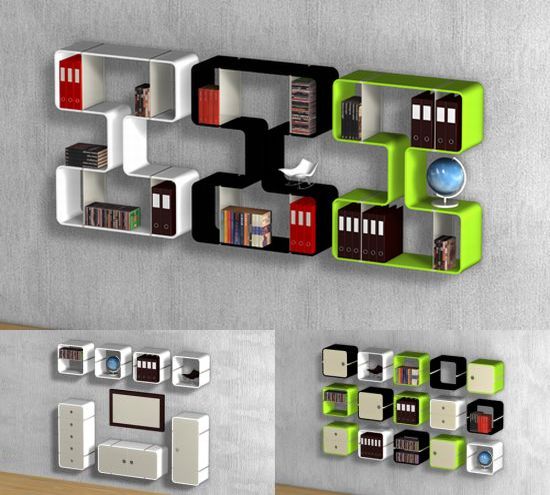 Designed by Thomas Pedersen, the scalable wall storage is a cool and petite wall storage system. It fits well not only as a wall-mounted bedside table, but also as a scalable storage system for all kinds of stuff everywhere. It can sure be used in a wide variety of settings with aplomb and at the same time redefine the style for your interiors.
• Leaves Shelves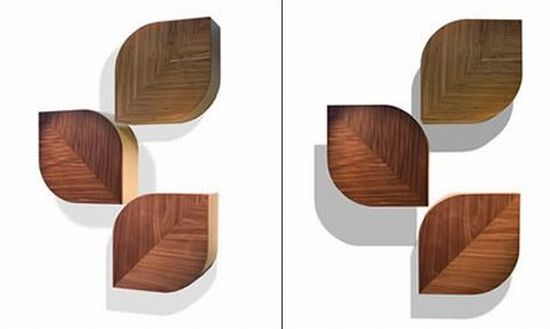 Shaped like a leaf, the Leaves shelves is an innovative creation from designer Sergey Saava. Made from plywood and polished with veneer, the shelf makes you feel close to nature. You will completely enjoy the feel of a herbarium on your walls and that too at a very reasonable price of €332.
• Uten Silo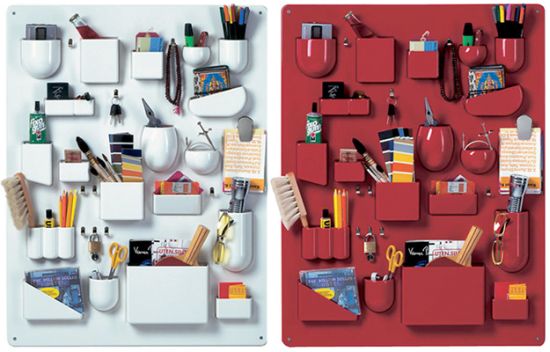 Taking the storage solution to a new altitude, Uten silo by Derothee Becker designs a key to organize your clutter. Perfect for any room, offices, kitchens, workshops or bathrooms, the Uten silo keeps the muddle well organized, enduring a neat look to your living space. Tagged for $467.50, the storage not only looks pleasing, but also keeps your cluttered house well in place.
• Drago Shelves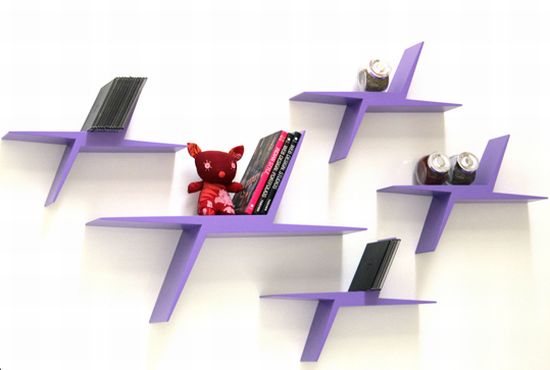 The Drago shelves are an ideal example of so-called creativity. Modular in style, the shelves are the result of teamwork designed by Proprietary Development. Shaped like the letter X, they awaken the creativity of the holder, and hold the books and other items enhancing the dreary walls with their cool style.
• Pulseline shelf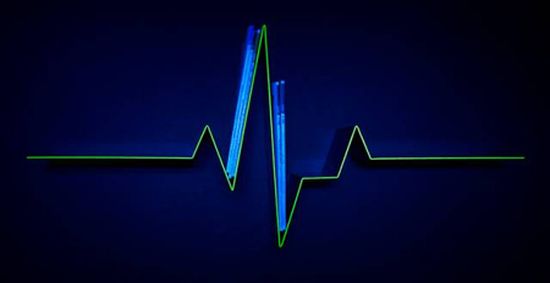 If you haven't come across your pulse line, this bookshelf will take you close to it. Pulseline by Salomonsen is an artistic bookshelf that holds the books and other items in its sleek curves. The shelf illuminates at night that may look like to you your beating pulse.
• Forest shelf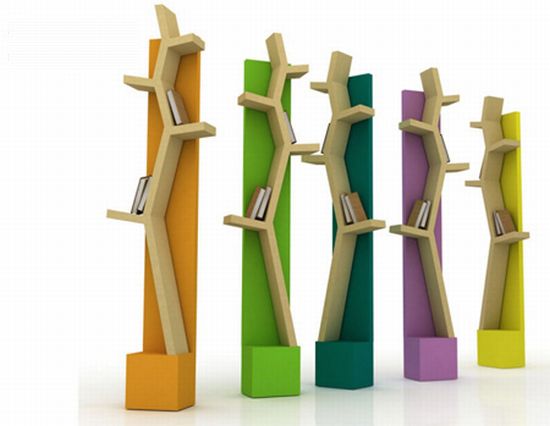 Designed by Anna Smurygina, the Forest bookshelf is shaped like a tree that has branches to hold the books. You will feel close to nature with this bookshelf, and their elegant design looks great to complement your living décor.
• Elastic shelves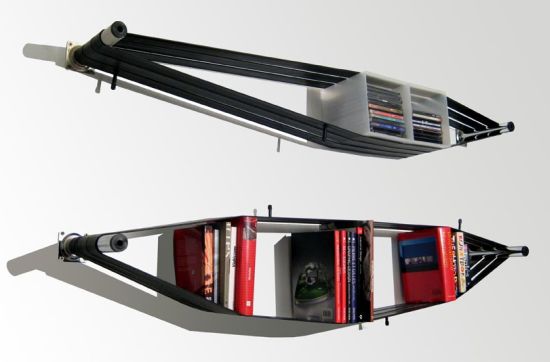 An innovative thought from System Design Studio, this Elastic shelf is a commendable way to utilize the punctured tires. The stretched tires between the pegs hold the books of all size well in place, without letting them fall. The unique storage design lets you maintain a modern, minimalist aesthetic throughout your living space.
• Estante Passaro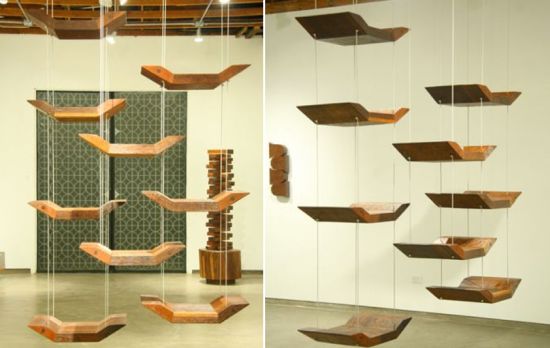 The Hanging shelves by Zanini de Zanine give new meaning to shelves. Credited as Estante Passaro, the series of hanging shelves are one-of-a-kind that seem to be floating in the air. Hang the shelves either in a single row or staggered in different rows according to your choice, they simply make a perfect addition for your modern decor.
• Soft Shelf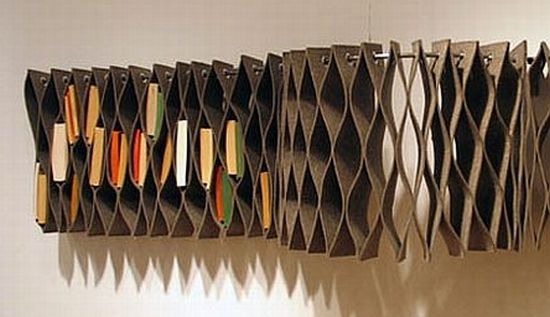 The expandable wall storage designed by Lateral Architecture lets you accommodate the space as per your requirements. Made from industrial grade felt with Velcro fasteners, the shelf expands and contracts just like your curtains.
• Prove shelves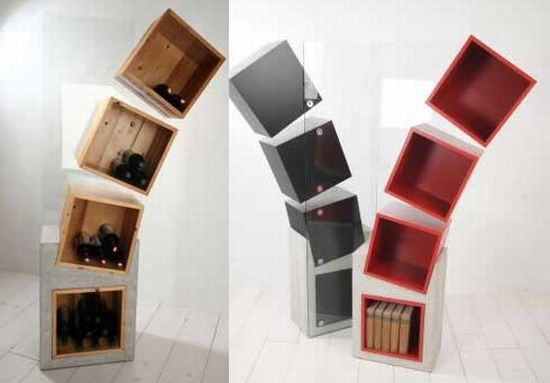 I wonder what this shelf wants to prove. The Prove Shelves by Creosa is an inclined storage system that lets you display books, CDs and other accessories in a new way. Inclined to a particular angle, the shelves holds ample of your things within limited space.
• Malus Communis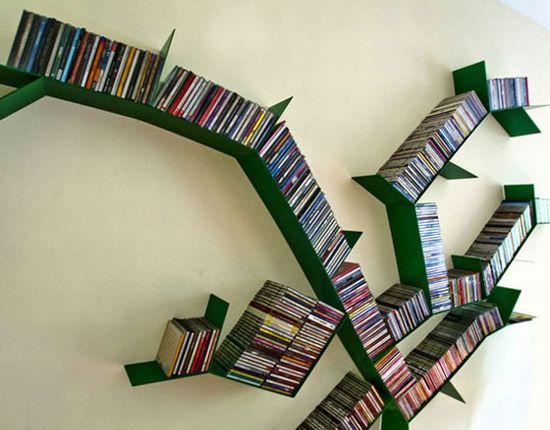 Designed by Belgian studio Defact, the Malus Communis is a trendy shelf that is designed to match the form of a tree. It is made of a bunch of green metal shelves that give it the appearance of a stylized tree. Capable of holding books, CDs and other items, this shelf stands outstanding in their make.
• Stretch Shelf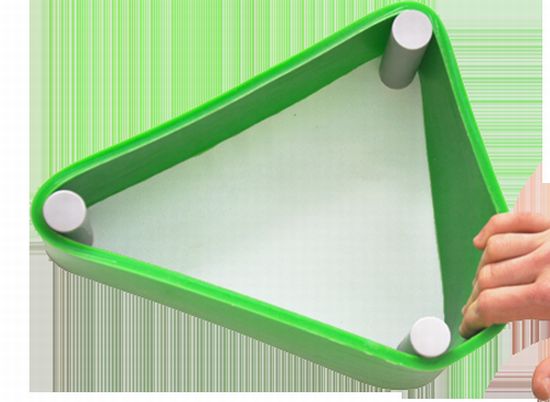 Designed by Pete Oyler, the Stretch shelf is one of the coolest ways to hang your daily needs. Freeing you from the structural limitations of your personal storage space, these wall shelves with its colorful look enhances your interiors.
• Maria Yasko' shelves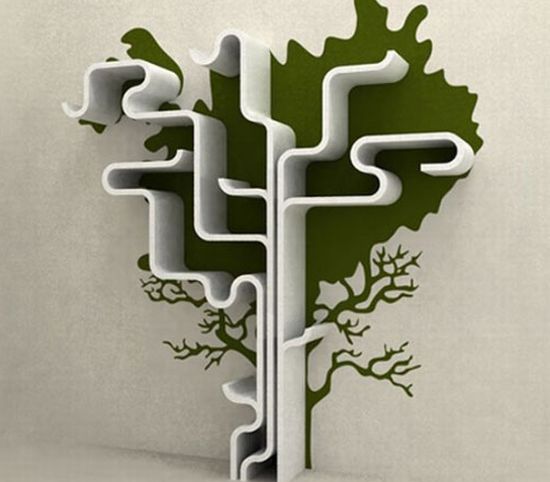 Designed by Maria Yasko, these trendy shelves looks more like a decorative piece than a storage element. The different and cool design is enhanced with its amazing unique look that makes a perfect style statement in your modern apartments.
• Quad shelves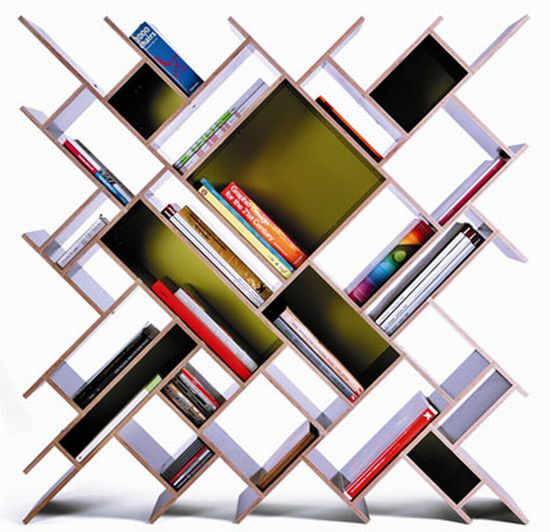 When it comes to some interesting bookshelves, Quad Bookshelves definitely makes their place in the list. With its irregular shape, this bookshelf is capable of storing CDs, DVDs, books and folders. It also has the capacity to join together to make for a bigger space.
• Split Shelving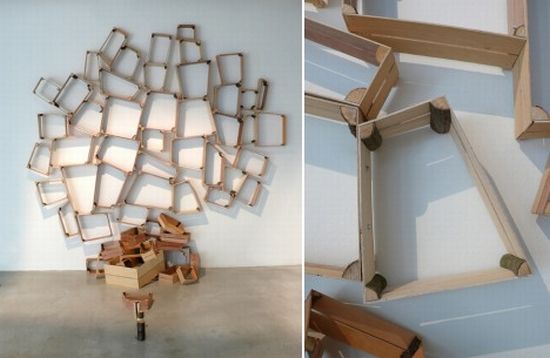 Designed by Peter Marigold, Split Shelving is designed by bisecting a round log into four sections and adding some slats around the outside. The oddly shaped shelves appears like they are ready to split, and are worth to add to your walls.