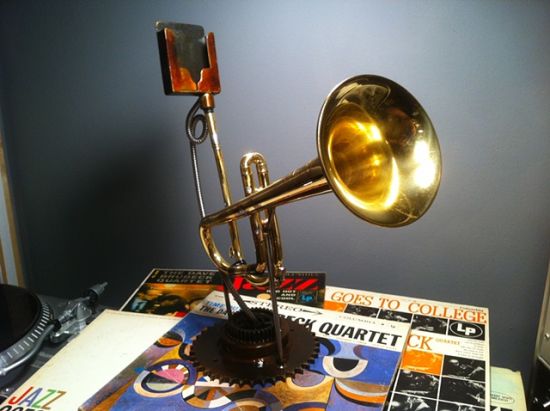 The iPhone 4 has got a partner, which will increase its speaker sound to a room-filling level. It is a horn speaker, which amplifies the speaker volume manifold. Before this people use to add a dock to amplify the speaker sound. But this horn speaker created by artist Christopher Locke is a marvel.

The Analog Tele-Phonograher, as it is known, simply amplifies the existing speaker's volume. There is no need to plug in this speaker. It is a cool-looking device giving boost to the speaker sound. It is an interesting tool for art lovers, who are surely going to like its unconventional design.
This device has been made from a broken trumpet and spare machine parts. It has a steel base. The legs holding it and cradle that holds the phone are also stainless steel. Christopher has treated all the steel with a brown patina, and the entire unit has been coated with a gloss clear coat. The horn is made up of brass.
This horn speaker for iPhone makes the speaker more powerful without draining the phone's battery. Its shape is designed to amplify the sound with using its structure and thus no power is necessary. It is an interesting electricity free design to attract listeners due to its uniqueness. This speaker is a unique blend of decorational style and functionality.
Christopher introduce his invention by saying,
I designed and built this unit to amplify and direct the music (or other sounds) being played through my portable telephone / music playing device, while using no external power source.
This speaker is surely going to change the way people use to listen music on their iPhones.
Via: Dvice