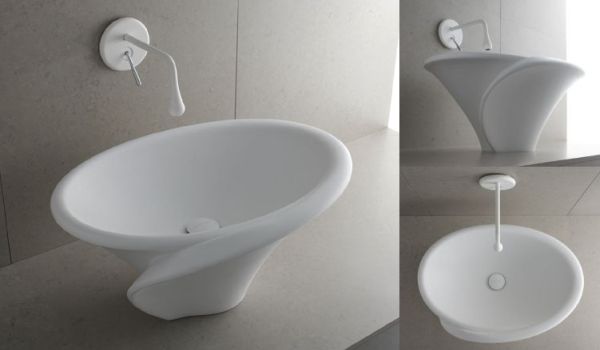 Washbasins are an integral part of all household and office spaces. Here, to make your washroom areas all the more eye-appealing is Oriano Favaretto. Favaretto joined hands with Mastella Design and crafted the Kalla washbasin, which has been draped with elegance.
The stylish bathroom accessory has been crafted in a stylish manner from a single piece of Cristalplant. The creators have fetched inspiration from beautiful plants around and used it ingeniously while designing this piece. Kalla gives an impression, as if it has been curled and creased like a leaf. The organic shape will blend perfectly with a contemporary setup and add grace.
The washbasin is cute-looking and petite, which means it won't consume much space. It can be easily positioned even in small washrooms that don't allow installing a bigger sink. The natural shape of Kalla sprinkles an attention-grabbing aura and will make people slip in a state of awe. Kalla washbasin was put on display at the ISH Frankfurt tradeshow that took place this year and managed to fetch unending praises. Mastella Design also has a full standing Kalla Washbasin and this is clearly a mini version of it. So, jazz up your washroom area with tasteful designing that vows to leave a mark the organic way.
Via: Trendir