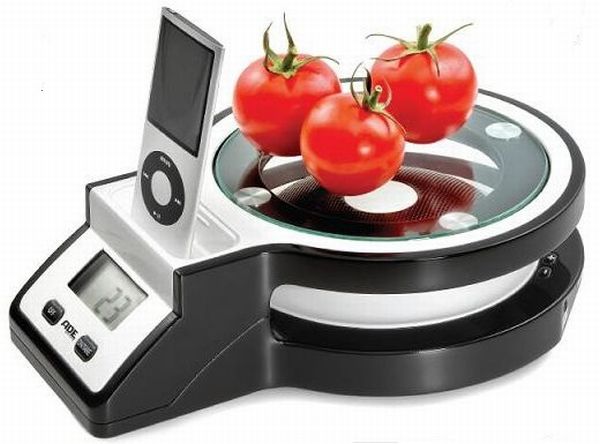 All you music aficionados who just can't do without the tunes giving their ears the perfect audio pleasure are seen carrying their cell phones, iPods and other freaky gadgets even in the bathroom. But these gadgets can't be taken everywhere. I while you cook meals, you have to be really careful. Obviously playing loud music in the other parts of your home to let you enjoy your favorite tunes could be disturbing for your neighbors. What could be the option to keep yourself entertained while you spend hours in the kitchen? Joy electronic kitchen scale!
The Joy Scale is the kitchen accessory that's ideal for the geeky freaks and music ardent. Blending a docking station with the kitchen scale the manufacturers have made the cool smart kitchen product. It's an all-in-one kitchen accessory that comes endowed with the battery and indicators that let you know how the system is functioning.
Also, there is the automatic shut off that is programmed into the system to make sure you have a long-lasting battery life. For mere $99.99, this docking system is worth checking out. Place it on the kitchen table and enjoy soothing music. Word of caution: Keep the entertaining kitchen scale away from the cooktop/gas burner.