Children love sitting on bean bag chairs as these are very comfortable. Bean bags are usually long lasting and can be easily refilled. Hence, it is ideal to use them for your kids. There are so many patterns and designs that are available in modern day bean bags for kids. One can use genuine leather or synthetic fabric and give make-to-do orders for bean bags. Denim bean bag chairs brushed with soft cotton are also available so that children can enjoy the comfort of cotton. Give it a go – it will transform the room of your kid!

1. Bean Chair – Classic-Style Olive Green Cotton Beanbag
BRAND : Sploosh bean bag furniture
PRICE : USD 79.24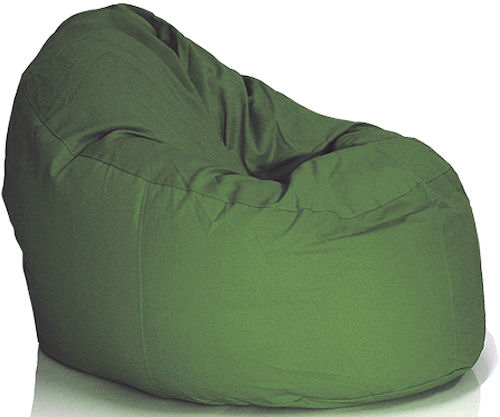 Your beanbag chair doesn't have to be confined to the living room, but you can plan it for your kids' room, too. These Beanbag chairs from Sploosh bean bag furniture are comfortable to sit on and great fun! This bean bag is precisely stitched by the threads of industrial strength so as to industrial perform the demands of day-to-day use and abuse in the most vigorous domestic, commercial & public environments including Children's Day Nurseries, Kids Playgroups & Schools. The Cotton Classic Bean Bag Chair in Olive Green has been designed as a big recliner bean bag chair that can also be a super supportive bucket style bean bag chair. The active bean sacks can be removed and added to alter the amount of filling and making it perfect for flaking out in front of the TV, some serious gaming or to just simply relax. The secret to the relaxing qualities of the bean bag chair is in the 'Teardrop' scoop design.
This bean chair is made from a high quality, fire retardant material and has covered and zipped sections which allow ease of access to the removable bean sacs. This feature adds longevity to your bean bag chair by allowing you to put in top-up bags of beans if required or to replace the bean bag chair cover.
USP
Its very easy to clean this bag, with a damp cloth or sponge. For heavier stains, hand wash using Luke warm water and mild alkaline free soap is good enough.
PROS
Do not tumble-dry or iron.
2. Candyfloss Kids Bean Bag Chairs
BRAND : Candyfloss Baby Bean
PRICE : USD 45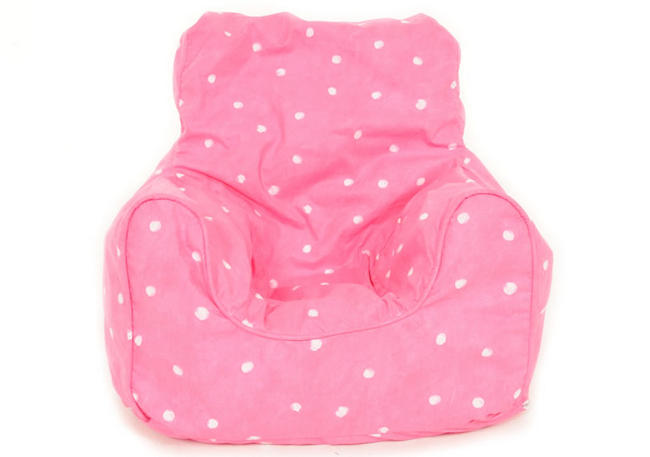 Candyfloss Kids Bean Bag Chairs is a fantastic kids rooms exclusive. A cute baby bean chair in a pretty Candyfloss Fabric. A fabric in a raspberry pink color with white polka dots, and would look lovely in a child's bedroom or playroom. This Baby Bean Chair is a blend of comfort and style, and would make a great present, perhaps for a birthday, Christening, or other special occasion too.What is interesting to know about Candyfloss that, these are handmade chairs with high quality beans and beautiful fabric. The Bean Chair is lined, and the cover is removable and washable at 30°C. The dimension of this bean chair 44 x40x44 is such that it is more suited to a toddler or young child.
USP
The fabric of raspberry pink color with white polka dots used in this Candyfloss bean chair looks lovely in a child's bedroom or playroom.
PROS
Suits well to a toddler or young child.
3. Gift Giving: Personalized Kids Bean Bag Chair
BRAND : The Land of Nod
PRICE : USD 39.99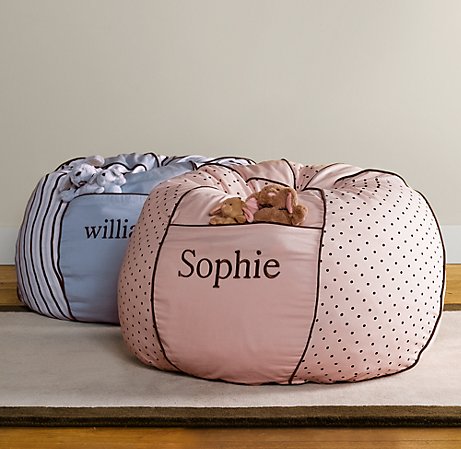 Buy this for your friends with toddlers, kids love curling up in bean bag chairs! The coziest seat in the house, this bean bag chair includes a vibrant cotton canvas cover and an insert stuffed with polystyrene for sink-right-in softness kids can't resist. It's sure to be their favorite place to sit, snuggle or even snooze. Think about it; kids love beanbag chairs and if you plan to gift these bean chairs to them, they will use it for a long time. A removable cotton canvas cover or washed denim fabric cover is machine washable. So, it is easy to maintain these bean chairs.
USP
A stuff called polystyrene which is extremely soft in nature, as kids like soft stuff is inserted into this bean chair.
PROS
Easily avaliable.
4. Hi-BagZ Beanbag Faux Leather BROWN kids Bean Bag Chair
BRAND : Hi-BagZ
PRICE : USD 39.99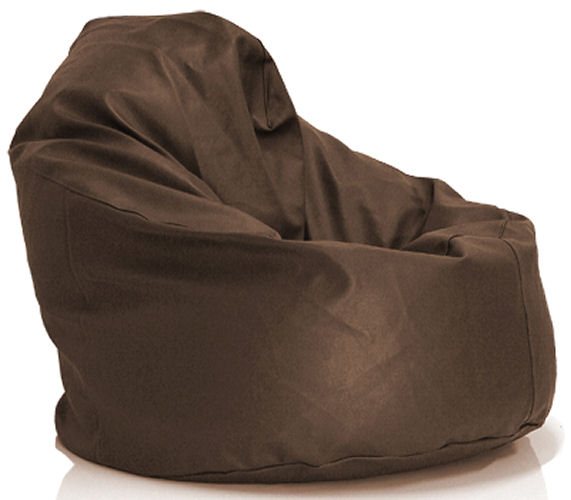 A Great sized beanbag, made from quality bonded faux leather. Easy care product, just wipe clean! This bean bag is flat and over stitched and is also double zipped at the base with hidden zip tabs to stop scratched floors. Real leather requires animal skin as the basis for the material. However, faux leather is comprised of a fabric base that can be made from any number of fabric-based materials. These include woven as well as non-woven fabrics. In most cases faux leather requires inner and outer fabric layers that are chemically treated. Faux leather fabric treatments include the use of resin, wax, dye, polyurethane and water splashing for a natural leather coloring effect. The treatments that are used are applied in stages, with each stage of the manufacturing of faux leather contributing to the final product resembling a real leather feel.
USP
Hi-BagZ Beanbag Faux Leather Brown kids Bean Bag Chair is made from quality bonded faux leather.
PROS
Cleaning treatment for faux leather is easy.
5. Embroidered Kids Bean Bag Chairs
BRAND : Bean Products
PRICE : USD 49.99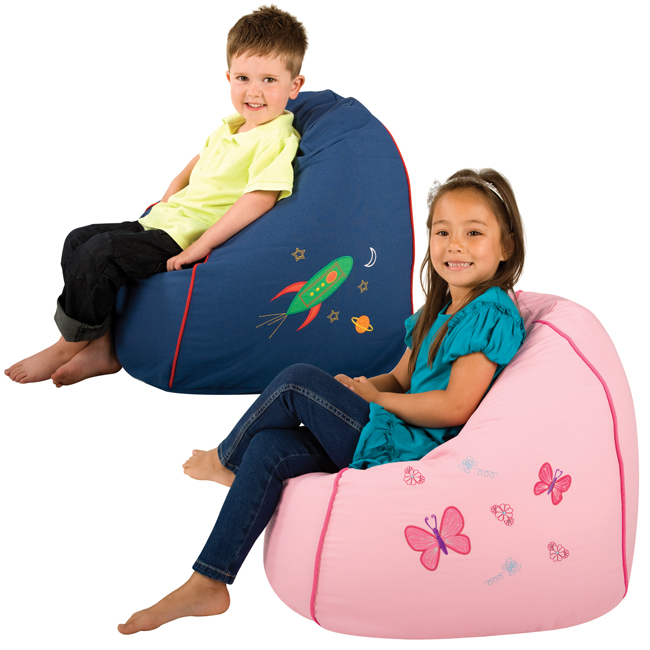 These gorgeous embroidered kids bean bags come in four fantastic colors and have been designed to choose from – Outer Space, Butterflies, Under the Sea or Cupcake. They make a fantastic seat for any young child or toddler from crawling stages to six years old. These bean chairs are fully washable in 100% cotton with a free safety inner liner, and the fine embroidery and applique in colorful patterns are suitable and liked by both girls and boys. The design features tactile, fun and kid-friendly fabrics with metallic thread, fleece, and soft suede. Moreover, the applique sections are all securely sewn onto the fabric.
USP
The liner zippers which are child-resistant, are thoughtfully used from the safety point of view so as to keep children out of the filling.
PROS
Fully washable
6. Kids Large Classic Bean Bag Brights , Cramlington
BRAND : Beanbag Bazaar
PRICE : USD 36.99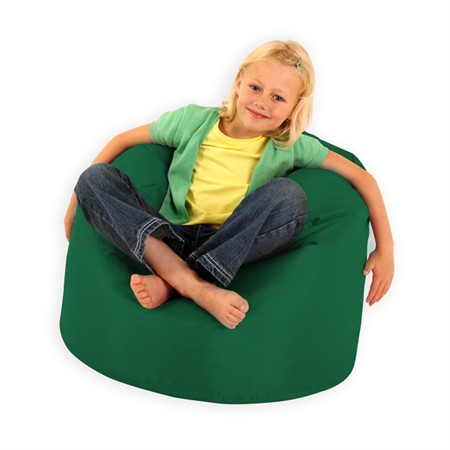 This classic large kids bean bag is water resistant & "kid-proof" say, ideal for playrooms, bedrooms or even outdoors! It is specially designed for outside use plus it looks great in any kids bedroom. Its available in a variety of fun vibrant color options. This large kids bean bag makes the ideal gift, and is perfect for the age of three to six years old kids.This kids bean bag chair is a classic round shape that won't go out of fashion. It is good for reading, watching TV and is light enough for kids to move around with. The insulating beans will mold to your child's body, to support them in whatever activity they are doing.
USP
The fabric used in this bean chair is strong and easy to wipe clean – kids can take their favorite seat outside to play with their friends, too.
PROS
Made from 100% woven polyester and double zip for safety.
7. Mini B Bag Kids Bean Bag Chairs
BRAND : B-Bag
PRICE : USD 59.99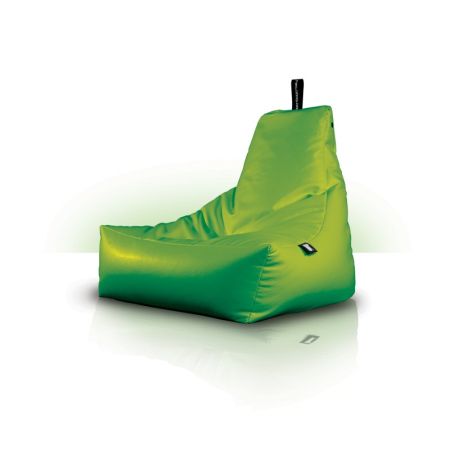 This Mini B Bag Kids Bean Bag Chairs are Compact and totally adorable model for kids who love to lounge. Just place your posterior onto your B-bag and sink into a deep, gorgeousness of luxurious cosiness. All you need to know about Mini B Bag Kids Bean Bag Chairs is it has all the features like two-way stretch, breathable, water-resistant, durable and easy to clean.
USP
Looking after this bean chair is as easy as pie, just wipe with a damp cloth. That's it.
PROS
Comfortable recliner in this bean chair .