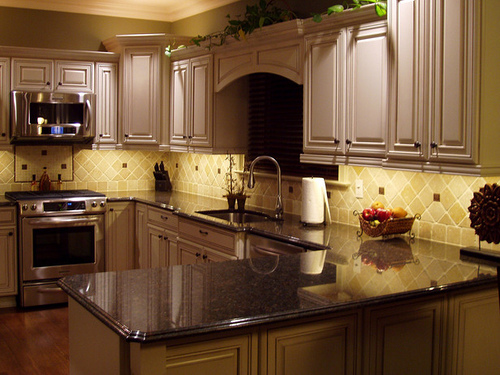 Kitchen backsplash designs are like a form of art. Apart from adding uniqueness to your kitchen, they also provide ultimate protection. From ceramic to glass, slate to copper, the styles of kitchen backsplash are endless. The choices are numerous and it all depends on your imagination and your creativity. The following are the topmost designs, which are currently in vogue all around the world.
Tile, natural stone and granite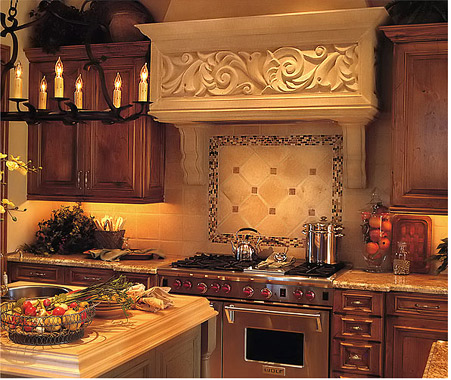 This is one of the best styles to improvise if you are seeking for some sleek design in your kitchen. By improvising tiles and stone styles, you will be doing great justice to your kitchen. This will also help in keeping your kitchen clutter free. There are three types of styles in this category:
a. Contemporary: Things have to be kept as simple as possible in order to obtain the aerodynamic look, which is a specialty of this style. Contemporary stresses primarily on the streamlined look of the kitchen.
b. Old world: This style mainly stresses on the usage of cobblestone, old and ancient marbles, hand-painted tiles, etc. Colors like coffee brown, creamy beige and subtle gold could be of best use.
c. Mediterranean: This style is primarily based on the handmade colorful tiles. Creamy limestone color should be a perfect match with cobalt blue trims color in this case.
Frosted glass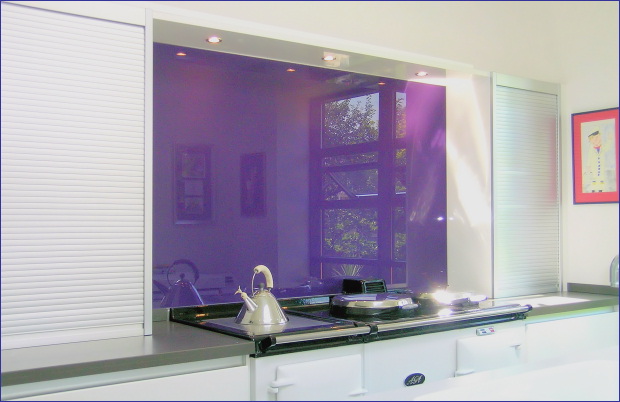 This design helps you give your kitchen a very tidy and aesthetic look. This can be done by installing thin, white, frost tiles. It mainly comprises the following.
a. Monochromatic mirrors: A mirror finish to small tiles can add a sleek look to it. Colors like royal purple, light purple and pale purple suits best.
b. Ring painted: Ring designs, which are hand painted, can help in creating an unparallel look and also adds great shine to the backsplash design.
c. Subtle state: This style adds randomness to the sleek pattern of the tiles. Small, rectangular tiles create a streamlined look, which is quite sharp to look at.
French country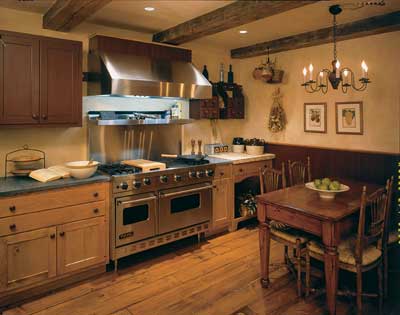 The French country kitchen backsplash style focuses on the use of antiqued cabinets, which make the room feel at ease. Staining and distressing are the two primary ways to antique your cabinet. Keeping a lot of paper towels, a brush and some dark stain should do the trick. The edges of the kitchen should be stained well because they receive the most wear and tear.
Durango stone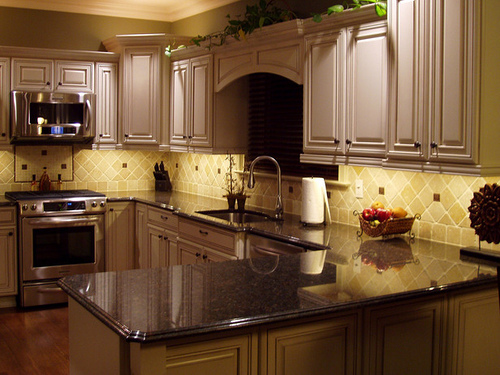 The Durango stone is concerned with the use of granite and Durango stone extensively in your kitchen. Apart from giving your kitchen a neat look it also assists quite well in giving your kitchen a tough look, which is appreciated by many. This style is quite rare because it is quite expensive and it requires a lot of maintenance. It also improvises the mosaic design this making it more alluring to its visitors.
Harlequin design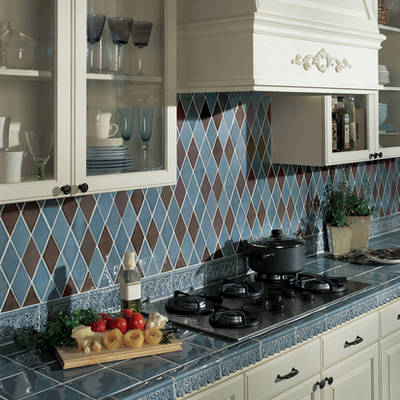 This design gives your cabinet a very bold look, which helps in attracting your visitors and, of course, fulfills your satisfaction. The coordination of harlequin tiles is the main idea. There are two types of tiles, namely, mink and smoky sky. The harlequin pattern is quite brisk and resilient. Stark black and stark white are the primary colors, which are used in this design.
Travertine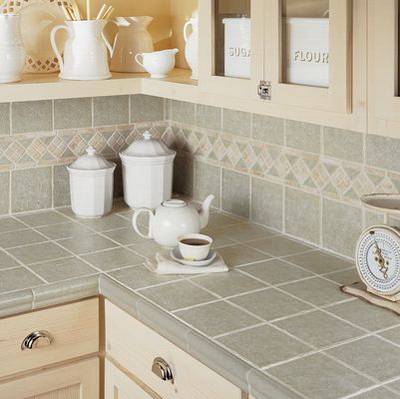 This type of design is quite simple to install. It involves rows of strips, which connect to the counter of the kitchen. It makes good use of 'sandy ridge', which is quite soothing to the eyes. The topmost row in travertine can be at its best with some cutting done on it. All in all, travertine is a style, which is truly world class in its quality.
Wood look porcelain kitchen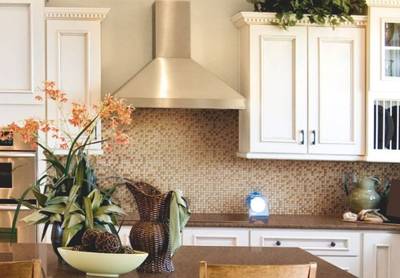 The wood look porcelain kitchen backsplash is quite similar to that of a fully tarnished modular kitchen. But in realty it is a porcelain body named Oak. There is also a series of wood grain tiles named 'Riflessi di Legno', which is of great demand nowadays. But unfortunately this style suffers the disadvantage of high installation costs and thus is not used that frequently by common people. Apart from Oak, other colors like cherry, ebony or walnut are also available.
All of the kitchen backsplash designs mentioned above are cutting edge. At present, their supremacy is quite hard to be challenged. You might choose to pick any of the above styles for your kitchen if you want it be unique in quality. But irrespective of the choices you make, you are surely going to gift your kitchen a brand new classy cutting edge look like never before.