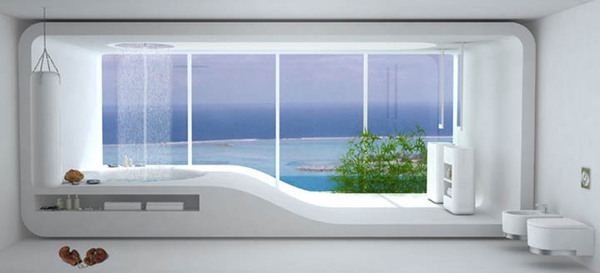 Bathrooms are an important part of the house and need to be treated in a special way like all other parts of the house. A neat and clean bathroom always manages to win praises and if it is done in an interesting manner then there will be no end to pouring praises. Lange & Lange understood the demand of modernized bathrooms and came up with one that will force people to drop their jaws in amazement. Christened the KOLO Bathroom, it will unfurl a personal space that will not only help clean up but also soothe those frazzled nerves after a long day at work.
One look at the KOLO Bathroom and you will never feel like budging from there. The bathroom will lend a serene experience and adding to this will be its white color that will inject a sense of peace as soon as you set a step inside it. KOLO is aesthetically appealing and has been crafted using materials and finishes of a very high quality or standards. It is a great blend of the basic bathroom features and the magic that comes wrapped with a relaxation and fitness room. So, get ready to feel rejuvenated inside the bathroom is bound to become the favorite place of the house.
KOLO Bathroom comes draped in simplicity and features bathtubs, sinks, shower, bidet and also a toilet bowl. It also has plenty of shelves and cabinets to store stuff like toilet accessories and towels in a neat way. Rainwater is collected and it flows down till the bathroom's sink and bath where it is used for various purposes. There are rectangular shaped elements that fall down from the ceiling till the sink. These are battery taps which have been further coupled with mirrors that are controlled electronically. The shower tub also features some circles, which is a water butt along with controlled steam that fills the tub with water. The sink blends with the cupboards and looks like a large piece. This can be turned around its axis and all the contents of the cupboard can be ingeniously kept out of sight.
Lighting has a lot of affect on human mood and the designer has made good use of this fact while designing KOLO. All the bathroom elements have got a new life with the presence of different mood lights. The intensity and color of these LEDs can be altered as per a user's mood and liking. This lends warmth and makes it a great place to relax and kick all worries. The bathroom has a glass wall that will let the user connect with nature. The inside also has plants and stones that will help the bond with nature grow further. This will let you slip into the magic of nature and bring an eternal smile on your face in no time. KOLO Bathroom will surround you with nature and give an all new meaning to this area of the house that is never given much importance. So, feel re-energized every single day without the need of running and spending a bomb at spa centers.
Via: Behance